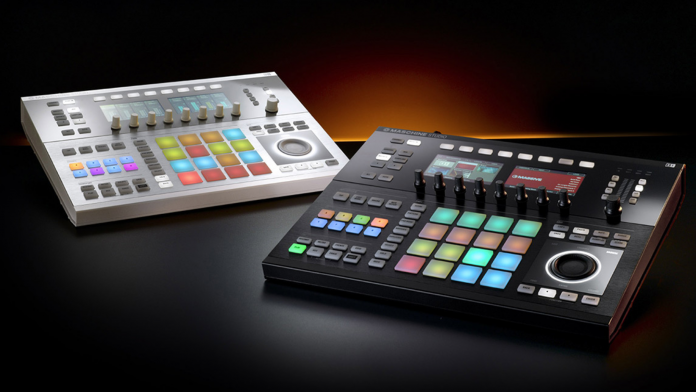 Ohhhhh man… this is going to be a tough one not to go run out and buy as soon as it hits the showroom floor. I've been a Maschine User for years now. It's the first sequencing DAW / Hardware combo that I've found that can take care of most of my needs. I have however had many gripes about how the Maschine software limits you on very basic features. I hated being limited to 3 inserts per sound and wanted the same style browsing that Arturia uses in their virtual instruments. It seems two of these things are met as well as unveiling a mammoth new hardware controller that comes with 2 color screens. This thing look amazing and I'm very tempted to go buy it.
Maschine Studio kicks off Native Instruments' Maschine 2 music-creation software. Sequence virtual instruments, create drum grooves, record samples, slice up loops, and take advantage of all of your favorite plug-in processors and effects all within an incredibly intuitive environment. In addition to a slick new mixer, highlights of Maschine 2 include unlimited groups and insert effects plus sidechaining. A tag-based visual browser and total integration with Native Instruments Komplete are super handy, and as a bonus, Maschine Studio even comes with four amazing Komplete products: Massive, Prism, Scarbee Mark I, and Solid Bus Comp.
Awesome hardware gives you complete 1-to-1 hands-on control
The really cool thing about Maschine Studio is the way the hardware controller integrates with the software environment. It lets you access your whole library of instrument sounds and effects and tweak them with astonishing efficiency. Whether you're step sequencing effects or creating totally original sounds, all of the controls you need are right there at your fingertips. A built-in stand makes this hardware controller ideal for any environment, and thanks to its built-in audio and MIDI interfaces, Maschine Studio is the natural centerpiece of your rig.
Massive music-production power that fits your rig
Native Instruments' Maschine Studio provides you with a powerful toolset you can integrate into your system any way you like. As a freestanding music-production environment, Maschine Studio can act as a host for your VST and AU plug-ins, allowing you to take full advantage of your virtual instrument library and Maschine 2's amazing sequencer. But, you can also run Maschine Studio as a slave to your DAW, by inserting it as you would any other virtual instrument. And with full support for MIDI clock/sync, it's easy to integrate your Maschine Studio setup with your live gear as well.
Price for Maschine Studio: Introductory Price of $999.00
Price for upgrade for Maschine 1.0 to 2.0 software: $99.00
For more info, visit http://www.native-instruments.com/en/products/maschine/production-systems/maschine-studio/