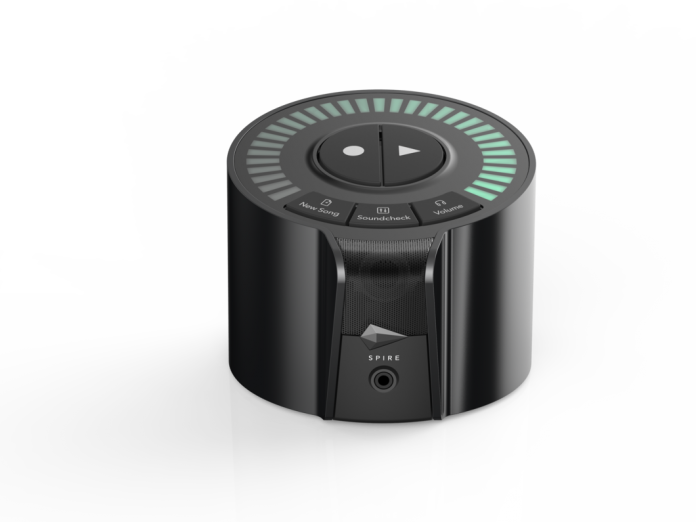 iZotope have released their foray into portable recording with a small, battery powered, all in one solution to professionally tracking ideas. This recorder features premium parts including Grace Design preamps.
Ditch the cables and record professional-quality sound with Spire. It's the world's first truly wireless recording solution that will have you recording in seconds. Edit, mix, and share your recorded songs instantly via a built-in Wi-Fi connection between Spire Studio and the free Spire app for iOS. Whether you're capturing a moment of inspiration or collaborating with bandmates, Spire delivers a new kind of recording experience.
FEATURES

Internal studio-quality microphone for a professional sound

Automatically set recording levels with a single button to eliminate setup time and distorted sounds

Record with a wealth of creative effects such as reverbs, delays, and amp models with zero-latency monitoring

iZotope's award-winning intelligent sound processing technology gives recordings professional polish

Add depth to your song by layering up to eight tracks per project

Ditch the cables with a built-in Wi-Fi connection from Spire Studio to the Spire app

Battery operated so you can record for hours on the go

Grace Design preamps for pristine clarity

Two combo jacks for plugging in your instruments or mics with +48 V phantom power

Automatically sync tracks between hardware and software for seamless version control

LED touchscreen to adjust volume, record, mute, and delete tracks without slowing your creative flow

Intuitive mixing and editing helps create a polished song ready to share

Collaborate on projects with bandmates anywhere in the world — straight from your iPhone

Easily export your music to a computer or favorite audio editing software like Pro Tools, iMovie, and Logic, or upload to storage platforms like iCloud, Dropbox, and Google Drive.

Capabilities will also expand over time with continued updates from iZotope.
Price: $349.00
For more information and to purchase, visit Here
Affiliate