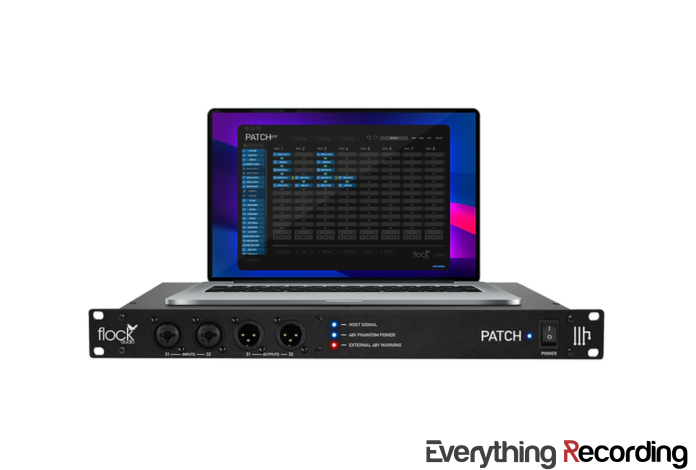 As you may suspect, reviewing gear does have some pitfalls – a handful of drawbacks but usually your run-of-the-mill "good problems". The latter presents itself as a membership to the "Tone Hoarders Club." Over the twelve years we've been writing reviews, I've amassed a modest arsenal of outboard gear – so much so that Everything Recording has adopted the crest "Si mutuari verisimiliter emas" (if you demo, you will probably buy). While Flock Audio's PATCH can't teach restraint on your gear "collecting" hobby, it can relieve some of your woes of having too many "I's" / "O's."
OUT WITH THE OLD.
Years ago, I decided to take the path most engineers with a spending problem do – I got to the emotional root of my spending problem  I bought a lovely 96-point TT Bantam patch bay. Very quickly, I realized I hated it. There wasn't anything wrong with the thing itself – I just didn't like having to do Rain Man-esque calculations to get a mic from my snake, through my input chain, and then into my interface. Quickly I realized this wasn't what I wanted in life, so I sold the patch bay and accepted the obvious – I don't need this much gear I bought the Presonus Quantum 4848 interface.
OUT WITH THE OLD (AGAIN).
At this point, I had Quantum's 48 inputs and outputs. Life was good. Well, sort of. While I had a point for every piece of gear, I don't have a 48-channel snake (nor would I want one). I also wanted to use hardware in my DAW, and while I like Studio One for its routing options with Quantum, I still do a lot in Pro Tools, and the technology doesn't transfer to Avid products. In the end, I exercised restraint and worked with what I had I sold the Quantum and got a Pro Tools Carbon (review here!).
You may wonder why, after all that headache, I ended up with an interface with only eight onboard inputs and outputs. The answer is simple: I'm not Hanz Zimmer and only need about eight inputs at a time. And more importantly, Flock Audio sent over a Patch system to review. I no longer had to stress over spaghetti-laden patch panels or limited inputs.
IN WITH THE NEW.
In 2019, Canada-based Flock Audio kicked the door open of the recording community with quite a claim. The press release for PATCH touted "the world's most advanced digitally controlled, 100%-analog patch bay routing system." They had my attention. This unassuming 1RU black box seemingly housed all my routing hopes and dreams. So what's the catch?
It seems there isn't one. PATCH promises to take the headache out of routing by linking their hardware not only to your interface, rack goodies, or mixer – but to your computer and utilizing software to control the signal path, all without using traditional patch cables. Simply open the software, create a cascading signal chain, and PATCH does the rest.
PATCH comes in several sizes, starting with the 32-point Patch LT ($2,199.00), moving up to the model we're reviewing, the  PATCH ($3,299.00 for 64-point), all the way to the monstrous (but oh-so-lavish) 192-point Big Gulp PATCH XT ($13,995.00). The only functional difference between all three is that PATCH XT has an additional Ethernet port for those longer cable runs. At the heart of each model is the same technology; just more of it as the price goes up.
Regardless of the models, if you need more ports, you can host a veritable PATCH party by connecting several units just as you would with a traditional patch bay. The app readily serves as your party planner, with tools to differentiate between units.
IT'S WHAT'S ON THE INSIDE THAT COUNTS.
While the outside is straightforward, the inner workings seem much more complex. Flock Audio is understandably tight-lipped about what goes on inside PATCH, but they do say that it contains a "patented analog matrix" that can be controlled by their software. I've asked around, and my conclusion of what's going on inside the PATCH comes down to three choices:
Relays (unlikely due to introduced noise)
FET Switching (possibly, but Flock did say no FET switching when I asked)
Flock Audio actualized that we do, in fact, live in a simulation, and instead of harnessing this power to cure the world's ills, use it to route your "sick beatz" through gear.
Although we can't say for sure exactly what's going on under the hood, I did pop the top of the demo unit to see what's inside. I didn't see Morpheus or Neo, so the simulation theory is blown.
While not a Flock Audio-made power supply, the brand made me chuckle.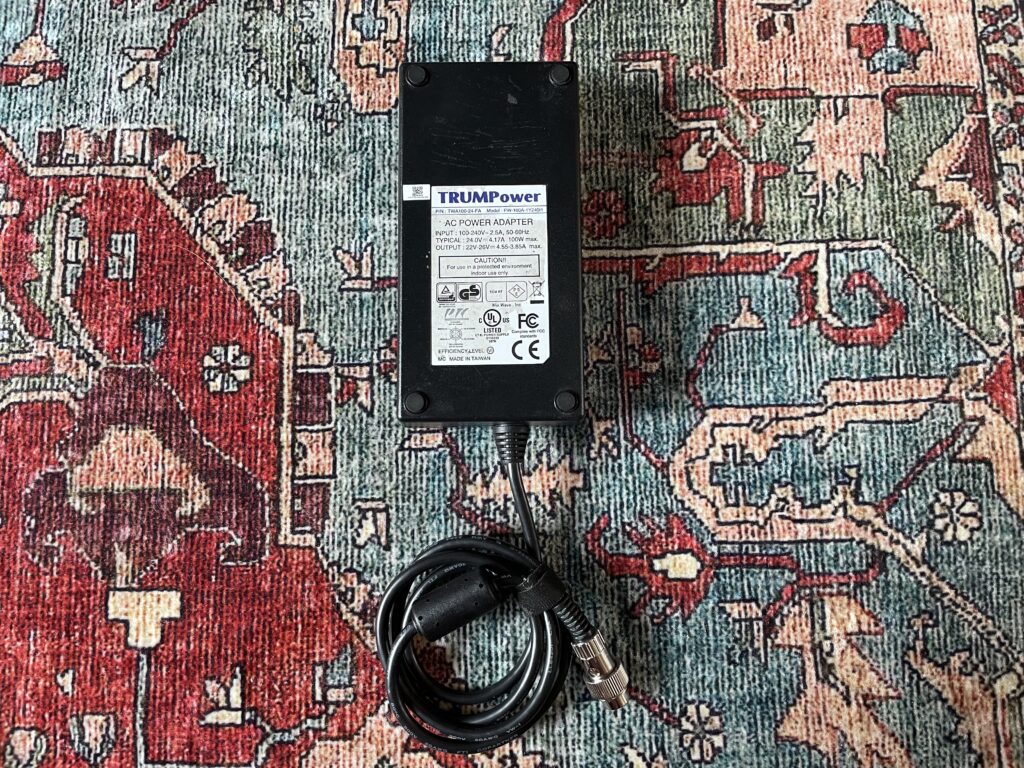 LOOKS CAN BE DECEIVING.

The exterior is inconspicuous in looks. The 1RU box is black with minimal white text, a few LEDs, and many DSUB-25 connections on the back.
About these LEDs, I will say it seems that Flock Audio has somehow harnessed the sun's power because these LEDs are very bright. You may want to keep the unit out of your eye-line because they could nearly light a room. I wish there were a "dim" feature in the app for these guys because they are a bit much.
Despite winning Everything Recording's "this is a flashlight too?" award, the status lights serve some crucial roles.
The HOST SIGNAL LED tells you if you have a connection to the PATCH app.
48v PHANTOM POWER tells you if you're supplying any ports with PATCH's onboard phantom power (LT users, while you have phantom power capability, you'll have to determine whether it's on or off via the Patch App).
EXTERNAL 48v WARNING detects if any of your gear has phantom power enabled, perfect for those old ribbon mics you don't want to damage by accidentally pumping 48v to the mic (again, LT doesn't have this LED.)
On the left side of the front face sit two input and output jacks. This is immensely useful for those impromptu "I need to throw down a quick vocal or guitar track" moments in the control room. For us at Everything Recording, these ports are an absolute godsend. We are constantly demoing hardware for reviews, and a set of stereo inputs and outputs right in front give us faster interfacing for testing and an excuse not to have to dive behind our desk and behold the abomination that is our current cable management situation.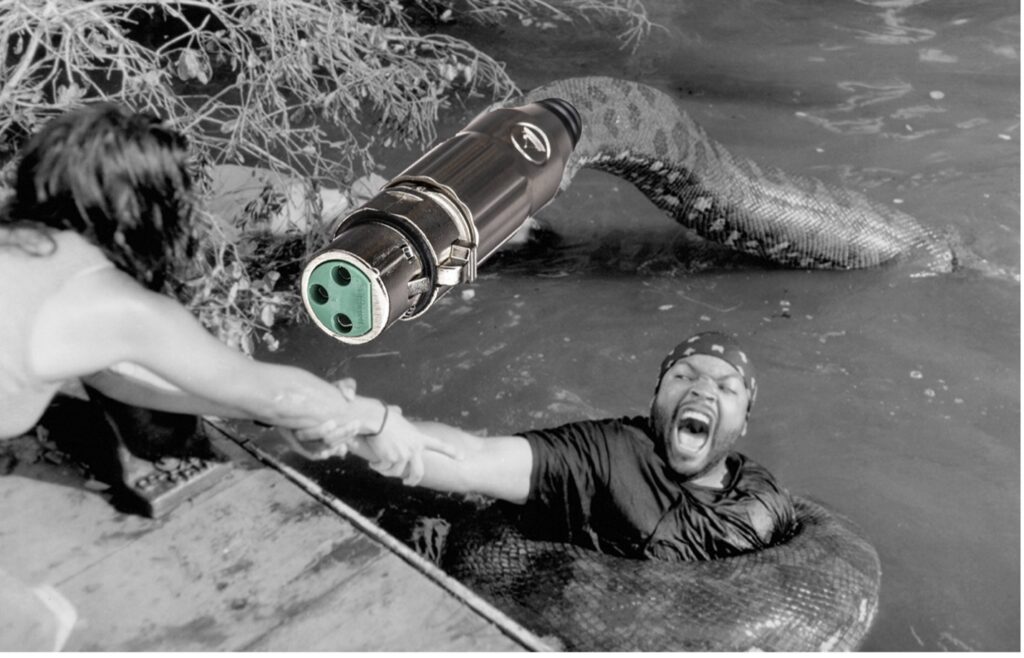 Even though I don't quite understand the phantom power addition as a "need" to the consumer, PATCH again has helped Everything Recording hide our shame. There's an SSL VHD-4 preamp that we've had forever and the phantom power died for some reason.  The rest of the unit works fine as long as I use dynamic mics, so my condensers have been persona non grata for the SSL. Thanks to PATCH, I have my channels (and dignity) back.
PLUG IT IN, PLUG IT IN.
After a bit of planning on your part and connecting your gear to the correct ports, you're ready to get to the fun part – the software. PATCH even includes a handy sheet to note which ports you connect your gear to during the initial setup. This helps when entering equipment into the PATCH APP, but after you've populated the app's hardware page, you can tuck the sheet away in a drawer. The app takes over from there.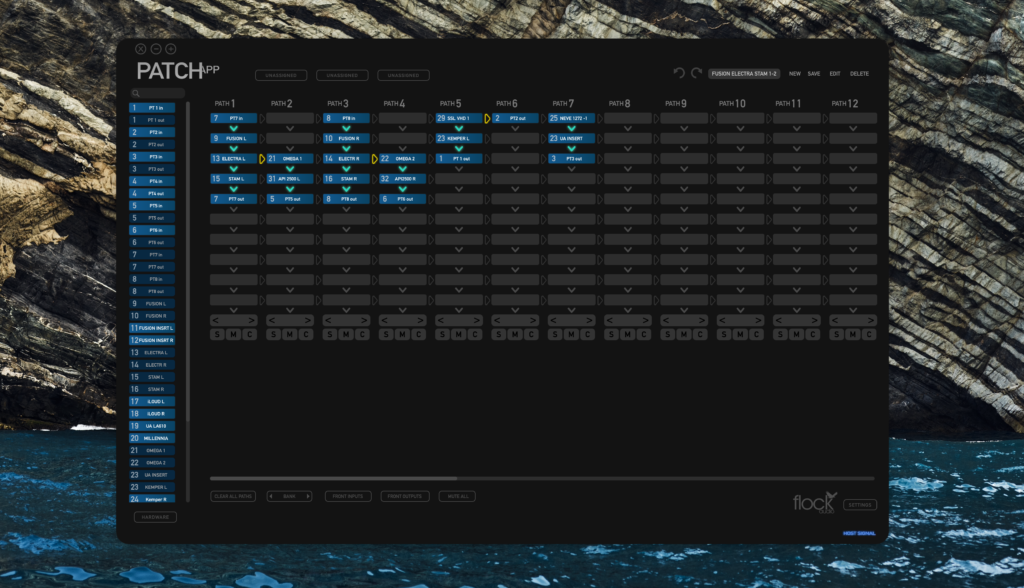 The software setup could not be more straightforward. Install the software, open it up, and verify that the "HOST SIGNAL" icon in the bottom right is blue. Open the "HARDWARE" menu on the bottom left and name your ports. Inputs and Outputs come linked by default, but when you need to separate the ins and outs, click the icon that looks like a padlock to unlock.
Pro Tip! If you're going to unlink, I strongly suggest appending "input" and "output" to the names, or you will quickly get confused when selecting connection points. How do I know? I made this mistake and kept blaming the PATCH for not routing when it was my ineptitude causing the issue.
Now that everything's properly configured, you're off to the races. The center section of the app has 32 of what FLOCK's "PATH" configurations, ready to be populated, much like the insert section of your DAW. You simply drag the piece of gear to the path, and away you go. A/Bing gear in your path works the same way as your DAW – right-click the item you want out of the chain, bypass, and audio will flow right past your gear. You can even skip spaces; the app handles it with no problems.
Need to run one mic through two different preamps at the same time? PATCH has your back – click the arrow to the right of your path, and PATCH will mult it to the next channel. We use this constantly for demoing multiple preamps at once, reamping guitars, and parallel processing, to name a few. How is this feat accomplished without the typical 4dB drop in gain? Here we defer to Flock Audio creator Darren Nakonechny, "Without going too far down the engineering rabbit hole, there is a level balancing circuit for multing applications. This is why there are no impedance or level issues when splitting (aka multing) a signal as many times as the user has available I/O compared to literally taking a single signal and splitting its audio."  
Scenes can also be saved and recalled instantly. During tracking, I've got specific configurations for multiple scenarios: drums, guitar tracking, gang vocals, etc. You name it, I can recall it. When it comes time to mix, I'm set there as well. I select my mix scene, and my entire mix bus is on one insert in my DAW. I can bypass what I don't want in the PATCH APP without having to create custom configurations for every combination.
FUTURE PROOF.
We all hate buying something to have it obsolete in a year. Flock Audio understands this and also wants to eliminate e-waste, so they've made it simple to apply future updates to existing PATCH systems with firmware updates. When spending this much on a patch bay, you want it to last long, and Flock Audio has that area covered.
Flock Audio also has some software expansion on the horizon with the PATCH APP DX. Although not free like the standard PATCH APP, DX promises features that will be worth the cost. In promotional materials, we see that you can store photos of gear settings for recall, mic positions/measurements, and the ability to run the PATCH APP as a plugin in your DAW. The future looks bright.
FINAL THOUGHTS.
I honestly have nothing specifically negative to say about PATCH. The price is steep for the commoner, but it is worth it. PATCH does precisely what you need a patch bay to do without all the furrowing of the brow and cable nests. Do the internal components color the signal like people pontificate about on popular mastering Facebook groups? Maybe, but I don't have Bob Katz's Cocker Spaniel hearing, and I couldn't tell the difference when I recorded a pass with PATCH and another without it. This begs the philosophical question: is it worth the .001% THD if something makes workflow better? Maybe not for a mastering engineer who can hand draw the frequency curve of their flatulence, but for the rest of us, it's probably a non-issue.
I'm not going to lie; the day I had to pack the demo unit up to send back was a dark one for Everything Recording HQ – both emotionally because I didn't want to mix without it and physically because the LEDs illuminated the entire house (last LED joke, promise). Usually, I'm sad when a piece of gear I review leaves the studio, but after a week, I realize I can manage without it. That is not the case with PATCH. I'm not exaggerating when I say it's tough to muster the strength to do sessions now. Everything is so much more unnecessarily complicated. I can't, correction; I WON'T go back to working without PATCH. So, I'm not doing SQUAT until you readers either write me a check for one of these or buy enough using my Sweetwater affiliate link. Just kidding – more great content is coming soon.
Price: $3299.00. To buy, please consider our affiliate link (here). It doesn't cost you any extra and helps keep the lights on.
PATCH Rundown:
Pros
• Eliminates the headache of using patch cables
• Front Panel inputs and outputs make quick patching a mic or gear a cinch
• Could not be easier to use. Software is sleek and straight to the point
Cons
• Price is a bit steep
• LEDs on unit could light a room. Needs a dim feature

Summary
Your workflow will never be the same after using it. Flock Audio has taken all of the guesswork and unnecessary complications out of moving signal around your studio. Finally, the DAW workflow is in your hardware.
Affiliate