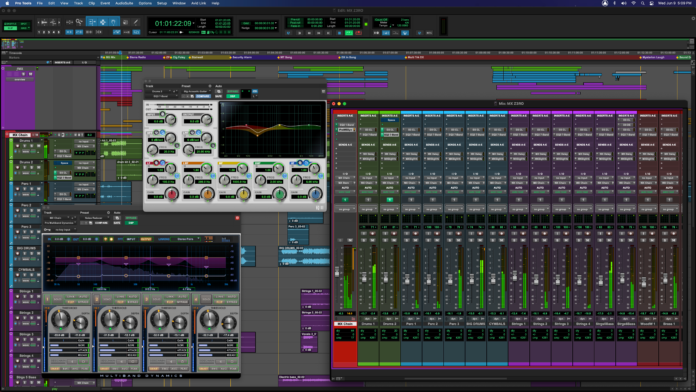 If the new restructuring of Pro Tools has you scratching your head, don't worry, Everything Recording has you covered. We will break down each new version and pricing in plain English. Instead of making you wade through a thinly veiled sales pitch, let's get right to the changes and what to expect.
Note: this will not go over any new features of Pro Tools, just the latest options for purchasing. We will cover that in another article.
The Versions
Previously, we had Pro Tools First, Standard, and Ultimate. Pro Tools First was your free offering with minimal options, Pro Tools Standard had features tailored for your intermediate user, and Pro Tools Ultimate contained the kitchen sink.
Pro Tools will still have three versions, but they'll look slightly different. The new versions are the following:
Pro Tools Artist
Pro Tools Studio
Pro Tools Flex
A picture is worth a thousand words, so I'll let Avid do the explaining with this graphic below.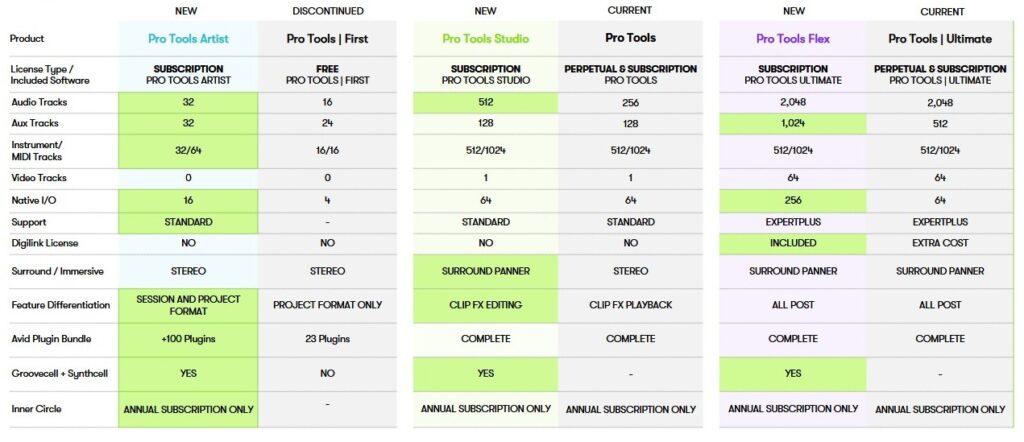 As you can see, each tier has improvements over its predecessor. We will get into each in a little more detail later but let's get to the biggest question I see online.
No More Perpetual Licenses
While this may come as a shock, don't close this tab and immediately go doom scrolling through forums just yet. Immediate outrage is all the rage right now, but it doesn't always cover the facts. Let's go ahead and address the perpetual questions swimming in your head.
I have a perpetual license. Do I lose it?
No, your license is still safely nestled in your iLok account and will remain there for eternity (or at least until OS support for your version runs out). If you have a perpetual running on a subscription plan, your Pro Tools Standard License will become a "Studio" license, and your Ultimate will become a "Flex." Nothing happens if you're rocking a Perpetual on an expired support plan or Pro Tools 10, 11, or 12 (you may laugh, but I know people who still use it).
Wait, I want to own Pro Tools outright. What do I do?
While Avid is not producing any more new licenses, some still exist. Avid is letting all retailers sell their stock, but once they're out, they're gone. At the time of publishing this article, Sweetwater still has some in stock. You can even buy from our handy affiliate link HERE. It doesn't cost you any more than if you went to the site and bought it yourself, and it helps pay the light bill here at Everything Recording HQ.
Am I stuck with my Perpetual License version forever?
No. Avid has what is called a "Get Current" offering. This will take ANY perpetual license and bring it up to the current version. You also get a year of updates, and at the end of your subscription, your perpetual becomes the last version offered during your term. You can jump on and off of this at any time.
For example, say I own a perpetual for Pro Tools Standard 2018. I can buy the Get Current option, and my perpetual becomes "Pro Tools Studio 2022.4". At the end of my year subscription, I choose not to renew. My Perpetual becomes whatever version was last offered during my term (let's say it's Pro Tools Studio 2023.4). I now can use Pro Tools Studio 2023.4 in perpetuity until either the OS is no longer supported or Pro Tools no longer supports the OS I want to be on.
Now, let's say I stay on the correct OS that supports Pro Tools Studio 2023.4 for several years but want to update to a new Mac OS or Windows. All you have to do is buy the "Get Current," and you can update and keep the perpetual like before. You can do this at any time, even if you are years lapsed on your perpetual.
Think of it like the old "Major Upgrade" offering before subscriptions.
Below are the prices.

So with the big questions answered, let's take a deeper look into what Avid is offering for the new set of plans.
Streamlined
Let's all be honest, getting Pro Tools registered, installed, and running hasn't always been the most straightforward. Up until this point, it has been an experience plagued with browser tabs and hoping. But now, Avid has covered everything from picking the correct version to installing and operating Pro Tools.
Immediately greeting you at Pro Tools' home page is a "Start Here" button. This gets you right to the comparison page, where you can quickly determine which version you need.
Once you've purchased your subscription, Avid has streamlined the registration and installation into a workflow under six steps. Not only is the process easier, but it's also all done from one browser tab—no more moving around a confusing site.
New Avid Link
At the end of registering, you are directed to download Avid Link, which handles your downloading and installation in the background. All necessary software will be downloaded, installed, and ready to use. If you're new to Pro Tools or want to expand your knowledge, Avid Link now has short informative training videos right on the homepage.
Finally, no more digging through Youtube thumbnails of influencer faces and yellow text saying "The LAST Pro Tools Tip you'll EVER need to know!!!!!!!". Your training now comes from the source, not some click-hungry basement dweller.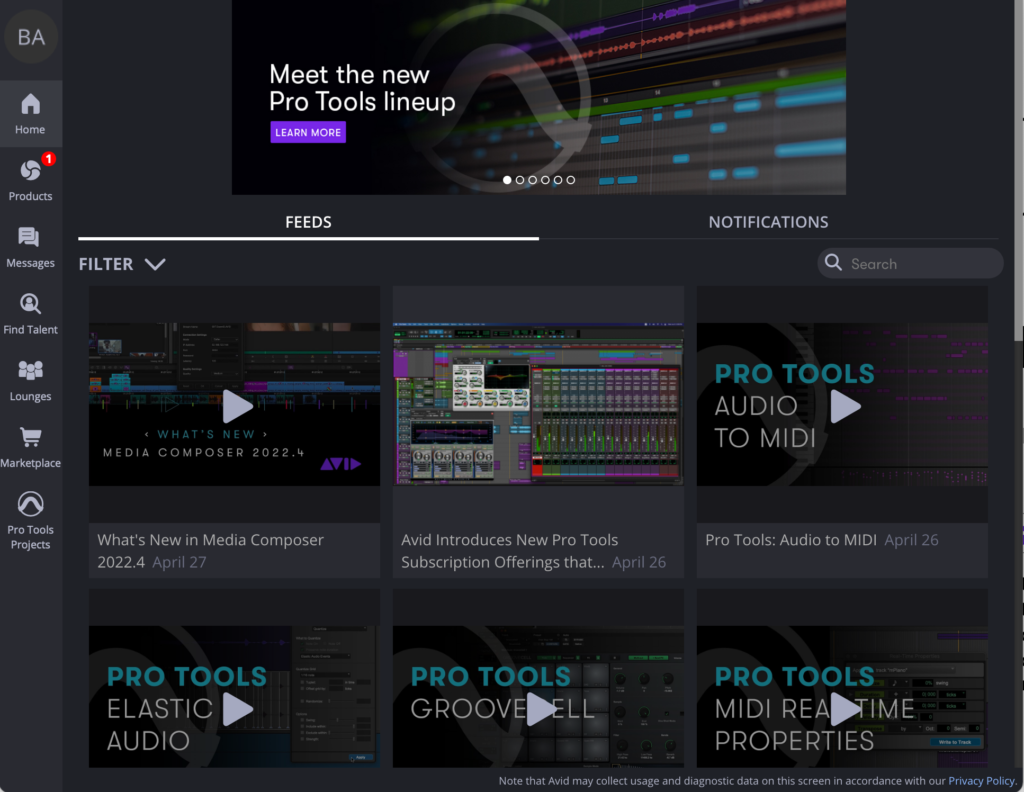 Lastly, Avid offers a free demo session to show optimal workflows and plugin usage.
The Versions
Pro Tools Artist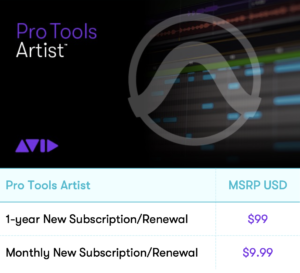 Artist is Pro Tools' entry-level offering. Clocking in at $99 per year ($9.99 per month), you're getting a decent amount of features for the cost. For example, you can easily track a full band with an available 16 tracks of simultaneous recording (as long as your interface has the inputs), and a session can house a total of 32 Audio tracks. On top of the 32 Audio tracks, you can utilize another 32 Aux and Instruments tracks and 64 more MIDI tracks.
As far as plugins go, the Artist subscription offers over 100+ plugins and the ability to use other third-party AAX plugins. You also get access to Avid's new Groovecell and Synthcell virtual instruments.
Pro Tools Studio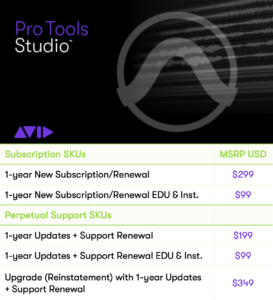 Pro Tools Studio is a considerable jump from Artist, bringing in features that rival previous "HD Versions" of Pro Tools. Adding Surround, Atmos, Ambisonics mixing capabilities, and Clip FX Editing, Studio is ideal for anyone from beginner to seasoned vet.
Pro Tools Studio can record up to 64 Audio tracks simultaneously (as long as your interface has the inputs). The total amount of session tracks moves up to a staggering 512 Audio tracks along with 128 Aux tracks, 512 Instrument tracks, and 1024 MIDI tracks.
This version also works perfectly with Avid's new Pro Tools Carbon interface (review HERE), bringing in the Hybrid Engine for near-zero latency tracking through AAX DSP plugins. For the majority of us, "normies" Studio covers all bases. The plugin bundle increases to 120+ plugins by including the Pro Series plugins and a few more titles to spice up your mixes.
Pro Tools Flex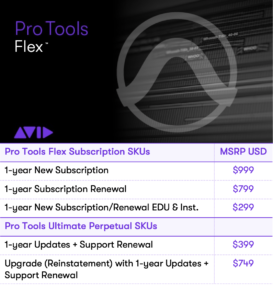 Flex replaces your Pro Tools Ultimate version, but don't assume that would be the only reason to own it. Flex can record up to 256 Audio tracks at once (hello orchestra) and allows 2048 Audio tracks, 1024 Aux Tracks, 512 Instrument tracks, and 1024 MIDI tracks.
Additionally, since you'll most likely need it with your HDX or Native interfaces, Flex includes the Digilink License. Also, Flex upgrades your support subscription to Expert Plus, giving you priority with support-related issues or questions.
What does every subscription plan get?
Each subscription comes with Avid's new Groovecell and Synthcell virtual instruments, bringing new drum sequencing and synth flavors to Pro Tools. If you're wondering what the absolute minimum plugins come with each version, here is the list.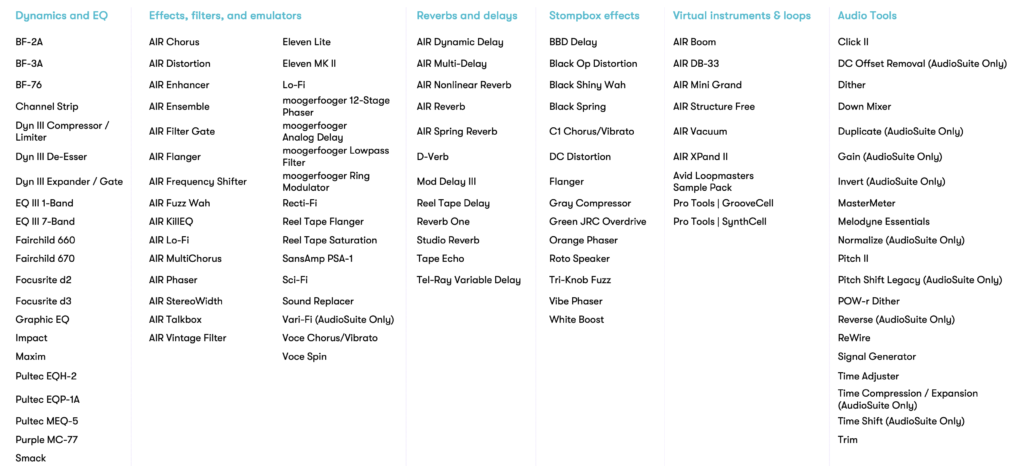 If you purchase an Annual Plan, you also get free third-party plugins as part of the Inner Circle. These licenses are yours forever and feature some heavy hitters on plugin manufacturers. More are added regularly, so it's not just a "one and done" deal.

What do I get extra with Studio and Flex?
Primarily, you get more plugins and virtual instruments. Here's a list of what comes in the Complete Production Bundle.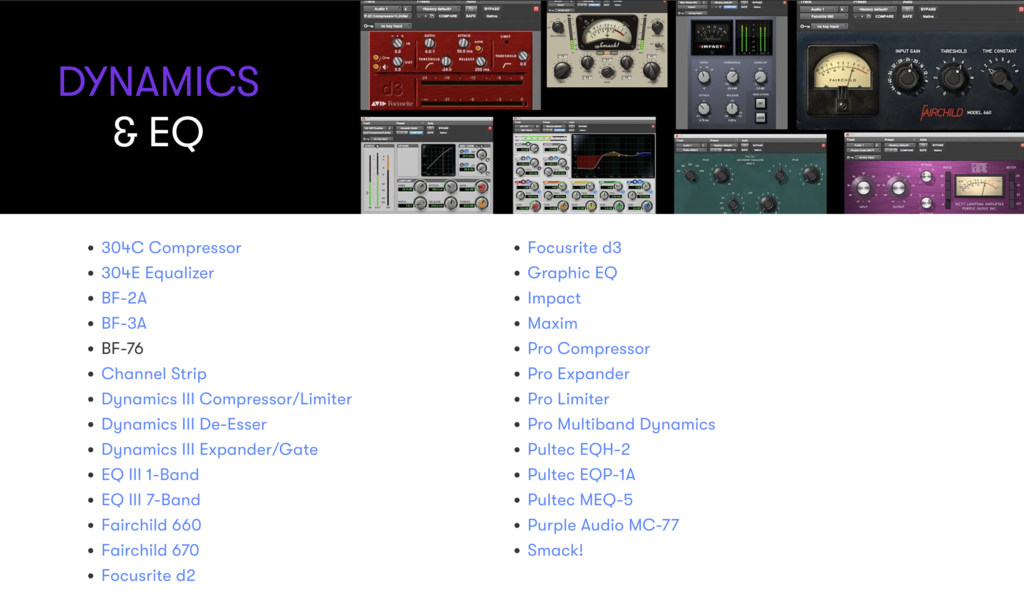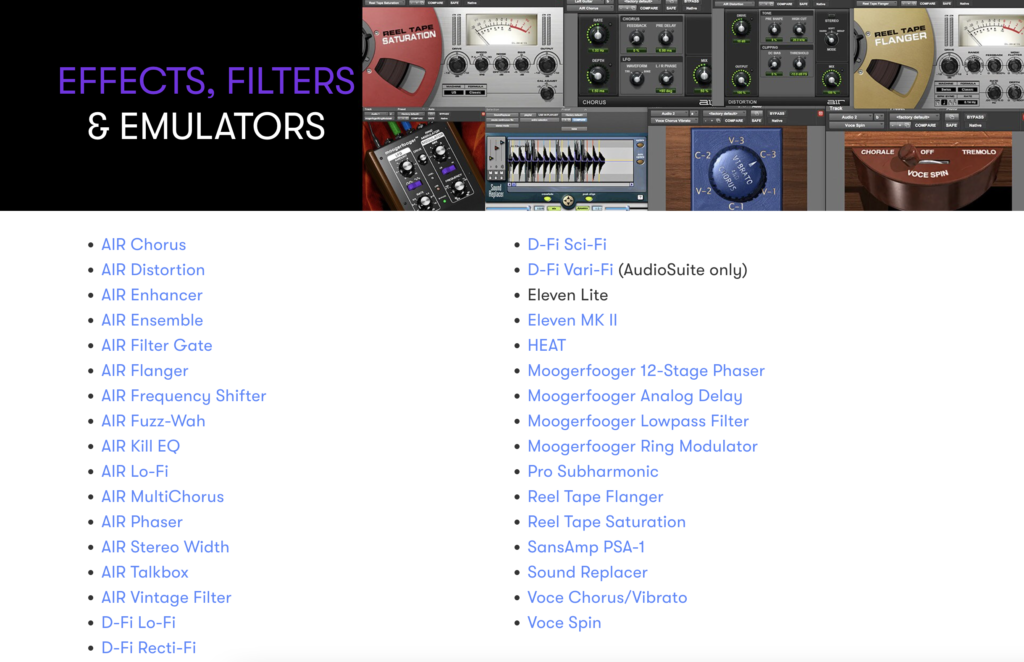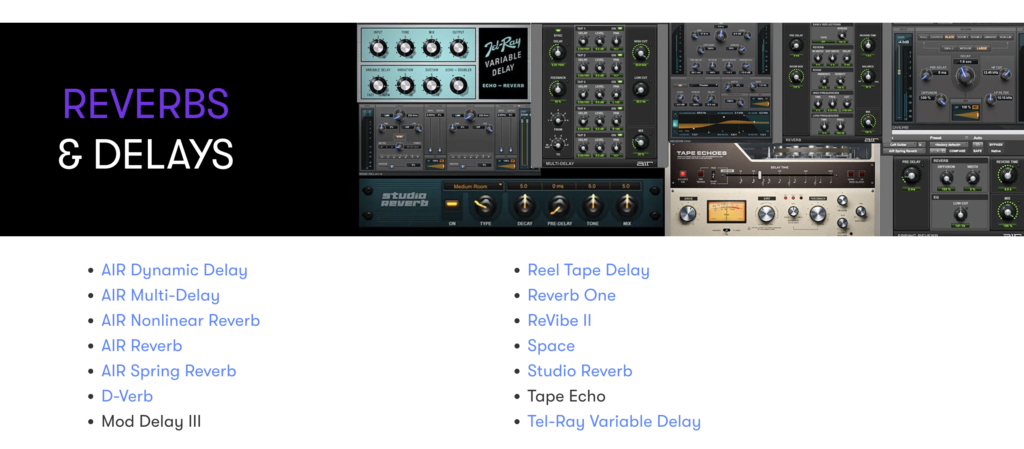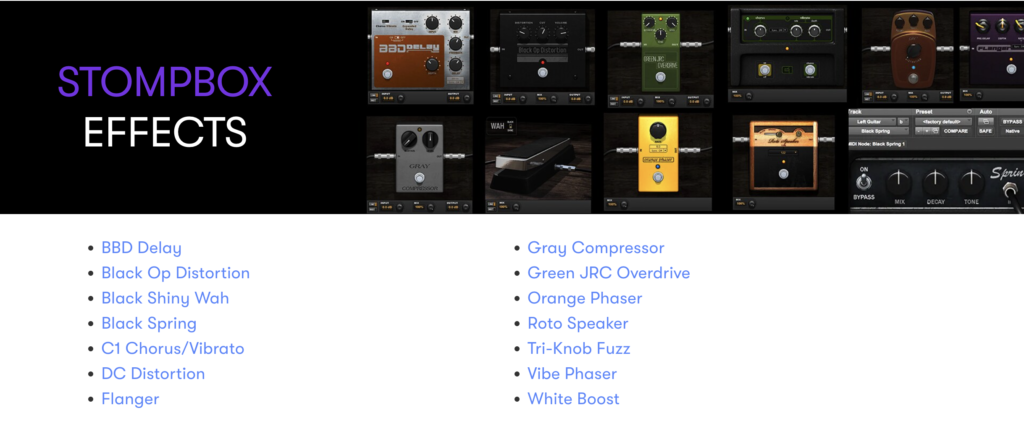 So that pretty much sums up the new plans and features. We will go over the new features of Pro Tools in an upcoming "yearly review".
If you're going to buy any of these plans, please consider buying from our Sweetwater Affiliate Link HERE. It doesn't cost you extra, and it supports our content by helping keep the site up and running.
Affiliate