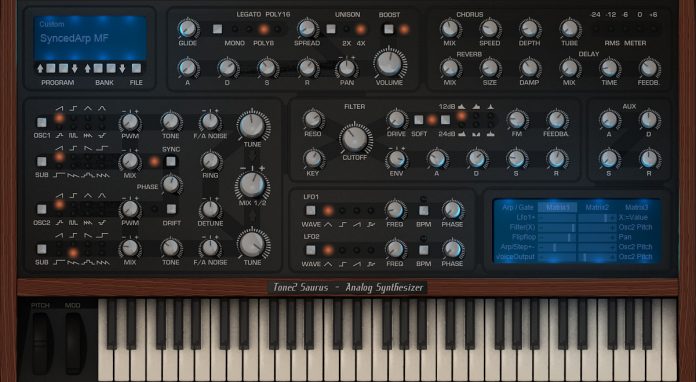 Tone2 has announced another new soundset for their grounbreaking synth Saurus (review HERE). Fuzion is a marriage of old and new sounds to breathe life into your humdrum tracks. With this pack you get 150 custom made sounds with all sorts of goodies to give you the most flexibility to keep you ahead of the game.
Refresh your Saurus with a sonic blend of vintage analog and modern club sounds.
Fuzion takes you on a voyage into an analog world filled with immense arpeggios, cascading melodies,
shimmering pads, ground shaking bass and funk driven synths.
An inspiring collection of 150 carefully designed presets, that will enrich your productions with an old
school sound, infused with a modern twist. Utilizing Saurus' many analog flavors, Fuzion is perfect for
mainstream club tracks or new school Electronica.
Highlights
* 150 analog modern sounds
* Comfortable installation.
* Perfect integration into the user interface.
The soundset is suitable for a wide range of styles: Electronica, Dance, Cinematic, Soundtrack, Trance,
Pop, Complextro, DnB, Techno, IDM, HipHop and a wide variety of other music genres.
For more info please visit the Fuzion product page: http://tone2.com/html/fuzion.html
Price: $39.00