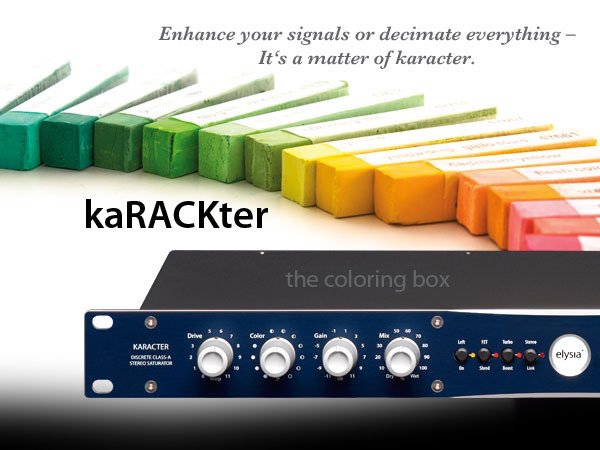 In case you don't have a 500 series rack, Elysia has made a rack version of the coloring box Karacter, complete with CV control. Each channel can be used as dual mono, stereo, or mid side. You just can't beat analog.
NETTETAL, GERMANY: high-end audio processing manufacturer elysia is proud to announce availability of its karacter coloring box in a single rack space 19-inch unit as of May 23… 

In addition to the complete feature set of the existing karacter 500 series module, an amazing feature of the karacter rack version is its CV capability. External control voltages routed to the rack allow modulation or recall of its Drive and Mix parameter settings by analog synths, MIDI-to-CV interfaces and many other sources which can be used to feed the karacter with oscillator rates, value sweeps, and setup changes.

The karacter offers two individual channels that can be used in dual mono, linked stereo, and Mid/Side configuration, making it a remarkably flexible tool for any imaginable studio or live application. The karacter's unique Color filter network allows subtle or extreme harmonics-frequency relationship tweaks to take place, while the integrated Mix control helps dial in just the right amount of enhancement or grit. Stepped potentiometers ensure fast and precise recall of favorite settings.

"The additional control voltage capability of the rack version brings a whole new dimension into the world of saturation and distortion," says elysia CEO Dominik Klassen. "In no time at all, you can create the most organic and vivid sounds out of plain and static sources. And the entire unit is designed with discrete class-A topology, so even the most lo-fi sounds will benefit from karacter's high-end touch."
The karacter is made in Germany, exclusively using top-quality components, gold-plated PCBs, a rugged 4mm aluminum front panel, and solid aluminum knobs. It is available from any elysia dealer for $1,499 MAP ($1,679 MSRP), or 990 € net (plus VAT where applicable), and is shipping right now.
Affiliate