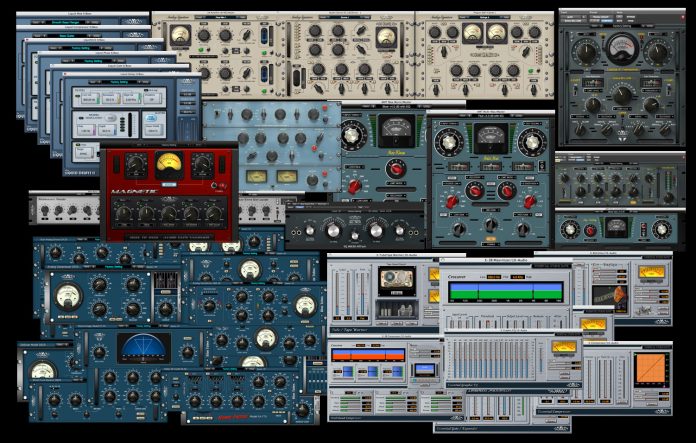 Remember that IK Multimedia T-RackS Group Buy Promotion I mentioned in the REVIEW I wrote? No? ok… anyone?? Well DontCrack.com has taken the same approach and offered the same type of offer on a slightly larger scale and offered that if 300 people register and commit to buy the program, they will receive a voucher at the end of the program offering the discount the reflects how many members participated. So basically the more that commit to buy, the better the savings. Its a HUGE bundle for the price and offers a variety of plug-ins for just about any application.
We are proud to announce that we have worked hard with our friends at Nomad Factory to bring what we believe is, the most exiting Nomad Factory deal ever proposed at DontCrack.com as it concerns the Integral Studio Pack that we are trying to offer at 70% DISCOUNT !!! ($1200 value down to $359) !!!
As you all know, Nomad Factory Plug-ins are considered to be among the best "tube emulation" plugins ever made for professional studios, producers, musicians, etc.
The Nomad Factory 2010 promotion will be held as a "group buy" offer that will run for 12 days (from November 19 to 30, 2010) and 6 days will be made available for subscribers to purchase the product they committed to buy (from December 1 to 6, 2010). A voucher coupon will be sent to all subscribers on Monday, December 1, 2010.
We are receiving huge customer feedback from emails and hot boards such as MacMusic, Motunation, Gearslutz, KVR and many others. That clearly shows the great interest users have for Nomad Factory products and we truly believe we will have way over 300 subscribers joining in for this "no brainer" – 70% discount promotion !!!
If you have any questions, please post them in our dedicated Store forum
.
Group Buy Information
A "Group Buy" is the action to "group" buyers in order to obtain the best possible discount on specific products. Therefore the more signups, the greater the discount… For more information, please refer to our FAQ
The goal here is to reach 70% discount, if enough subscribers sign up, on this amazing Integral Studio Pack offer before Tuesday November 30, 2010.
Watch our real-time gauge to keep track of the actual participants/discount threshold.
To participate in the program click HERE.
Nomad Factory plug-ins are some of the best tube emulation in the business and this is the best possible deal you're probably going to see so GO BUY!!! For more information on Nomad Factory click HERE