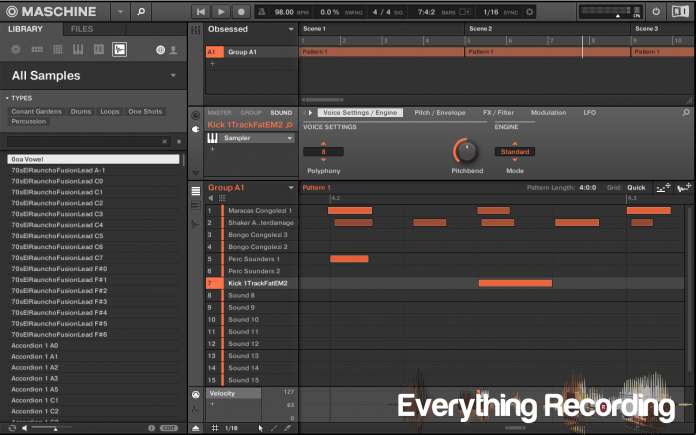 So you buy a Maschine Controller with a nice new MacBook Pro. You plug it in and the device flashes twice, then goes to just the Native Instruments logo but nothing lights up. Immediately, you think the worst, "my controller is broke". If you are lucky, you have a friend with one to use just to see if its your controller. His controller does the same thing. You reinstall drivers, software… everything. Nothing fixes it. Well, you're in luck… I have a fix.
The issue lies in an Avid Core Audio plugin that fights with Native Instruments.
NI software with a hardware dependency, such as MASCHINE, KOMPLETE KONTROL, TRAKTOR, GUITAR RIG and Controller Editor will not recognize the corresponding hardware devices when the AVID CoreAudioManager / Drivers are installed under OS X 10.10.5 Yosemite or OS X 10.11 El Capitan.
Native Instruments and Avid are working together to resolve this compatibility issue.
Follow these step-by-step instructions to temporarily remove the Avid CoreAudio driver in order to allow NI products to run properly under Mac OS 10.10.5 or OS X 10.11:

Open the Finder and locate the following folder: Macintosh HD > Library > Audio > Plug-Ins > HAL
Copy the "Avid CoreAudio.plugin" to another location, for example the Desktop.
Delete the "Avid CoreAudio.plugin" from the HAL Plug-in folder.
Type in the admin password when prompted.
Restart your computer.

While you still can fully use Pro Tools without the Avid CoreAudio driver, it is not possible to monitor the audio output of any third-party application using your Avid audio interface after deleting the file.
This fix can also help with:

RazerAudio.plugin"
"Hear.plugin"
"SoundBunny.plugin"
"Digidesign CoreAudio.plugin"

As these files are likewise found in the HAL folder, the procedure to manually remove these files remains the same as explained above.
If you should require the functionality of your plugin again, you need to move the file back to its original location and restart your computer. In this case, the mentioned NI applications will not recognize their corresponding hardware.
Boom…. fixed. I just saved you quite a few emails back and forth with NI.
Although you will not be able to use an HD Native system as a soundcard with your OS X Audio, the plugin can be added back in when that is needed.


Affiliate