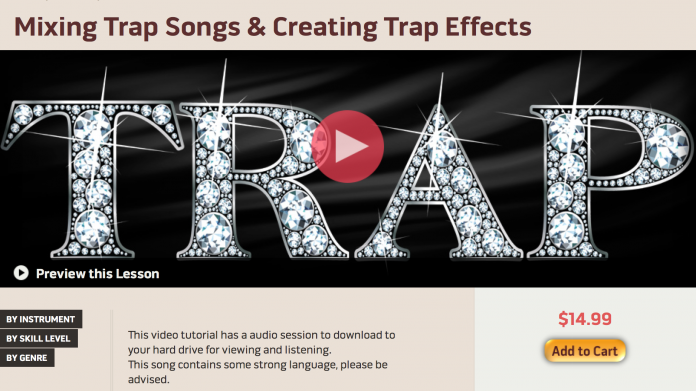 Ken Lewis is a huge name in hip-hop and pop. This is someone who's been behind the desk on some monster hip-hop records. Even though he's achieved the music business "hat trick" by engineering, mixing, and producing multiple hits, he opens up his studio and workflow by showing you some of the tricks of his trade.
The latest tutorial is over 2 hours long and guides you through an entire mix of a trap track. He not only goes over mix techniques but shows you how to add the icing on the cake with innovative effects. Since most pop and EDM incorporates concepts from the trap scene, these techniques can be used in more than just rap sessions. PLUS it's only $14.99! Most online tutorials are twice that much with half the content.
He even lets you watch the first 8 minutes of the video for free.
This video tutorial has an audio session to download to your hard drive for viewing and listening.
This song contains some strong language, please be advised.
After recent work with Drake, Kendrick Lamar, Kanye West, Rick Ross, Future, Lil Wayne, and many others, Ken Lewis presents this deep two hour tutorial on mixing trap and creating common trap effects. Ken takes you through a complete mix, faders… right down to a finished full trap song… beat and vocals. Using both stock and 3rd party plugins, Ken breaks down step by step how to create many of the most common trap effects such as…
– panning snare fills, crisp hi hats, enhanced claps, phase coherency
– monstrous 808's that cut through small speakers
– mixing rap vocals and ad libs
– multiple effects to create lush ambient sounds, blasts, twinkles and more
– using short delay lines to define drum tracks and spread vocals.
– Several different panning & stereo widening efx are demonstrated on hit hats and background vocals, as well as
– replacing kick drum sounds and beefing up kicks
– balancing multiple pads together
– filter effects
– finishing the mix bus
And finally, a long time big request is covered here, fixing poorly recorded rap vocals and giving them new life. Ken will show you many standard and unorthodox techniques that will put you light years ahead.
Watch the first 8 minutes of the tutorial for free and decide for yourself. The techniques taught can be used on ANY DAW! Your download includes both the 2 hour video tutorial and the full audio session with stems for any DAW as well as a pro tools session. Practice creating your own trap effects and recreate the ones Ken teaches from the same mix session. Mix the song and compare your mix to Ken's.
The song and session "Big Bank" featured in this tutorial is produced, written, and performed by JaiDon Harrison at CG3 Audio. CG3 Audio creates a ton of amazing Trap Sample packs like the ones found here:
http://www.producerloops.com/CG3Audio
Running Time: 120 minutes
Download size: 1.31 GB
Skill Level: Junior
Genre: Trap / Hip Hop with vocals
Price: $14.99
For more information and to purchase, visit http://audioschoolonline.com/product/?lesson=386
Also take a look at his Kickstarter campaign for an all new school that teaches instruments and theory.
To donate and help out this great cause, visit https://www.kickstarter.com/projects/304278079/help-fund-music-school-online