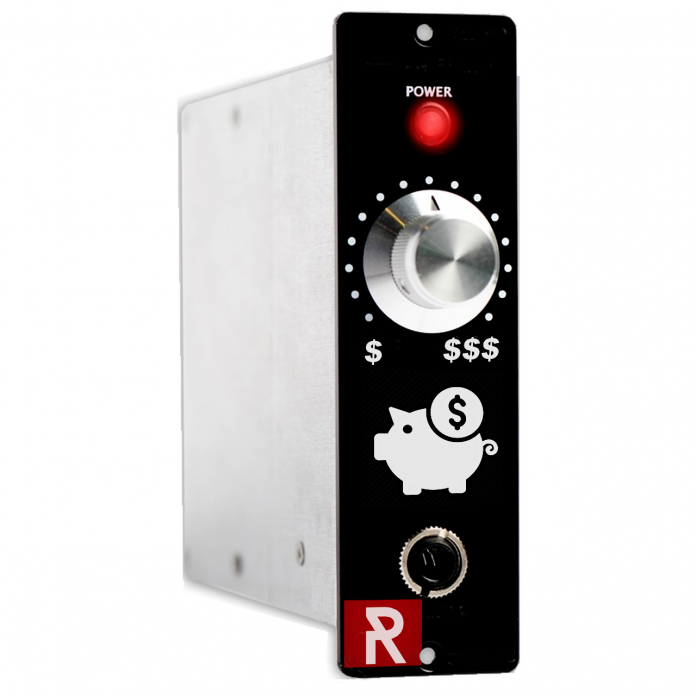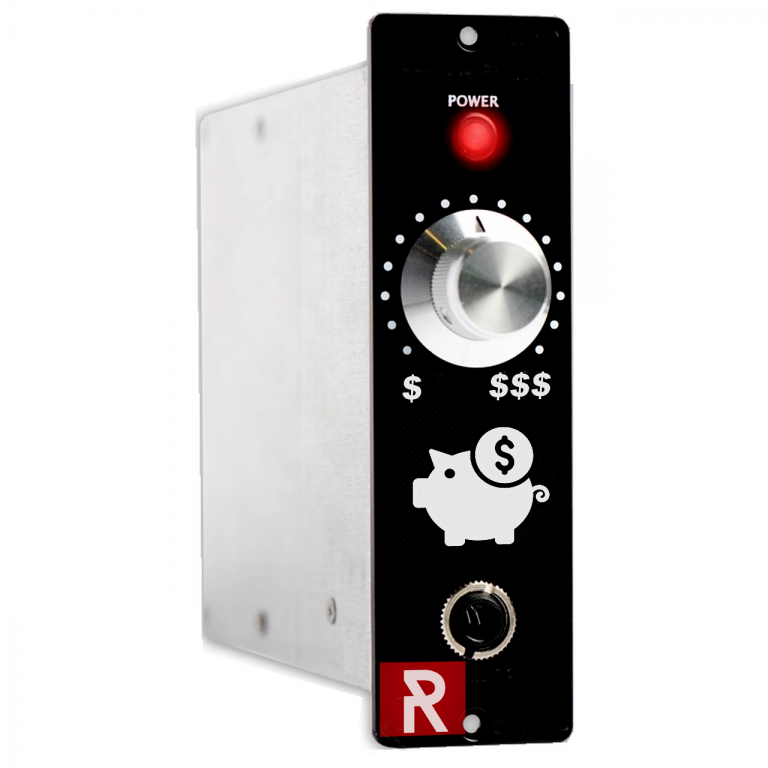 CHAMPAGNE TASTE AT A SPARKLING WINE PRICE.

What is it about the 500 series format that makes it so popular? I guess for some, it's building modular setups that cater exactly to what they want to record. For others, it's being able to easily switch out modules for different applications. But underneath it all, being able to have "a bit of this and a bit of that" all in one rack is pretty damn cool.
Launched by API in 1969, the 500 series is the original "plug-in" – letting engineers and producers get whatever sound they're looking for without lugging entire racks full of sensitive equipment from session to session. The past ten years in particular have seen the format really blow up – now that most of us are completely "in the box", many yearn for just a little taste of actual transistors, transformers and diodes once in a while.
Whether you're still on the fence about buying your first 500 series rack OR your empty slots are staring back at you like a lost puppy, have a look at EverythingRecording's favorites for the budget-minded 500 series connoisseur. Yes, we all continue to lust after those super high-end bits of Neve-y goodness – but that doesn't mean there aren't tons of tasty little analog niblets out there that not only produce killer results, but do so at a price that's far easier on the wallet.
No doubt, building up a 500 series collection is an endless cycle. First you outgrow the rack, so you get a bigger or second one. But that leaves your rack with a gap tooth or two and that's no good. You convince yourself that you neeeeed this next one (oh, but the seller has TWO and their serial numbers are sequential!!). And the dance continues.
So while this article is not going to help your addiction, these modules will give you world-class sounds and genuine iron, copper and nickel analog tone-shaping capability for less than $500 a pop. Some are even so cheap you could add a pair and still not go over five hundo. Have someone you trust hide your debit card and let's have a look at our contestants.
BART HRK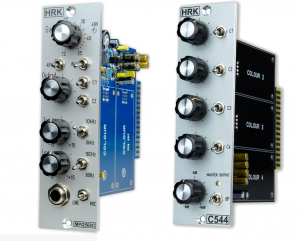 (The BART HRK MPQ568 Preamp and C544 Colour Parallel Colour Modules)
Founded by an electronics engineer who namechecks both Focusrite and AMS Neve on his résumé, BART HRK has a fantastic selection of 500 series modules that squeeze not only a lot of control, but "nice to haves" like tubes, transformers and Colour module capability into the mix. Despite the price, these are most definitely not cutting any corners – the sound and build quality are on par with units in the four figures.
At just $179, the MPQ 568C Preamp is loaded up with goodies and options you simply do NOT see anywhere close to this price. Boasting a dual mic- and line-level preamp based around a NE5532 op amps plus a 2-band high and low shelving equalizer – the MP39484 also features two spaces for the Colour palette modules. By themselves, the 568C's offer a very transparent and clean "wire-with-gain" topology – which makes the addition of Colour palettes to add a variable amount of grit, grime and goop such a great combination.
If you're not familiar, the Colour format was developed by Peterson Goodwyn at DIYRE – letting the user add a huge variety of tone-shaping capabilities like compression, saturation, op-amps and transformers via a detachable internal daughtercard. The 568C provides space for two of these modules, running separately or in series. For those who just want to work with the Colour palettes, the C572 ($179) lets you add up to four modules in parallel with a single dry/wet control. And yes, you can mix and match palettes from DIYRE, Louder Than Liftoff and BART HRK themselves.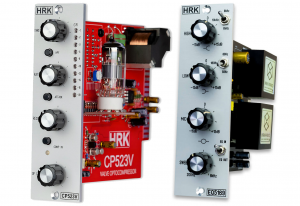 (Tubes and trannies galore: CP523V Compressor and EQ550P Baxandall EQ)
But if you've got more preamps than you already need, BART HRK also offers the CP 523V Opto-Compressor, complete with a Class A tube gain stage at a damn-near-absurd price of $259.Those looking for more tone-shaping ability should check out the EQ550P ($249) a passive hi and low shelf EQ, also sporting the tube gain stage, or the Baxandall-styled EQ5169 ($229)
It bears mentioning that BART HRK offers numerous discounts for bundling – be they purchasing several units or adding their own Colour modules. The mere idea that you can build an entire 500-series channel strip for under $500 is pretty enticing. I keep thinking they'll one day realize they did the exchange rate from pounds to dollars backwards and double the prices.
Most importantly, the BART HRK modules sound amazing across the board with excellent specifications for noise and distortion. With perks like tube gain stages and transformer-balanced outputs, you're getting top shelf quality at an insanely good price.
AUDIO MAINTENANCE, LTD.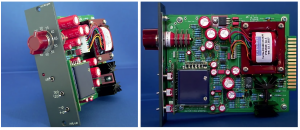 (Sweet sweet transformers. The AML EzPre 1073.)
If the vintagey, transformer-inspired sounds of Neve and Langevin are your thing (but dropping a grand per channel is NOT), have a look at Audio Maintenance Ltd. Offering both microphone AND line-level amps based on both the Neve 1073 and 1081 (£179GBP), as well as the Langevin AM16 console (£169GBP), you'll be swimming in the goopy, saturated harmonics of these celebrated bits of audio engineering mastery – complete with big chunky Carnhill input and output transformers.
Featuring a single Marconi gain knob, switchable 1200/300 ohm input resistance (the lower impedance is great for getting more out of lower-output dynamic and ribbon microphones) and a 60's Russian submarine powder coat finish, these preamps will give your 500 rack a very inspired take on the consoles of the 1960's and 70's. In addition, AML offers a 1073 "add-on" EQ module for £219.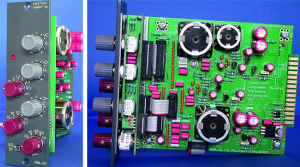 (Add AML's 1073-inspired EQ for just a couple hundred more.)
Though the listed price is for a DIY kit, Costa Mesa, CA's TraceAudio will custom build the preamps for $130 (incl. shipping) – still keeping the unit price around $400 USD total. Of course, if you're handy with a soldering iron and multimeter, you could save the money and build them yourselves. Maybe not the best kit for a first-time builder, but those with some skills should have no problems.
The only minor complaint for the EZ preamps is the lack of a front panel DI and output gain knob. You can, however, adjust the output gain via an internal, variable resistor if you're looking to push the input a little too hard. But when you consider just how incredible it is to have what are considered by many users as being "the closest thing", these are minor sacrifices.
It should be said that if "nothing but the real thing will do", then by all means, save your pennies and get the real thing. These are best judged on their own merits and truthfully, the AML Ez pres deliver "that" vintage vibe in spades. We'd love to see an "ez" 500 series version of the 2254 compressor.
DBX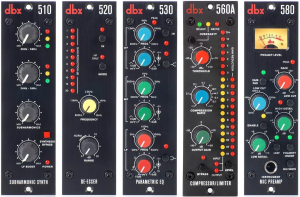 (Something for everyone. The DBX 500 Series Line-up)
Offering a full range of solutions for just about any conceivable pro audio situation, DBX has packed many of their classic tones into a very comprehensive line of 500-series modules. Priced very attractively and backed by the legacy and service of the DBX brand, there is quite literally something for everyone on offer.
The 580 microphone preamp ($269) sports a front panel DI input, adjustable hi- and lo-shelf EQ and variable HPF and, to top it off, actual VU metering. A workhorse for any kind of microphone applications, the 580 offers transparency across its 60db of gain.
The 530 and 560A ($219/ea) models offer 4-band parametric EQ and excellent, transparent compression respectively. Though they may not be geared to impart a lot of color, both are very solid performers on just about any kind of signal you care to throw at 'em. The 560A also features DBX's "over-easy" compression, which has been heard on tens of thousands of mixes throughout the past forty-plus years.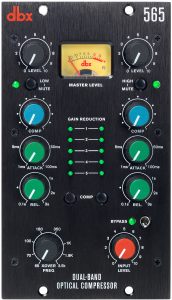 (The red-headed stepchild DBX 565 Dual Band Compressor. Worth finding.)
Rounding out the line is the 510 Subharmonic Synthesizer ($159) – which is a not-so-secret weapon on acoustic bass drums and crunched guitars – and the 520 De-Esser ($169) to tame the sthlurpy sthibilance from sthertain sthingers. And, though no longer in production, the 565 is a stereo two-band optical compressor with adjustable crossover and independent controls for each band – and well worth tracking down.
MIDAS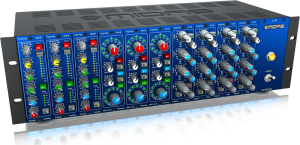 (Talk about brand loyalty! Fully loaded MIDAS L10, stuffed with their range of modules)
Behringer's acquisition of MIDAS turned a lot of heads, especially with the launch of their very handsomely priced L6 and L10 500-series racks. But a 500 rack without a row of modules is a flute without holes and thus, MIDAS spawned three fantastic bright machined blue options. Originally offered at a considerably higher price point, the market spoke loudly and the prices became far more attractive.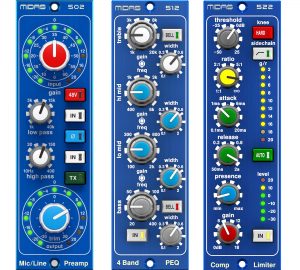 (True blue: The MIDAS 502 Preamp, 512 EQ and 522 Compressor / Limiter)
The 502 Preamp ($249) boasts all the control you need – include phantom power, phase, low-cut and pad, low- and high-pass filters and output gain control – letting you fine-tune the precise amount of gain hitting your recorder or interface. Switchable balanced output transformers is a very, very nice to have if you want to smack the 502 around a bit. Sacrifices have been made though – with that much going on in such a tight space, there's no DI input.
For tone-shaping, the 512 Parametric EQ (you guessed it… $249) is based on the same circuit found in the Heritage 3000 console. With two generously overlapped mid-bands controlled by concentric pots, plus switchable "bell" curves on the hi- and lo-shelves, there isn't an audible frequency that you can't single out.
Moving on down the line, the 522 Compressor ($249) gives you classic VCA compression with the addition of nice-to-haves like user-selectable hard- or soft-knee operation and a mysterious "dynamic presence" control, touted to (in their words) "add 'air' to vocals without introduce noise or pumping".
It does bear mentioning, as we talk about the low-cost options for the 500 series format, that MIDAS also boasts the so-ridiculous-it-can't-be-real $15,000 501 Preamp. Nobody's ever heard one, let alone actually seen one of these things – and it just may be an April Fool's joke that they forgot to take down the day after. We'll keep requesting a demo model.
TRIDENT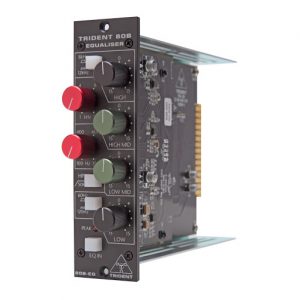 (The Trident 80B Equalizer: One of the most buttery EQ's available at any price.)
Though the name may not garner the immediate drool of their other British mates, Trident's 80B consoles are among the unspoken greats in the history of recording. The Trident 80B ($399) packs the EQ section of it's big brother console into the 500 series footprint. With a switchable 50hz hi-pass, hi- and low-shelving with switchable frequencies and two mid band "peaking" filters, the 80B will help you quickly locate and massage the frequencies you need to make tracks find their place in even the busiest mixes.
Despite the small form factor, the 80B EQ is every bit the "Trident sound" and adds a distinct polish to everything it touches. We're eagerly awaiting the day Trident expands their range to include the 80B console's preamp section in the future – especially at that price.
CAN'T LIST 'EM ALL

Truth is, there are lots of options under $500, including Lindell, Fredenstein, Golden Age Project, as well as several DIY kits for those who're up to the challenge.
It also bears mentioning that the 500 series used market tends to be very active as other engineers continue to modify their setups. So long as you're willing to assume the risk of buying second-hand, there are tons of bargains to be had. Lots of small batch manufacturers come in and out of the market, leaving lots of unsung heroes and unique designs just out of view. Keep an eye out and your PayPal password handy.
Affiliate