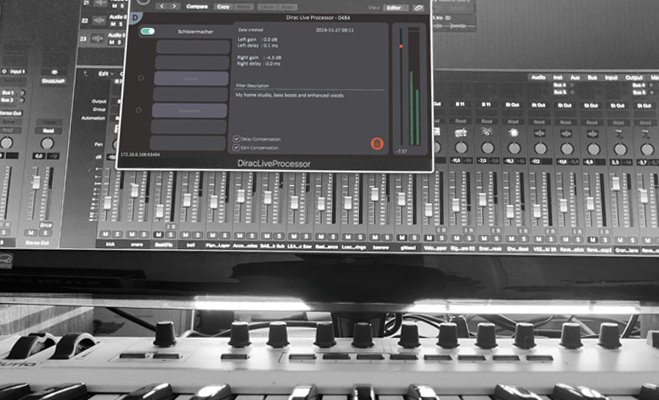 I'm sure at this point, the staying at home and epic time you're going to have in the studio has worn thin. Your mixes aren't translating and you're starting to realize that egg crate on the wall just isn't cutting it in the "mix translating to your car speakers" department. Well I have a solution for you.
Swedish audio pioneer Dirac today announced the introduction of its acclaimed Dirac Live room correction solution for the pro audio market at NAMM 2020. For nearly a decade, Dirac Live has been the HiFi & home theater market's reference room correction solution, used by the industry's most premium brands such as Arcam, Datasat, JBL Synthesis, NAD and StormAudio, among others.

With the introduction of Dirac Live for Studio, the company is expanding the application of its room correction solution to include studio environments that, according to Dirac Director of Product Management Jakob Ågren, have long been plagued by the acoustical challenges Dirac Live corrects.

"Since 2010, Dirac Live has enabled the world's finest HiFi and home theater systems to achieve their full potential," stated Ågren. "However, as Dirac Live increased in popularity and critical-acclaim, we repeatedly heard from the pro audio community that such a solution was needed in the studio. At NAMM 2020, we are delivering a room correction solution that will impact the pro audio industry in the same way it has impacted HiFi and home theater."

Whether a home theater or a mixing studio, the physical space in which speakers are placed interferes with sound; the walls, ceiling, furniture and more interact with sound waves causing various acoustic issues – regardless of the equipment that's used.

As a result, for instance, certain frequencies can be amplified while others are weakened (frequency domain issues), and sound stage can deteriorate (time domain issues). Traditionally, acoustic room treatments have been used to address these issues; however, this method takes substantial resources and time, and still fails to resolve some of the key acoustical challenges.

Featuring patented impulse response and frequency response correction, Dirac Live tackles both the frequency and time domain problems to significantly reduce the room's impact on studio sound – thereby improving the accuracy of sound reproduction in studio environments.

This is particularly important during the editing process, as it ensures that producers are faithfully experiencing the complete recording – unaffected by the room itself – so they can most effectively mix and master it. Furthermore, the solution is time and cost efficient; producers do not have to invest substantial time or break the bank to improve their studios' acoustics.

For the last few years, the company has piloted Dirac Live with some of Sweden's most influential DJs and music producers, all of whom rave about the impact it has had on their recordings.

"When producers hear the difference that Dirac Live makes, they'll no doubt be blown away," stated Rami Yacoub, acclaimed music producer for artists such as Ariana Grande, Demi Lovato, Avicii and more. "Recordings can be experienced in their purest, more accurate and complete form, without the introduction of distortions produced by the studio itself. Dirac Live is a game changer for our industry, and will soon become the go-to room correction solution for producers of all professional levels."

Dirac Live for Studio (Windows and macOS) is immediately available for the pro audio market as a computer software. Different from Dirac Live for home audio, Dirac Live for Studio features an audio plugin that can be installed in some of the most popular digital audio workstations. Dirac Live measures and corrects the studio's acoustics, while its audio plugin then stores the correction filters.

The audio plugin can be installed in most host applications that support VST, VST3, AAX and AU formats, such as digital audio workstations and certain media players. Dirac Live for Studio is currently compatible with the following host units: Logic Pro X, Cubase 10, Studio One 4, Reaper, JRiver Media Center 25, Ableton Live 10, and Pro Tools. More will be added in the weeks and months to come.
Price: $349.00
For more information, visit https://live.dirac.com/pro-audio/
Affiliate