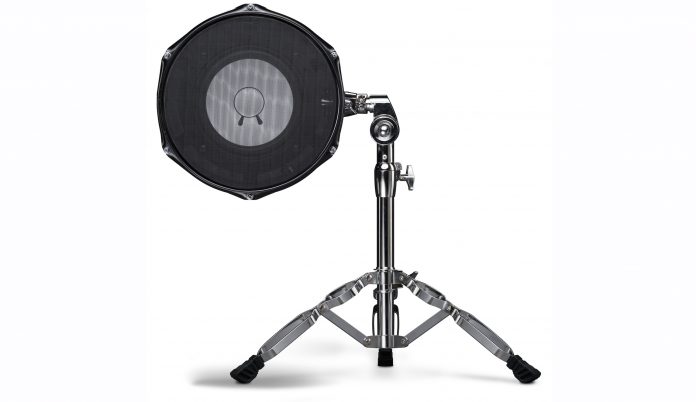 A secret tool for most engineers for years, the "sub-kick" was originally made from a monitor woofer wired to work as a microphone. This, paired with a mic on the beater is responsible for the extra oomph in tracks. Now Avantone Pro has made one so you don't have to!
Avantone Pro is proud to announce availability of Kick — an aptly-named sub-frequency kick drum microphone that effectively brings back to life a well-known extinct example by utilising the affordable high-quality audio products producer's own reproduction 'white cone' low-frequency driver to capture lower frequencies than a standard dynamic microphone, giving kick drum sounds that still-sought-after subsonic signature — as of June 1…

While using a speaker as a low-frequency capture microphone is nothing new — after all, The Beatles used this technique on their chart-topping 'Paperback Writer' way back in May 1966, watching people dangling a speaker from a makeshift stand, rewiring a monitor driver, or hot-wiring a combo amp to try and capture those lows is far from a pretty experience with results not necessarily assured, Kick ably addresses this by bringing the boom from appropriate instruments out to the forefront, making large-sounding sources sound massive. Moreover, it neatly does so with a sub-frequency microphone that utilises its well-known reproduction 'white cone' low-frequency driver — not just any driver, though… the driver!

Avantone Pro's AV-10 MLF low-frequency replacement driver used in its CLA-10 recreation of an iconic studio reference monitoring mainstay — and compatible with the Japanese original — is also at the beating heart of Kick. Indeed, it has a single continuous press-formed cone to match that classic sound and allows a much higher level of quality control and consistency during the manufacturing process as well as delivering strong bass reproduction. In Kick's case, the AV-10 MLF's distinctive 18cm cone acts as a microphone element. The microphone itself is of a moving coil dynamic type, with a 50Hz to 2kHz frequency response, 6.3 Ω output impedance, and figure-eight pattern, plus a male XLR connector. All are housed in a birch plywood drum shell with a 10-inch mesh drum head.

Having said all that, to then mount Kick on a standard mic stand simply would not do the job justice — which is exactly why Avantone Pro provides a stage- ready, double-braced drum stand. Studio-bound or on the road, the comprehensive Kick package is really ready to deliver!
Kick is available for $349 / €399
To purchase, please consider our affiliate link HERE
Affiliate