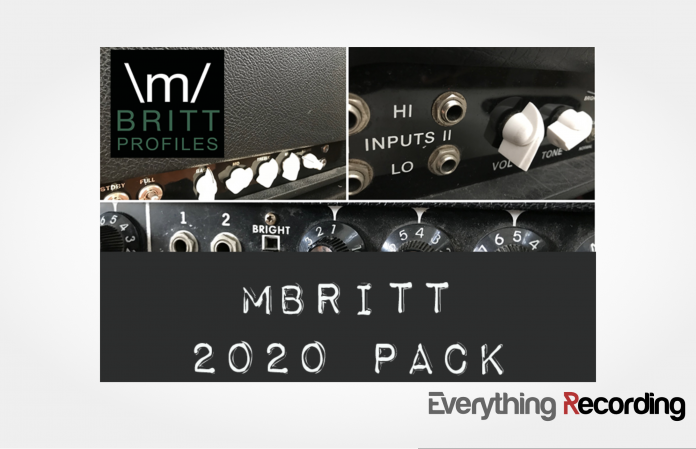 MBritt 2020 Pack Rundown:

Pros

- Very Versatile Rig Pack. There's not many genres this pack can't cover. <br? - Presets give instant starting points to get your creative ideas flowing
- The Performance presets are my favorite. I hope to see more presets like this in future packs.

Summary

Whether you play live or in studio, there is something for everyone in the MBritt 2020 Pack.

I know you've watched the YouTube videos, heard some of the samples by guitar players much better than me, but I'm going to take the less beaten path with a written review of Michael Britt's latest Kemper Profile pack: MBritt Profiles 2020 Pack. Written reviews tend to allow for more detail, so we'll go over more of the specifics of the pack. We also featured a Kemper Profiler Review last month and it can be found HERE.
Personal Stash
It's been close to two years since Michael Britt (aka Dr. Kemper) has released a new pack. This wait is in part due to his focus on quality over quantity. It's refreshing to see someone who isn't just out for your wallet. While Mr. Britt is constantly looking for new profiles, his previous packs have become harder to beat. The 2020 Pack represents most of his personal amp profiles and a few interesting amps, he's profiled along the way.
What's Inside
This pack contains the following:
126 Studio Profiles of 16 amps

13 LDW – Divided by 13 LDW
3P Am Dream – 3rd Power American Dream
3P Brit Dream – 3rd Power British Dream
57 Deluxe – Fender 57 Deluxe (hand-wired)
63 VibroV RI – Fender 63 Vibroverb Reissue
67 Pro Reverb – Fender 67 Pro Reverb
68 Mars Plexi 50w – Marshall 68 Plexi 50 watt (Belonged to Eric Johnson)
72 Mars 50w– Marshall 72 50 w (flooded but Dylana from 3rd Power rebuilt it. Has been profiled in pack 1 but improved and tweaked)
Mars 800R – Marshall 800 (Red Tolex)
Boggy Metro – Bogner Metropolis
CA OD100 – Custom Audio Amplifiers OD100
CA Tripper – Custom Audio Amplifiers Tripper
Match Club Man – Matchless Clubman
T Hat Royalty – TopHat Amps Club Royale
Too Rocky CRS – TwoRock Custom Reverb Signature
Wrekt DML – Trainwreck Dirty Little Monster

7 Plug'n'Play Performances

3P Country – Just a basic group of tones that would work for most classic to modern country tones.
Basic FxxxxR – This performance highlights the CA amp tones available in this pack, from brownface and blackface to thick tweed overdrive.
Britt Basic – He always keeps a "britt basic" performance as his first performance on my Kemper, so if he's doing songs that he doesn't have specific performances programmed for, he can use this performance for most songs. This has some of Michael's favorite tones in it.
Classic Rock – This performance is predominantly Mars based because that is the tone of classic rock IMO. From the gorgeous Plexi clean to Plexi drive to metal front lead tones.
EL84 Basic – For those who like to live on the AC side of things tone-wise. The way EL84s break up is really nice. This is a performance of AC style amps that cover everything from clean to leads.
Inspired – This is a collection of tones for when you're just looking for a sound, whether it's something song-specific or just to be inspired to play a bit.
Variety – This is a random collection of tones that are more style-specific than song specific.
32 Effect Presets

12 String – simulated 12 string tone using Pitch Shifter
Analog Tape 1 – basic analog tape Delay
Analog Tape 2 – another variation of the tape Delay sound Big
80's Comp – lots of compression for 80's sound
Comp + – Mr. Britt's basic compressor with just a bit more oomph
Comp 1 – Mr. Britt's basic compressor setting, parallel and can be left on
Comp Dyna – simulation of a great Dyna comp for more squish
Crystal Del – Dual Crystal Delay with some octave shimmer
Franken – Pitch Shifter for up/down octave, great for Frankenstein
Harm G Maj Pent – Smart Pitch Shifting Mr. Britt use live in G major pentatonic, great for Jessica Hyper-Lite – nice, light, airy chorus
Legacy Basic – one of his basic, go-to Reverbs
Lush Swell – Cirrus Reverb with a bit of shimmer that he love for ballads
Magic Cab* – one of my favorite Cab modules that he uses on a lot of rigs
Magic Cab 2 – slight variation of the Magic Cab
Nat Basic – Natural Reverb that he uses a lot
Octave Down – simple octave down effect
Quad Delay – He uses this for thick swell effects among other things
Rabin 5ths – straight chromatic 5th Pitch Shifter for Owners of Lonely Hearts
Rat Crunch – Mouse overdrive to push an overdriven amp
RCA 3 – another Cab that Mr. Britt finds useful for other rigs
Rotary – my fave Rotary sound, often set for morphing into
Scream Big – one of my fave  Tube Screamer stomp settings, adjust to taste
Scream Crunch – lighter gain Screamer stomp
Scream Push – this TS stomp is nice to push a clean amp into the edge of breakup
Trem 007 – Bond trem
Trem Basic – Michael's basic go-to tremolo setting
Trem Dukt – he loves the ducking trem, play hard and it's not there, play soft and TREM! Uni Gilmour – Phaser Vibe for some Floyd type tones, one of his faves
VIB Wobble – one of Mr. Britt's basic Vibrato effects
Vibrato – another variation of one of his fave effects
Wall Delay – Another Brick delay setting
Decoding the Preset Names
Before we get too far, we should go over the naming conventions. At first, you may be slightly confused by letters and numbers at the end of the preset names. These actually represent notes pertaining to specific versions of profiles he's created and certain special pieces of gear that he used. Below is a description of what the letters stand for
Pedals
K – Klon or Klon-type pedal
R – Red (His custom-built Colonel Angus Overdrive) – Similar to a BluesBreaker
T – Paul Cochrane Tim or Timmy Pedal
805 – Seymour Duncan 805 Overdrive Pedal
BD – Blues Driver
PJ – Pettyjohn Electronics Gold Overdrive
Misc Notations
MC – Magic Cab Speaker Cabinet Preset
B – Bright Channel (Vibroverb) OR Channel B (CA Tripper)
C – Channel C (CA Tripper)
V – Vibrato Channel (Proverb) OR veteran 30 speaker (Boggy Metro)
Let's Get into it
This pack was created in Firmware 7.x and utilize .krig. Make sure your OS is 7.x and above. A word of warning – if you use prior versions, these presets could cause trouble and if they did work, they would not have all of the effects and parameters.
With the technicals out of the way, let's get into the collection. Each of the 14 amp models has anywhere from three to thirteen versions per amp, usually ascending from cleaner to more overdriven. Individuality is encouraged by Mr. Britt and he gives the keys to make these models your own. He kept the EQ section of the amps fairly neutral and suggests using the Definition control to make presets brighter or darker. By using the Definition as a "tilt" EQ, turning it up will make the model brighter, turning it down will make it darker. Some other considerations he mentions is utilizing the Power Sagging, Compressor, Clarity Control, and Speaker Character controls. These can help make these presets your own.
So How do They Sound?
How do you think? They sound amazing! I own all of the previous packs, and while you could surmise Michael Britt couldn't raise the bar any more than he did with other packs, he has certainly raised it even higher. The presets are virtually "mix ready" and work for just about any genre.
The T Hat profile is one of the most versatile presets and I bet I've used it on every track that needs a tone that can transition from cleaner to break up just by dialing the volume. The Wrekt model with the low end turned down a little is one of the best distortion models for rhythm on just about any genre. Simply dial the drive in and you're all set.
The presets are great, but what shines, even more, are the presets and performances. I found myself playing more in the performance presets than anything. I would really like to see him create a new pack of creative presets like what he created in the "Inspired"  and "Variety" section. He really has an incredible ear for recreating classic song presets as well as his own.
Conclusion
I think Michael Britt is doing all of us a great deed by offering his personal amp profiles. I think he could easily charge double what he does simply based on the quality of the models and presets. My Kemper pretty much stays on the MB folder in my Profiler. There's just no need for much else unless you're going for detuned metal presets, but even some of his models can be purposed for this and add a unique touch to even those tracks.
For more information and to purchase, visit MBritt's site HERE.
Affiliate