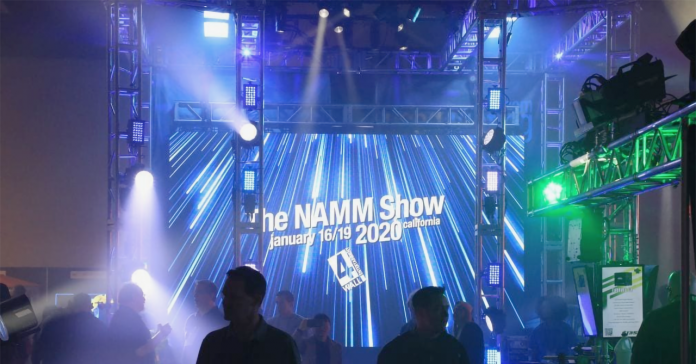 After a whirlwind weekend in Anaheim, CA the ER.com crew are back to report on not only what we saw at this year's four-day bacchanal, but what we didn't. (Bryan promised us Magic Mountain if we were good – sadly, we were not. Blame the $2.99 Mango Bahama Blast Margaritas at the Applebee's across the street from the Comfort Inn)
Of course there was the usual smorgasbord of the newest, hottest, latest, bigger-faster-louderest gizmos that are sure to make you want to cash in your 401k. Lots of boxes that go blinky-blinky and price tags that make your bank account go over-drafty are to be expected. That's NAMM for you.
But we aren't going to be talking about those. Not here, at least. We're crawling out from underneath our rail-tequila hangovers to share six new products that you DIDN'T get to see at NAMM because they don't exist… and hopefully never will.
Mackie Introduces "Virtual 8Bus" Plugin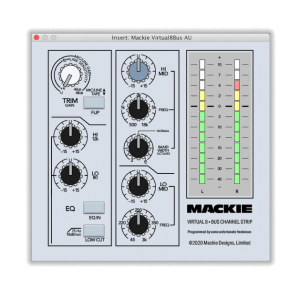 "The pro audio community will always have an appreciation for the classics," says Greg Mackie, CEO and founder of the eponymous Mackie Designs. "The past decade in particular has seen a virtual rebirth of designs from Neve, API and Solid State Logic – which are available in studios everywhere thanks to advancements in plug-in technology."
Introducing Mackie's Virtual8Bus (PC/Mac, VST/AAX/AU), a stunningly unimpressive recreation of the venerable Mackie 8 Bus mixer's channel strip, he continues, "Engineers today may have never even touched the hardware behind so many demos and local jingles. So I figured let's call it 'vintage' and watch the money will roll right in."
First introduced in 1994, the Mackie 8 Bus mixer quickly found itself at the heart of budget recording and project studios everywhere. Though famous for little more than its competitive price tag and ability to withstand several drops of a cinder block, Mackie is confident that the 'sound of the 90's' will find new fans everywhere.
"What do any of these people know about 'the classics'? I mean, really…" Mackie says, motioning towards a group of EDM producers hovering over KRK's latest Rokit line. "Did the original sound good? Hell no! But don't tell these laptop douchebags that."
Virtual8Bus will be priced at $49.99 and available in VST, AU and AAX formats for Mac and PC. True to the original, actual metering will cost extra.
Electrical Audio Introduces Steve Albini 'Signature' Plug-In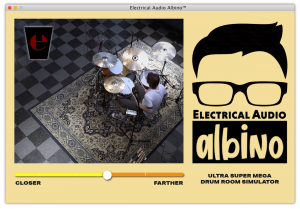 "You put my name on a WHAT??!?" screams legendary engineer Steve Albini, happening upon the Electrical Audio booth. "Oh, hell no. Absofuckinglutely no. This doesn't even consider possible phase shift with incremental negative bias DC fluctuations post-transformer in the secondary op-amp stage! Not in this lifetime. No."
Boasting a single room-reverb algorithm, Electrical Audio's "Albino" plug-in (Mac/PC, VST/AAX/AU) puts the power of the outspoken industry curmudgeon's bombastic signature live drum sound into studios and workstations around the world.
"So it's just the one reverb, huh?" Steve mutters, looking at the screen with his usual disdain of anything digital. "Yeah, that's great. Just great." "A fucking plug-in…" he continued to mutter at nobody in particular as he walked off to give an impromptu keynote about whatever was bugging him that day.
Albino offers a custom-modelled IR-response of Electrical Audio's famed Chicago studio live room, captured with Coles 4038 ribbon microphones and set to 100% "all-on", with no ability to change the mix to taste. The application will be delivered as raw data encoded on analog 2" tape. See www.electricalaudio.com for optimal biasing.
As of press-time Albino is currently not slated for a release, pending a lawsuit recently filed in Illinois District Courts.
AMS Neve Steals The Show With New "Empty Box 13042"


Though the latest advancements in digital technology were seemingly the main focus of this year's show, famed studio hardware designers AMS Neve garnered a lot of "oohs" and "aahs" with the unveiling of their EB13042 "Empty Box" Audio Comparator. Housed in a 1U steel chassis sporting their trademark blue grey, the EB13042 boasts the most minimal signal path in studio technology today.
"I've got a bet going with Rupert that you could slap our logo on literally anything and sell it in the states for 2000 quid", remarks AMS Neve's lead designer Robin Porter. "Gauging by the sheer amount of drool I've had to wipe off this thing, I'll bet you preorders are going to be through the roof."
Literally nothing more than a virtually empty box, Neve's newest processor is solely aimed at only the most discerning of professional audio corksniffers, the EB13042 bridges its premium Neutrik inputs and outputs with 4" of Mogami cabling and two overload indicators. Robin chuckles, "I'm having a right good laugh listening to people saying how 'warm' and 'round' sounding it is. Jesus Christ on a ferris wheel, you Yanks will buy anything."
The EB13042 will be available exclusively through Vintage King at an MSRP of $1999.
Alesis Proclaims "We're Still A Thing!" With Two Classic Reissues

Thanks in no small part to being placed near the convention center's restrooms, the Alesis booth attracted a few curious attendees. "Of course we're still a thing!" says Alesis CEO Jack O'Donnell, showing off the company's two new modern takes on their most classic, venerable designs.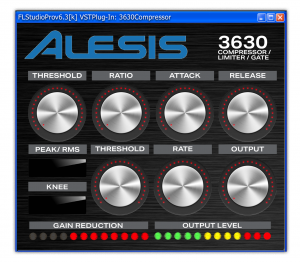 First up is Alesis' first foray into the plug-in / DAW market, with a digital recreation of their maligned 3630 Compressor (PC, VST). Boasting the same specs and painfully anemic sound of the original at a price only slightly higher than buying the hardware used, users can now experience the flat, lifeless fidelity and prohibitive signal-to-noise ratio that made the original internationally reviled.
"How does it sound? Oh my god – it's freaking terrible!" Jack laughs in front of a peeling mural showing the company's history of budget recording solutions for the home studio. "Nothing – and I mean NOTHING – will suck the life out of a perfectly good recording like the 3630. Other plug-ins get close, but nobody delivers "the real deal" quite like Alesis."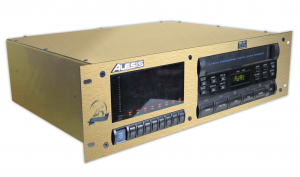 But the real showstopper was the 25th Anniversary Alesis ADAT Digital Recorder. Honoring not only a quarter century of the home VHS digital multitrack revolution, but the ten year anniversary of founder Keith Barr's untimely passing, the 25th Anniversary ADAT is a meticulous 1:1 recreation of the original machine in a stunning gold Krylon finish.
"Sync dropouts, interpolation errors and of course, chewed up tapes – you name it. It's in there," O'Donnell boasts before a small collection of disinterested onlookers. "Before the advent of the DAW, musicians would often find the two minutes of the machines rewinding and locking up to be creatively inspiring. You just don't get that anymore in today's 'instant-on' ProTools world."
The Alesis 3630 plug-in retails for $19.99 and is available in VST format for Windows XP/2000 or earlier. The 25th Anniversary ADAT is priced at the original MSRP of $3995. Both will be available only through their exclusive retail partner, MusicGoRound (www.musicgoround.com).
Slate Makes A Splash With New "Raven" Cologne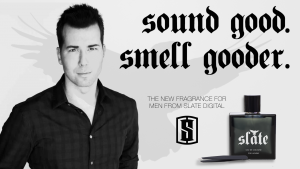 In an ironic first, the biggest launch of this year's NAMM wasn't even musical equipment. Slate Digital made a huge, literal stink with the announcement of "Raven" – the new men's fragrance developed by company founder and meticulously-groomed pretty boy, Steven Slate.
The result of Slate's collaboration with international scent producer Parfums De Couer, Raven's bold musk infuses the essence of every other cologne ever created, which is then boiled down and distilled with an off-brand automotive leather conditioner.
Though not exclusively marketed to audio producers, Slate was quick to comment that he had a particular customer in mind. "I want everyone to buy it, of course, but you gotta understand it's not just a fragrance… it's a lifestyle." He continues, "Leather cafe racer jackets, Equinox Fitness memberships, waxed shoulder hair… that's what defines today's new breed of audio engineer."
Presented in a handsome gift-box with complimentary eyebrow tweezers, Slate Digital's "Raven" will be sold by subscription only at www.slatedigital.com.
Affiliate