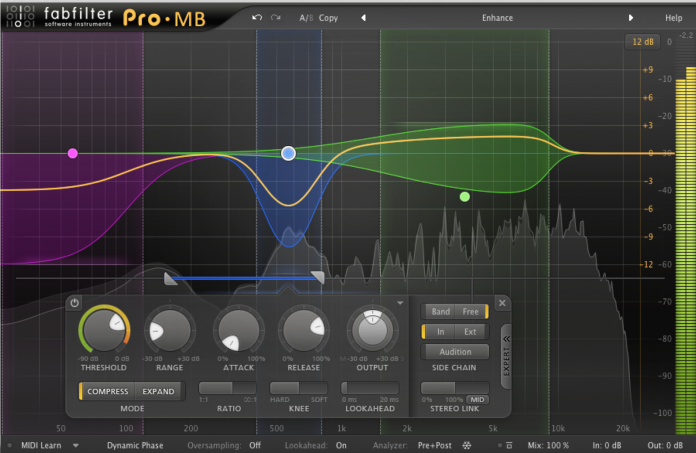 Fab Filter is back with a new plugin. This one deals with an area that can be very tricky to use but the folks over at FabFilter claim they've got a very comprehensive version. This version of a multiband limiter has their own personal twist to it giving it a global wet/dry knob, 6 bands of dynamics, Midi learn, as well as the ease of use of FabFilters product line. It definitely looks very promising.
We are very proud to present FabFilter Pro-MB, a new multiband compression/expansion plug-in! Featuring an innovative, extremely transparent Dynamic Phase processing mode, unique interface workflow that enables you to place bands freely in the spectrum, and all the expert features you need, FabFilter Pro-MB is designed to be your new go-to multiband dynamics plug-in
Of course, bundles with other FabFilter plug-ins are also available. And if you already own one or more FabFilter plug-ins, you can purchase FabFilter Pro-MB with a very attractive discount via your online account.-Up to six processing bands, freely placed anywhere in the spectrum
-Bands can be easily snapped together to form a traditional crossover system
-Unique Dynamic Phase processing mode featuring zero latency, no static phase changes and no pre-ringing artifacts
-Excellent Linear Phase processing mode, eliminating audible artifacts when quickly changing crossover frequencies
-Minimum Phase processing mode
-Handles any form of dynamics processing, from highly transparent compression, limiting and expansion to pumping upward compression and punchy gating
-Fully customizable per band: threshold, range, attack, release, output gain, ratio, variable knee, lookahead (up to 20 ms), variable stereo linking, mid- or side-only processing, external side chain input, triggering on a separate frequency range
-Steepness of each crossover slope can be freely adjusted between 6 dB/oct and 48 dB/oct
-Global dry/wet mix from 0% to 200% to easily scale the total effect of the plug-in
-Unique interactive multiband display, designed for an optimal workflow
-Accurate and smooth real-time frequency analyzer with pre- and post-processing options and 'freeze' feature
-Intelligent, highly program- and frequency-dependent attack and release curves
-High-quality audio processing algorithms with 64-bit internal processing where needed
-Up to four times linear-phase oversampling
-Band solo/mute and bypass options
-Precise output metering
-GPU-powered graphics acceleration
-Supports common Pro Tools hardware control surfaces
-All the usual FabFilter features you've come to expect: perfectly fine-tuned knobs and controllers, interactive MIDI Learn, undo/redo and A/B switch, Smart Parameter Interpolation for smooth parameter transitions, an extensive help file with interactive help hints, sample accurate automation, SSE optimization and more!
FabFilter Pro-MB is now available for €169, $229 or £139, on Windows and Mac OS X in VST 2/3, Audio Units, AAX, RTAS and AudioSuite plug-in formats.
For more info, visit http://www.fabfilter.com/products/pro-mb-multiband-compressor-expander-plug-in

Affiliate