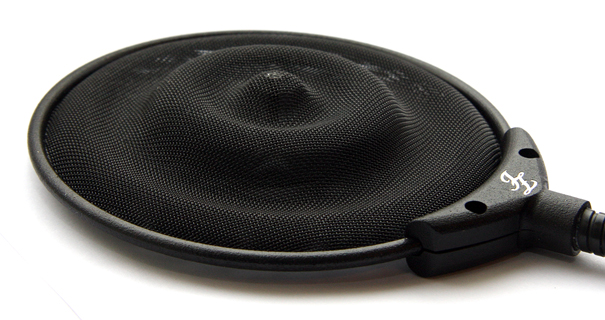 I know what you're thinking and NO this site is not changing format to feature the newest in stripper apparel. I can understand at first glance this looks like some sort of bullseye tassel but it's not. Its actually a revolutionary new pop filter by JZ Microphones.
I will most definitely be buying this the moment it comes out mostly because my coat hanger with pantyhose stretched across it isn't cutting it anymore with my new Mojave MA-200. (You know how clients get with their constant "these panty hose have been used" complaints… COME ON they were my grandma's so chill homie. I'll finish your stupid rap cd)
Here's the info straight from the source.
JZ Microphones launches long awaited unique pop filter – JZ|PF. After having a great success with Black Hole Series microphones pop filter there was no other way than to design the unique pop filter compatible to any microphone on the market.
New pop filter JZ|PF is shipping at the beginning of November and is available at JZ Microphones online store with preorder from 14th of October 2010.
The pop filter has unique shape designed to maximally reduce plosive sounds coming to the microphones capsule and to maximally avoid altering harmonic content of the sound source. The pop filter has extended length of the gooseneck for easy setup and will have special attachment for a fast and easy action when applying the pop filter to the microphone stand.
Now I know this pop filter is a little pricey but if this thing works as good as they claim, it's worth every penny.
For more information on JZ Microphones and their KILLER lineup of great looking mics, visit HERE