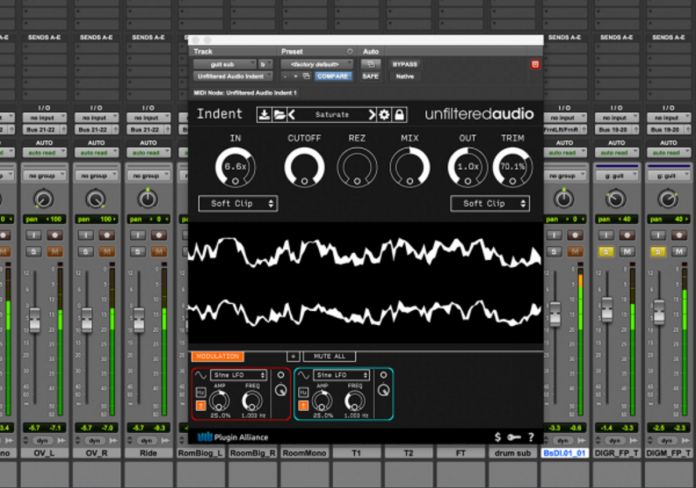 Distortion boxes are always fun. Unfiltered Audio is one of Plugin Alliance's newest partners and to celebrate have offered their new plugin Indent for a limited time until August 15th. Indent is actually a scaled down version of Dent, which provides endless possibilities with distorting sounds. In typical fashion of Unfiltered Audio, Indent features modulators which can control functions via oscillators, input followers, sample and hold, and macro controls.
Indent is your crunch commander for electric guitar, bass, synth and drum tracks, delivering saturated tones from subtle grit to destructive overdrive. Choose from among four different-sounding clippers—Hard Clip, Soft Clip, Wavefold and Overfold—at Indent's input and output stages to add saturation with the perfect color.
– Great for producing both familiar guitar pedal-style effects and unusual sounds that surprise and provoke.
– Simple controls and intuitive visual interface help you saturate or mutilate tracks quickly and easily.
– Unfiltered Audio's flagship modulation system provides six freely assignable and fully automatable modulators (sine LFO, sawtooth/triangle LFO, square-wave LFO, input follower, sample-and-hold noise, and macro control knob), with drag-and-drop virtual patching to every control knob.
Act soon before this special introductory offer expires. Get Deal!
Affiliate