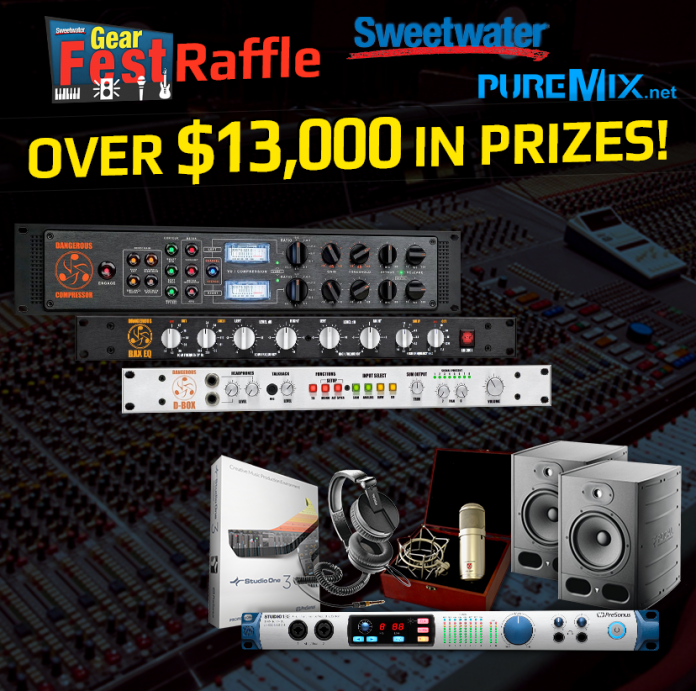 How many companies give you a free plugin for simply entering a raffle? Well in this case pureMix, Sweetwater, Presonus, Lauten, Dangerous Music, and Focal. pureMix is hosting the Gearfest Raffle with all of these great companies and there are a LOT of prizes. Simply visit the link at the bottom of the page to enter the raffle. You can also increase your chances by Tweeting ,Facebook(ing), visiting, and sharing the post!
Contest Alert: $13,000 in the 2015 GearFest Raffle from Sweetwater and pureMix
Enter to win high­end studio gear from Dangerous Music, Focal Professional, Presonus, and Lauten Audio
New York, NY​pureMix.net has teamed up with Sweetwater, Dangerous Music, Focal Professional, Presonus and Lauten Audio to offer a prize package worth over $13,000. This is everyone's chance to listen, learn and win! Enter here ­ http://bit.ly/pureMixGearFestRaffle2015
12 winners will each receive one of these prizes:

­  Dangerous Music Compressor, BAX­EQ, and D­Box
­  Focal CMS 80, CMS 65 and Spirit Pro
­  Lauten Audio Atlantis
­  Presonus 192 Interface and Studio One Pro 3
­  3 yearly subscriptions to pureMix

Every raffle participant receives a f​ree channel strip plugin from Presonus​and a ​free copy of Fab Dupont's mixing seminar​captured at Sweetwater's GearFest 2015. The contest closes December 15th​ and this year you can earn bonus entries by tweeting, following, and sharing the contest with all of your friends and followers. Register to win​­ http://bit.ly/pureMixGearFestRaffle2015
Sweetwater's GearFest 2015 was the 4th year in a row where pureMix.net's Fab Dupont headlined the show. Fab mixed a modern rock song "Heaven Help Me" by V​iFolly ​using a hybrid analog/digital rig including the brand new D​angerous Music 2­Bus+.​ Now you can watch Fab's performance any time you want on p​ureMix.net​­ recorded live on stage to a standing room only crowd, Fab shares his entertaining and informational insights on how to mix both creatively and efficiently.
To enter, visit http://bit.ly/pureMixGearFestRaffle2015
Affiliate