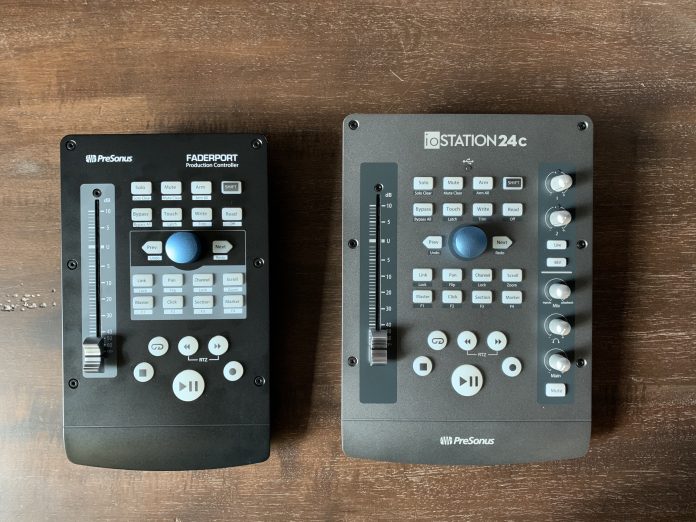 Out with the Old
Recently, I've been going through a cleansing ritual at Everything Recording HQ. Computer formatted, plugin folders liquidated, and a long hard look at the choices I've made as far as hardware goes. This was no small task, either. Almost half of my entire setup was sold: HD Native System, Sonnet Thunderbolt Chassis, Slate Raven, SwitchCraft Patchbay, and many others pulled from their loving home and placed in another.
Many of you may be asking, "WHY?" The answer is simple and a whole separate article within itself – because change is good. I get the other side of the argument involving faster workflow, but it's good to shake things up a bit. All of the gear I sold was great – I have no complaints about the performance, but if I'm truly going to stay with the times, I've got to be willing to jettison the familiar and evolve with the times.
With that newfound philosophy, I took my own site's advice (courtesy of my good friend and excellent writer B. Church) and bought the very same interface he did, the PreSonus Quantum 4848. While I was patiently waiting for the interface to arrive, I browsed the site, getting myself pumped up over all of Quantum's new features and something caught my eye. Something I'd been missing since I gave up my Digi 003 to buy the HD Native – buttons, knobs, and faders!
In with the New
The item in question was the FaderPort series, namely, the FaderPort. This controller had exactly what I was looking for and the motto to boot: "Don't Kill That Mouse. Give it a Companion". Many manufacturers set out to eliminate the mouse and keyboard. The FaderPort offers something different: a device a little bigger than a keyboard that can sit right beside it with just the controls needed to get things done. No convoluted gestures on a screen, just good old fashion button mashing and fader pulling. I immediately contacted PreSonus and had it added to the order.
Fade to Black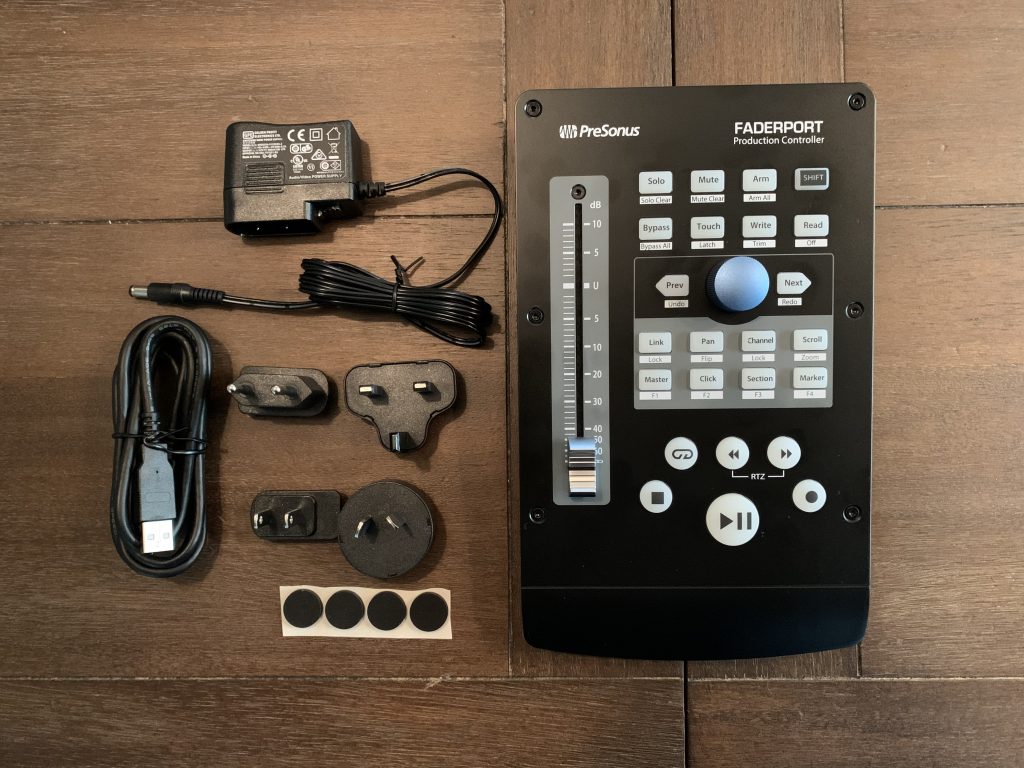 Coming in just under $220.00, FaderPort maintains a low price point and footprint. The unit is only 2 inches tall x 9 inches long x 5.5 inches wide. This fits perfectly in a sliding pullout keyboard drawer next to your keyboard, which is just what I did. I placed mine on the left to quickly access whatever buttons without releasing the mouse, almost like an extension of the keyboard itself. In the box, we have a standard USB cable, round anti-skid pads for the bottom, and nearly every type of power receptacle the traveling producer would need.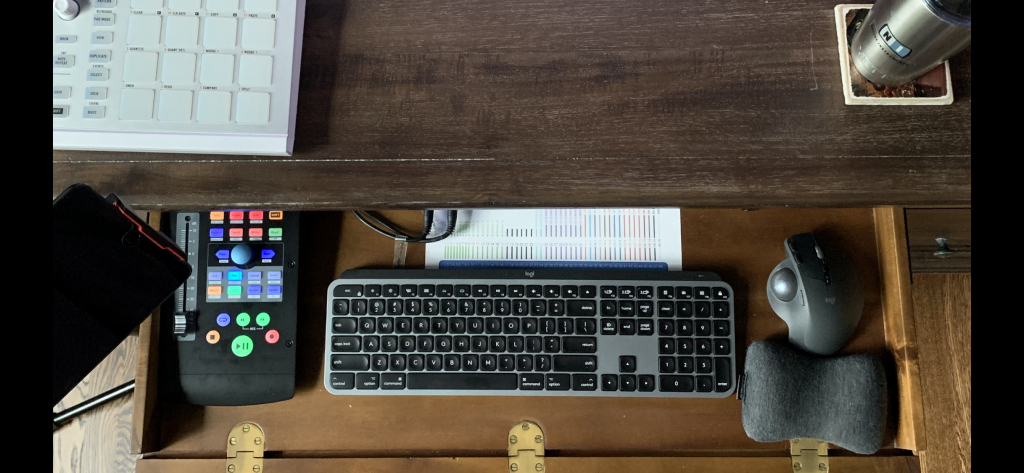 Hey Good Lookin'
The unit itself is a sleek black with a Christmas tree's worth of backlit colored buttons, each corresponding to different functions. The only small gripe about the actual hardware is that the surface tends to fingerprint and smudge easily, especially during marathon sessions. The knobs and buttons feel very durable and solid, and the fader itself is very smooth. Being a 100mm touch-sensitive fader, even the smallest move gets recognized. As far as ports on the back, FaderPort clocks in with three: a power adapter, an optional footswitch jack, and the USB port to connect.

Options abound as far as DAW-of-choice, with FaderPort easily supporting all mainstream DAWs without any driver installation. To test this out, I ran it on Logic, Pro Tools, and of course, Studio One 5. Switching quickly between DAWs is very simple; power off, then power back on while hitting specific button combos. The only drawback is that each time you power off, you have to perform the same power off / on key command to set the unit up for your DAW (that is, unless you use Studio One). Additionally, some of the buttons do not have any functions for different DAWs, and currently, there's no way to change them. Although FaderPort works for different DAWs, primarily, it was designed to be optimized for Studio One. Don't let this stray you from using with others; consider it all the more reason to move over to Studio One.
Everything in its Right Place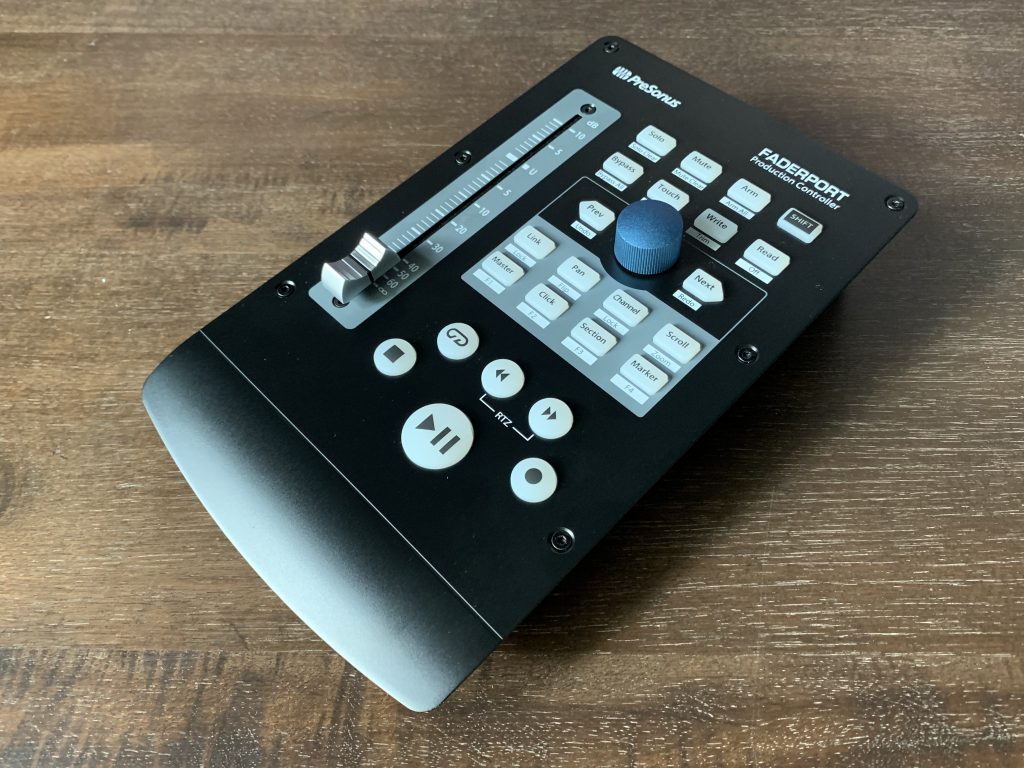 PreSonus has the organization game locked down on FaderPort. You get only the buttons you commonly used, and they're laid out logically. My only issue is with the "SHIFT" button's location. I have smaller hands, and it's a stretch hitting those F keys in combo with the SHIFT. It would feel more natural to me if the shift was closer to the middle or bottom. The only button missing is an "Enter or OK" button, but other than that, everything else makes perfect sense, and in no time, you won't even have to look down to find the right function.
Speed and precision is the name of the game, and the FaderPort has it in spades. The Session Navigator comes complete with a big blue button right in the center that makes finding tracks, markers, zooming, or panning a breeze. If further control of panning is needed, the Flip control gives laser precision by turning the Fader into a pan control.
In Use
The learning curve couldn't have been easier. You already know what the buttons do in your DAW; you merely need to memorize their location. The color-coded system makes this task even easier. The workflow on FaderPort is masterful. No more fumbling around for automation. Grab the session navigator, find your track, hit the automation mode, and you're instantly on the fader making moves. PreSonus has hit a home run with FaderPort. In the several months that I've owned my FaderPort, I've already used it immensely more than my previous control surface. No extra setup or steps needed, simply turn it on, hit your key modifier for your DAW, and get to work. I bonded so well with the unit, I started taking it to other sessions, and when I'm traveling, it's small enough I can throw in my backpack.
If more is what you need, PreSonus takes the same incredible functionality and expands the number of faders and knobs in both eight and 16 channel varieties. The expanded versions do get the upgrade of small LCD screens and expanded buttons for quick access to sends, FX, outputs, etc.
There's no shortage of reasons to buy any of the FaderPort series. Whether you're on the road, looking for a control surface with just the essentials, or out of desk space, FaderPort has you covered.
Not So Fast… There's Something Possibly Better
ioStation 24c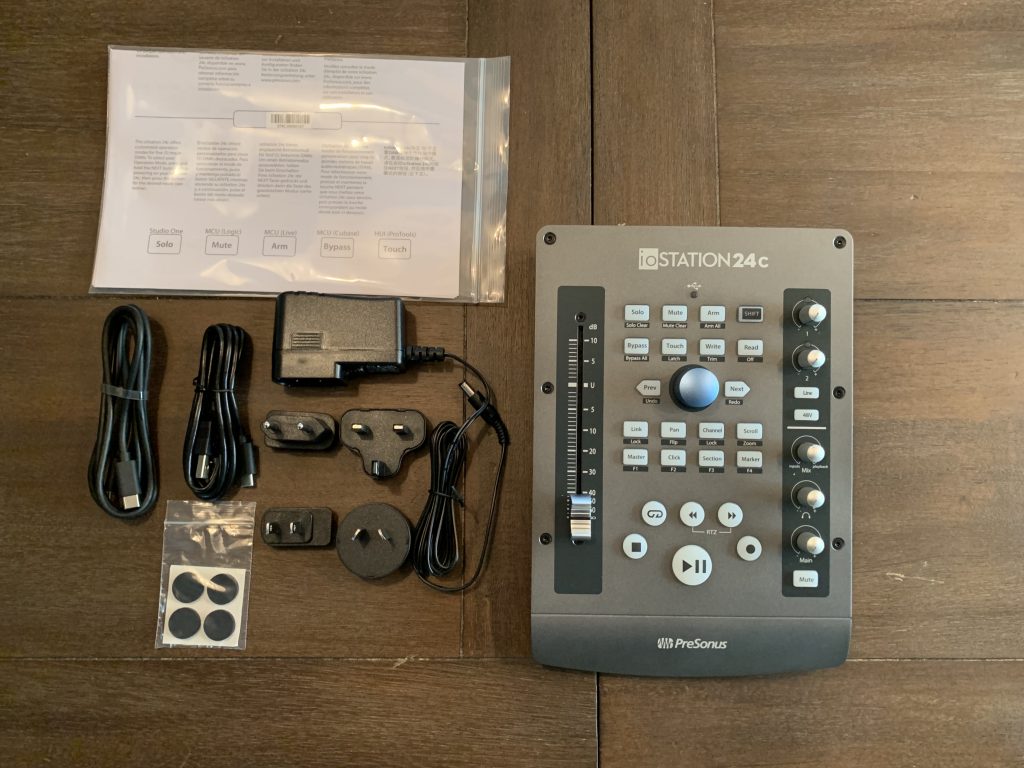 What if for 80 more dollars I could show you something even better, especially for the musician or engineer on the go? Behold the ioStation 24c! This ever so slightly bigger unit (2.4 inches tall, 6.76 inches wide, and 9.6 inches long) tacks on 2 of PreSonus' acclaimed XMAX preamps, along with a monitor output, headphone out, and footswitch jack. Further future-proofing your setup, ioStation 24c can run resolutions all the way up to 192kHz as well as employing USB-C. In the box, you get the same setup as the FaderPort along with the addition of one USB-C to standard USB-A cable (in case your workstation doesn't have USB-C yet). 

Although the unit has impressively low latency, ioStation 24c includes an input/playback blend knob that gives you the power to mix the precise amount of dry signal into your headphones while recording. The preamps can handle up to 115dB of dynamic range, and the connectors for your mics and instruments utilize very sturdy Amphenol jacks.
More Reasons to Upgrade
If two added preamps, monitor output, and a headphone jack wasn't already a steal for eighty more dollars, ioStation 24c comes with StudioOne Artist along with the 2020 Studio Magic Suite. This suite in itself is worth almost three times the value of the ioStation 24c itself with six virtual instruments and nine effects plugins. These are no bottom-of-the-barrel plugins. We're talking names like Arturia, Plugin Alliance, Output, and Lexicon.
In Use
I travel quite a bit, so having a two-channel interface along with a controller is a dream. I don't know of many other all-in-one units, especially one with the caliber of preamps and functionality ioStation offers. You'll be hard-pressed to find anything close to comparable to ioStation 24c. The preamps sound excellent, and even if you rarely used them, you're still getting a massive upgrade from the FaderPort. I know 80$ is a lot to come by for the struggling musician but go ahead and do yourself a favor and ditch the old interface and buy this.
Improvements?
Honestly, there are not many, with most of the ones in this review being personal taste, but there are a few. As for the ioStation, I wish the headphone jack was on the unit's side, or an additional one was placed on the side. Many times my headphone cord kept draping over the controls. A simple extension cable will suffice, but that's just an improvement for the next one!
In the same vein of improvements for the next version, an enter or OK key would be nice, and the shift button moved to an easier place to reach. Additionally, I wish the FaderPort 1 and ioStation 24c had an LCD like the FaderPort 8 and 16 models for expanded feedback. I don't necessarily feel like it's a dealbreaker, but it seems very useful.
Lastly, I'd like to see the ability to custom map buttons that don't function in certain DAWs. The easy PreSonus answer to this is to switch to Studio One (which they have made easy with a version that comes with ioStation 24c), but that is a gradual change that takes time. I am learning Studio One for the record, and I must say Presonus has me getting FOMO when I work in my normal DAW. Change is definitely coming!
In Conclusion
You won't have a single regret purchasing either one of these, but I do strongly STRONGLY encourage you to consider the ioStation 24c. I've never seen an $80 upgrade have so much return on investment. These controllers are the absolute perfect companion for anyone. I'll put my money where my mouth is on this one. I bought both of them! The FaderPort stays in HQ because I have the Quantum, and the ioStation 24c stays in my travel bag.
Price (FaderPort): $219.00 Link HERE
Price (ioStation 24c): $299.00 Link HERE
Please consider buying from our affiliate links above. It doesn't cost you a penny more and helps support your favorite spot for information on the best the recording industry has to offer!
FaderPort / ioStation 24c Rundown
Pros
- Small footprint, perfect for placing next to a keyboard for expanded control
- All of the buttons you need without all of the filler
- No drivers needed. Just plug and go
Summary
If you've already got a great interface, FaderPort is perfect for you. If you need one, ioStation 24c has you covered with two XMAX preamps, monitor output, and headphone controller. Both offer a sleek look with functionality to boot. You will be hard-pressed to find a better alternative to either of these impressive units.
Affiliate