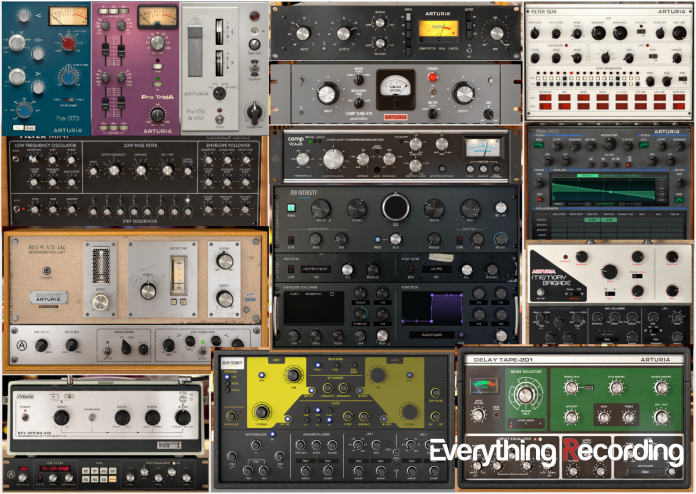 FX Collection Rundown:

Pros

- Nearly everything you need to mix entire albums
- Beautiful, easy-to-use UIs
- Sound even better than they look

Summary

If you're looking for a bundle to get everything done you need, efficiently and masterfully, you've come to the right place. FX Collection is a home run with plugins that will quickly become your "desert island" choices.

 Arturia has branched out from synths into full-blown processing tools. Today we're going to take a look at the entire FX Collection, which features almost everything needed to mix an entire project. 
Intro
What started as a collection of three preamps, evolved into the addition of three compressors, then filters, then delays, and now adds reverbs. Similar to Arturia's V Collection, where just about any synth is at your fingertips, FX Collection brings just about every tool needed to process, well, just about any track. This review will go over each plugin, showing all the tricks Arturia has hidden under their hood. The only exception will be the "3 Compressors You'll Actually Use" because we've reviewed this earlier (link HERE). Each of these plugins uses the very same TAE modeling that made your favorite Arturia synth sound as true-to-life as it possibly could.
The Preamps
We all love hardware, but most of us don't have the real estate, or permission from our spouses to drop five figures on the original Neve 1073 or racked Trident Pre. Hell, most of us couldn't even find a V72 preamp even if we had the scratch to offer as a sacrifice to whatever deity of vintage online drool-worthy superstores has the last one. Don't worry, Arturia's spouses are cool like that, and they've generously modeled each of these three pieces of hardware.
As far as a common theme among the three, each feature phase controls, input gain, output trim, as well as an automatic gain control to counteract your input gain changes. The most convenient of these features is the included mid/side control right in each plugin. This enhancement gives you the power to choose which method works best right in the plugin window. While on the theme of choice, each preamp can disable the EQ as well for comparison or just to save a little CPU.
Pre 1973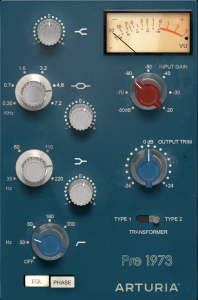 Just by looking at the shiny UI, we know what we're dealing with here. The Neve 1073 is one of the most ubiquitous pieces of gear in the studio pantheon. The fact that my mother knows this piece as the "one the Foo Fighters guy made that movie about" tell us all enough. Of course, just modeling the actual unit and spitting out a one-for-one emulation isn't what Arturia is all about. These guys have added a few extra tricks.
On top of the Pre 1973's tweaks mentioned above, Arturia's version of the 1073 sports a few tweaks to the original. The stepped controls have been replaced with continuous controls for that fine-tuned precision needed for modern-day tracks. The most fun addition is switchable transformers, giving you the option of Carnhill or modified Marinair transformers.
Pre TridA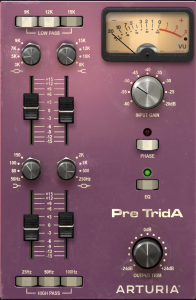 You name the '70's artist, and odds are a Trident A-Range was used on some part of their tracks. Everyone from Bowie to Soft Cell used this extremely musical EQ and sweet preamp. This console was at the heart of any significant British studio of the 1970s and '80s. Since only 13 were ever made, getting a hardware version now is no easy task. Arturia has run one through their TAE modeling and packaged it with a gorgeous UI.
Staying true to the original, this deep violet beast is adorned with the famous knobs and sliders for each of the four bands of EQ. To round out the TridA-Pre, three pre-determined low pass and high pass filter buttons frame out the top and bottom of the EQ bands. The VU meter can even be calibrated to taste and illuminate when the signal reaches -1dBFS.
Pre V76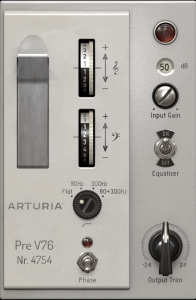 Telefunken doesn't just make incredible mics; their preamps were the heart of the REDD mixing consoles made famous by Abbey Road Studios. Let's face it; if the Beatles White Album used a V76 preamp and V612 EQ, they're going to be hard to find. These rarely pop up, but somehow Arturia tracked them down. What sets these apart from other preamps is the bipolar way you can treat audio with them. Want sweet round tube vibe? Sure, V76 can do it. Want scalding distortion that somehow stays tamable? V76 can do that too.
The Pre V76's two EQ bands are based on a very rare, modded Telefunken V612. These fixed bands have up to 10db of gain, which can subtly round out your tone. Just below the bands is a multi-mode high pass that can use a rounded 80Hz or 300Hz filter or utilize both with the 80+300Hz control for a more dramatic slope. I have to say, the UI on this one is one of my favorites, packing a lot of vibe and old school charm into one package. The Level indicators aren't just for good looks either. If no signal is present, the level light will subtly glow with background tube warmth, a low signal will glow green, orange will show you that you're at the optimum level, and red tells you that you're at -1dBFS.
The Filters
What I'm sure is spawned from Arturia's immense experience with modeling synths, three of their favorite filters have been modeled and enhanced with Arturia's magic touch. Due to the sheer amount of choices, 3 Filters You'll Actually Use focuses on their favorites from Moog and Oberheim. Arturia has personally crafted each to add personality and movement to tracks that need a little more spice.
Each filter has a bevy of controls that you can map to most USB controllers, giving you the power of live performance and automation. From subtle roll off and distortion to all-out chaos, these filters can handle it all. If filters are new to you, a handy patch browser can create instant jumping-off points for tracks.
Filter MINI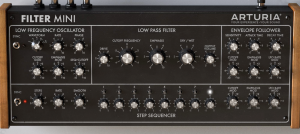 Straight out of the Arturia Mini V synth, the Filter MINI packs the very same 24db per octave low pass ladder filter created by Dr. Moog. What sets this particular filter apart from others is that Bob Moog had his hand in the making of this unit. Not only will this filter create movement synced to your DAW's tempo, but it also injects analog warmth via the Drive knob. With added features like the Sample and Hold control, this old school filter has been brought into the age of the DAW.
Filter MINI accomplishes all of this with a well-equipped Low-Frequency Oscillator, Low Pass Filter section, Step Sequencer, and Envelope Follower. With all of these controls, the sky is the limit when it comes to creative movement within tracks. Throw in the Drive parameter, and you have the makings of unique and unheard sounds.
Filter M12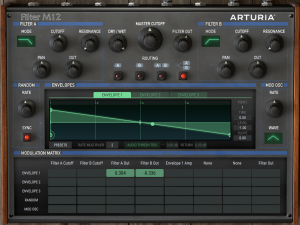 The Oberheim's Matrix 12 synth is a cornerstone analog synth design. Now the filter section can be used on anything with Arturia's Filter M12. This multi-mode filter was way ahead of its time with sophisticated features not found in synths of its day. Filter M12 packs all of the incredible features and analog filtered tone with new features.
Filter M12 comes with two discrete analog filters, modeled precisely like the original, complete with all 15 original modes. To push these filters further, Arturia has added panning and level control to each filter. Four filter routing options are available (A, B, series, and parallel), as well as dry/wet knob and a master cutoff filter similar to the MatrixBrute's.
In the middle, we have the Envelopes section featuring three types of envelopes. From slow-moving sweeps to hard stepped sequences, this section does it all. At the very bottom is where the magic happens. The Modulation Matrix links different parts of your signal to other destinations for custom patterns; only the imagination can limit.
Filter SEM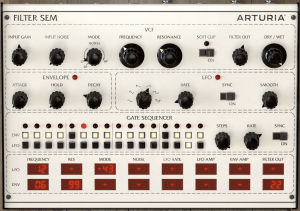 Again, Arturia has disassembled the filter section from another Oberheim. This time, from one of the very first self-contained analog synthesizers. The SEM is celebrated for its filter section, and now that same gate sequencer can be used anywhere. Plucked right out of the Arturia SEM V, this workhorse does everything the original does and more.
At its heart is an easy-to-program Gate Sequencer that has every tool needed to trigger or even re-trigger the envelope and LFO mod sources. To further push sounds into a more creative territory, a modulation matrix adds even more movement with simple controls. To top out this filter, a Noise Oscillator allows for more or less noise in the signal. For more analog vibe, a Soft Clipper smoothly drives signals to a buttery saturation.
The Delays
What FX package would be complete without echo. From simple slap backs to full out cascading chaos, these three delays have all bases covered. Each has their proclivities and specialties and bring different tricks to the table. While up until this point, Arturia has dealt with recreating the greats, and while they continue to model classics, this bundle deviates slightly, even offering an Arturia original.
Delay TAPE-201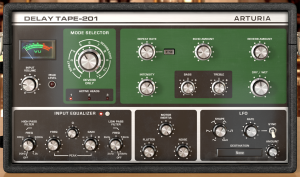 Kicking this trio off is a tape-based delay. While the appearance would indicate that the Delay TAPE-201 is based mainly on the Space Echo, the reality shows that this is anything but a one-off recreation. Sure, this delay has all of the trappings of the green monster that's graced countless tracks, but it's the new additions that set this plugin apart from others.
Delay TAPE-201 includes the same Mode Selector, EQ Controls, Reverb, Intensity as the original. Still, it's the extras that open this unit to new possibilities. Added modulation controls give an LFO to add movement to your repeats. In-plugin mid-side processing is a delay game changer, allowing you to modify repeats of the middle and sides separately. Rate offset and width are also controllable via stereo controls.
Delay MEMORY-BRIGADE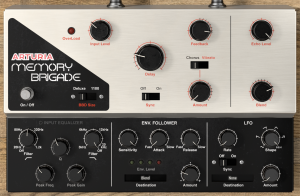 On a slightly different wavelength of delays, people know the Bucket Brigade delay for its dark echoes and creative soundscapes. Now you can save your back from always being hunched over your pedalboard with this plugin tribute to the EHX Memory Man. All of the lo-fi goodness is available at the click of a mouse.
On top of your standard Memory Man-Esque controls, Arturia has added new tools to tame your signal into spacial bliss. New modulation abilities in the plugin version give this delay the ability to manipulate delay time. This control can add some uncertainty and tension to tracks. EQ Modulation can randomly affect the EQ's peak frequency to swing the bands up and down in the repeats. Stereo Vibrato is also available to carve space on a track in the mix.
Delay ETERNITY
This delay is Arturia's first foray into its very own FX plugin, and boy, have they kicked in the door. Arturia spared no feature from this delay. Delay ETERNITY goes beyond just delay duties, and while it falls mainly in the delay category, this plugin can easily do things very few plugins have even considered.
At the head of this plugin are the three Time modes, Digital, Fade, and Repitch. While digital works as much as your traditional delay, Fade mode maintains the pitch while changing delay time, and Re-pitch follows modulation. When it comes to delay lines, Eternity has two separate paths that can feed into each other for up to four channels. Effects are essential for creativity, and on top of five different delay modes, ETERNITY has a bit crusher to degrade delays even farther. ETERNITY comes stocked with Low Pass, High Pass, and Band Pass with three different slopes.
EQ abounds even more with an Input section EQ, complete with Low Pass, High Pass, and single middle band. Modulation is out of this world with both an envelope follower and two separate LFOs. Tack on a stereo width control, Mid/Side, wet/dry mode, and echo volume, and only the kitchen sink remains.
The Reverbs
Rounding out the collection is Arturia's reverbs. This venture is the latest addition to the bundle but by no means the least. Arturia picked two workhorses on opposite spectrums and again, added another full-blown original creation.
Rev PLATE-140
Offered as a free plugin around Christmas of 2019, Arturia made their entrance into the "space" with their rendition of the EMT Plate reverb. No collection would be complete without a plate reverb with its abundant, smooth trails. Arturia has painstakingly modeled the EMT 140 Plate Reverb with its Vacuum Tube Preamp. In most cases, a manufacturer models a plugin after one particular plate reverb. Still, Arturia came across three and now gives you the choice of either of the three in the Rev PLATE-140.
Of course, Arturia has supercharged this reverb with added extras. The preamp can push distortion via the Drive knob. Chorus injects itself either pre or post reverb, and a Post Equalizer greets you to tame the end of the signal chain.
Rev INTENSITY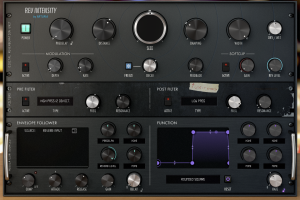 Like the Delay ETERNITY, Arturia has created an all-new creative reverb plugin that embodies a combination of their synth design acumen, modeling of the great reverbs, and ideas for how they would improve the state of algorithmic reverb. Rev INTENSITY has it all with easy-to-experiment with controls and sections.
At its center is an innovative Size control that displays reverb size in the center of the knob. Basic reverb controls adorn the top section, with a Modulation control, Freeze Knob, Feedback, and Soft clip. Pre and Post filter section is just below the reverb controls to control the incoming reverb. Things get creative with an Envelope Follower and Step Sequencer. Signals can be side-chained externally, internally, and modulated into the reverb for innovative sound design. Arturia has even taken sections usually applied in soft-synths and incorporated them into this plugin.
Rev SPRING-636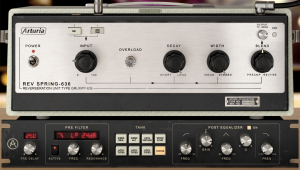 Spring reverbs are some of the most useful but most overlooked effects in the plugin world. Although there are a handful of spring reverb plugins out there, they seem to be bare-bones replicas with little controls. Rev SPRING breaks that mold. Instead of just one Tank, this plugin has eight units to choose from. Rev SPRING-636's heart is a version of the Grampian 636 spring reverb, ergo the awesomely printed "REVERBERATION UNIT TYPE GRUMPY-636".
To add more function, the Germanium preamp can be cranked for even more dirt. A choice of the mic pre or the aux section can be selected. Stereo width can be chosen to dial in the perfect space. The blend controls are expanded to toggle between output blend and preamp blend. At the bottom of the UI, the pre-delay, pre-filter, eight tanks, and post EQ sit, adding further control to your classic tone.
Overall Thoughts
Where to begin? It's a lot to take in, right? A total of 15 plugins that can tackle virtually any task needed in production or mixing. These plugins are so versatile; they even do things well beyond the scope of their description. You can mix entire albums with this bundle, create new sounds, and your tracks will never sound more ahead of the curve. You can genuinely tell how much work and effort went into making both the quality of sound and beautiful aesthetic design of the FX Collection.
Just Buy It
It's easy to forget plugins when you buy a bundle. Sometimes it's easy to lose sight of specific models. With the FX Collection, each plugin is the first to come to my mind when reaching for a particular tool. They do their intended job masterfully and then some, making the days of stacking plugins on a track a thing of the past. This bundle is a must-have for anyone who makes music in any capacity. Arturia has distilled each plugin down to a simple but powerful set of controls. Even at its retail price of $399.00, each plugin comes out to $26.60 apiece. At the time of this review, the FX Collection is $299.00, making each plugin $19.93. At either price, this is a no brainer. Just buy it.
For more information and to purchase, visit https://www.arturia.com/products/software-effects/fx-collection/overview
Affiliate