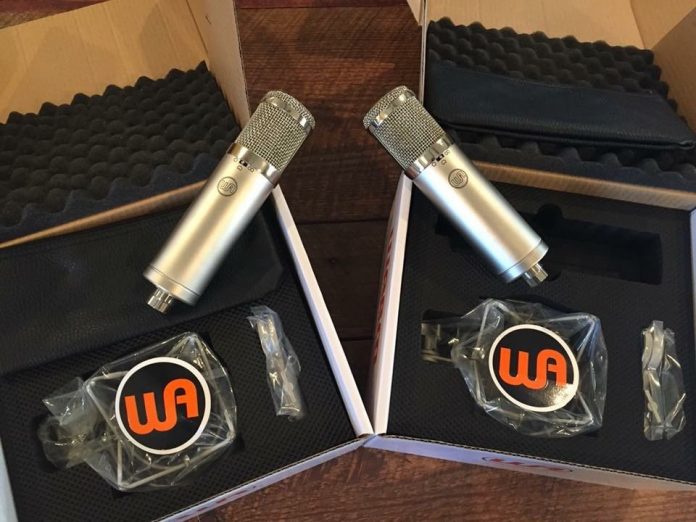 Warm Audio WA-47 Jr. FET Rundown
Pros
- Incredible value for money
- Very durable (yes we dropped them)
- Doesn't have the harsh upper frequencies other mics in this price range have
Cons
- Lacked a little body in the low-mids but nothing EQ and Compression won't fix.
- I wish it looked like an original FET 47 (I'm grasping for cons on this one)
Summary
Pound for pound, this mic can't be beat by many mics in (and even above) its price range. The WA-47 Jr FET is as versatile as it is durable.
Warm Audio have already made quite a big splash in the recording gear industry with their renditions of classic hardware and mics. Now they take on one of my favorites with WA-47Jr FET, their version of the ubiquitous Neumann FET 47. This mic is a workhorse, a transformerless version of the famous U47. While the FET's tubed bigger counterpart ruled the vocal realm with such greats like Frank Sinatra swearing by them, the FET 47 holds its own, often used on everything from vocals to kick drum. To honor that heritage, we put Warm Audio's version through its paces in our latest review.
As we've discovered with other Warm Audio gear, the price does not always reflect the quality. These guys really do push the envelope of value on a lower price point. Their hardware somehow still utilizes high quality components but doesn't break the bank. This mic is no different. It features a custom designed K47 capsule that matches the same frequency response as the original, Toshiba FET's, Wima film capacitors and Panasonic electrolytics. And while the circuit has been changed a little to reflect modern manufacturing specs, Warm Audio claims the sonic result still reflects old style topology.
While the overall design is similar, a few changes were incorporated. The Neumann FET 47 came with one polar pattern, a 6dB pad, and depending on the model, either a 140 or 200Hz high pass filter. Warm Audio's version upgrades the polar pattern to the standard 3, a 10dB pad and a slightly less 70Hz high pass. After all, I'd rather just pull the rumble out of a track than cut as deep as the original FET 47, but the option between the two would have been worth a few extra bucks on the price tag.
As far as looks go, it does not look like the FET 47 which is slightly disappointing considering its bigger brother the WA-47 looks very similar to its counterpart. I'm sure that was a cost savings decision, and this doesn't affect the sound quality in any way. The looks are no slouch by any means and the mic comes standard with a padded bag, shock mount (with extra suspension bands) and a smaller mount for tight spaces.
With the technical part out of the way and Everything Recording's studio completely dismantled due to a move, I sent our pair of WA-47Jr FETs with a close friend and fellow producer / engineer Philip Mosley. Since he regularly finds himself in different studios any given day, he would be the perfect guy to run these mics through their paces. Lucky for us, he came prepared for the review with audio. I'll let him take over from here.
Take it from Hank by Kolby Cooper
Tracked in AudioWorx Studio in Palestine, TX
Mixed by Austin Deptula
Drum OHs 47jr – Neve VR pres
Acoustic: UTA mic pre-TubeTechCL1B-Maag Air EQ
Vox 47jr – Vintech 473 – Distressor

I used them on drum overheads, acoustic, and lead vocals on this song.
I found these mics, especially on vocals, to be very neutral, not overly bright like modern mics in this price range are. I did find them lacking just a bit of body in the low-mids, however, when I ran it through a tube tech compressor, it added a bit of warmth on the low mids and a nice shimmer on top. I also dipped a little out at 700Hz, just to pull out a little bit of upper mid frequencies that were bothering me. Although I wouldn't compare these microphones directly with a fet47, I feel like they are more versatile and pleasing on any source that already sounds good.
Of course, as with any other decent mic, if the sound source is bad there's not much you can do about that. Funny enough, on the third day of tracking with these mics, I dropped one from about 4 feet up and it landed on concrete. It did dent the screen around the capsule a little bit, but the microphone has worked ever since. These microphones a rugged and well made for sure.
Dead End Road by Colby Keeling
Tracked in Sound Emporium
Mixed by Austin Deptula
Vox: 47jr – API 3124 – 1176
On this particular artist, we used the microphone on lead vocals.
As with the previous track in the review, there was a lack of low-mids that I really wanted to hear. When I put it up against a TLM 67, there was a bit more mids with the 67, but not necessarily enough to justify the big price difference between the two. Even though the 47jr isn't a direct comparison to the 67 and I found the 67 was more pleasing on the top side, the difference wasn't anything that I couldn't get without a little compression and EQ – and not much at all I might add. After EQ'ing the vocals with a little mids, I was happy with the sound that I got.
Overall, like everything Warm Audio, you can't beat what you're getting for the money. Coming in right at $300.00, a stereo pair would easily fit into the mic locker of home and professional studios alike. And from the sound of it, they can fall out of the locker too and still work.
A special thanks to Philip Mosely for putting the mics through their paces, Austin Deptula for allowing us to show off his incredible mixes, and Kolby Cooper and Colby Keeling for letting us use their music.
For more information of Philip Mosely visit his Facebook
For more information on Austin Deptula or to use him for a mix, visit him on his SoundBetter Page
For more Kolby Cooper music, visit his Facebook
For more Colby Keeling, visit his Facebook
Affiliate