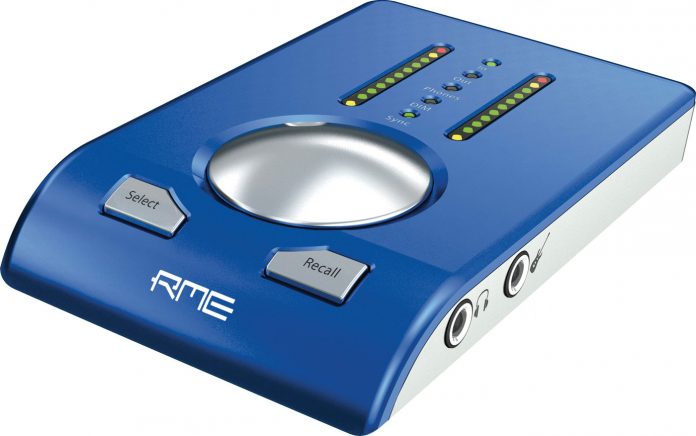 Pardon me for not posting as much. I'm currently working on something big I'm going to try to feature on the site. I promise in a week everything will be back to normal and I'll be making countless fart jokes and stupid stories that are questionably true.
Continuing the tradition of portable interfaces that can do just as much as the big boys, except light it's farts, (Well look at that I'm already back) here we have the RME Babyface. I own a Fireface 800 so I can vouch for RME on this one. They really do make a great product and I bet this is no different.
Lets see what RME has to say about their product:
The long and eagerly awaited RME Babyface, the new ultra-mobile USB 22-channel audio interface, is now available.
Equipped with the latest 192 kHz AD- and DA-converters and two reference class microphone preamps the bus-powered Babyface delivers two high end analog recording channels and four analog playback channels, plus ADAT/SPDIF and MIDI I/O in an attractively shaped enclosure.
The Babyface connects to the USB 2.0 bus, but is also compatible to USB 3 chipsets. It has been uncompromisingly optimized for highest performance under Windows and Mac OS by using customized firmwares for every operating system. Like other RME USB interfaces, the Babyface provides revolutionary ultra-low latencies even with multiple channels.
The next generation of Total Mix delivers hardware mixing/routing with lots of new features and a highly improved usability. The unbeaten DSP mixer now not only matches features of high-end digital consoles but even adds effects like a 3-band parametric equalizer, reverb and echo to the mix.
This is a bit pricey for a smaller interface but you really are getting the whole package. Plus it's one of the first USB3 compatible interfaces. I've used the pre's in my Fireface and I would say they're just as good if not slightly better than the pre's on my Digi 003. As usual go buy it HERE. For more info on RME, click HERE
Price: $749.00