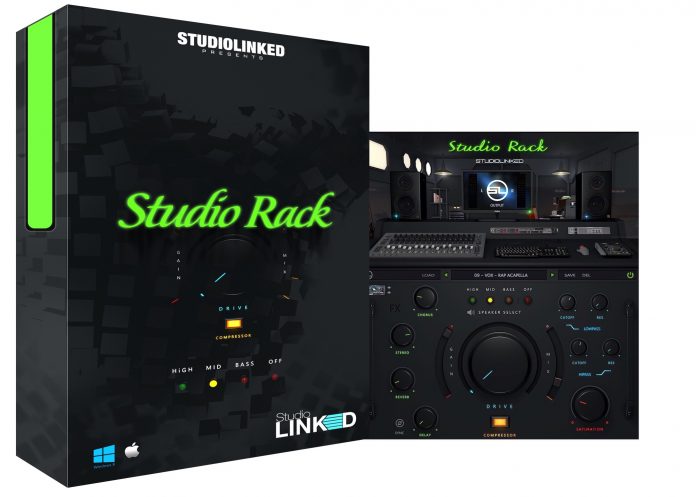 For the mixer who wants quality on the go, StudioLinked has a plugin for you. This easy-to-use all-in-one plugin features EQ, Compression, Effects and more. Coming in at $59.99, this is a steal.
BOZEMAN, MT, USA: urban and contemporary music virtual instrument specialist StudioLinked is proud to announce availability of STUDIO RACK — a curb-appealing multi-effects plug-in packed with time-saving, speedily-tweakable presets perfect for any music producer, DJ, or engineer mixing hip-hop, R&B, pop, rock, EDM, and country productions — as of April 18…
As an adaptable multi-effects plug-in that's as easy on the eye as it is in use, STUDIO RACK radically changes any sound with three types of self- explanatory speaker emulation — HIGH, MID, and BASS (that, of course, can also be switched to OFF). Variable amounts of DELAY (with SYNC), REVERB, STEREO, and CHORUS can quickly be dialled in to suit any application, effects-wise, while turning the GUI-dominating DRIVE control pushes things to the limit. Letting users quickly make more changes comes courtesy of a fixed COMPRESSOR with GAIN and MIX sliders; similarly, CUTOFF (frequency) and RES (resonance) control-equipped HIPASS and LOWPASS filters further refine results, and a self-explanatory SATURATION knob nicely rounds out production proceedings.
Placing STUDIO RACK on any vocal, 808 sub, piano, guitar, drums, or final mix lets it transform and add a polished finish faster than ever to any production. Earth-shattering changes need not cost the earth either, thanks to an affordable purchase price that should surely suit any production budget!
Affiliate