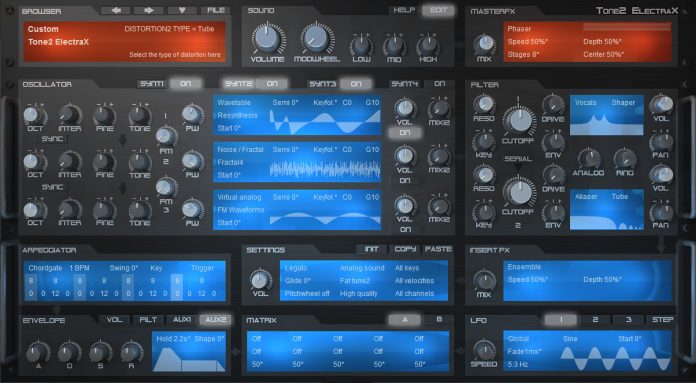 I can't say enough great stuff about Tone2. Everything they make has its own trademark sound yet still plays well with other synths in your track. The Rompler soundset is a great way of getting the creativity started with its patches that invoke movement and rhythm.
The Rompler soundset utilizes ElectraX' powerful multi-layer capabilities with a rich blend of sampling and synthesis.
This creative sound library features a selection of 200 breathtaking presets, new inspirational sounds that cover a wide
spectrum of music styles and built to provide a wealth of inspiration.
The perfect companion when writing your new track, Rompler has it all! from evolving atmospheres, evocative pads,
expressive pianos and jazzy organs, up to complex arpeggios, pumping beats and raw basses.
All sounds are carefully tweaked for maximum inspiration, usability and ready to be used in your productions.
Highlights
* 200 presets by professional sounddesigners
* Comfortable installation & integration into the user interface
Perfect for many genres, such as Trance, Dance, Cinematic, Ambient, Electronica, Pop, IDM, Soundtrack, Progressive,
House, HipHop and a wide variety of other music genres.
Price: $49.00
For more info please visit the Rompler product page: http://tone2.com/html/rompler.html