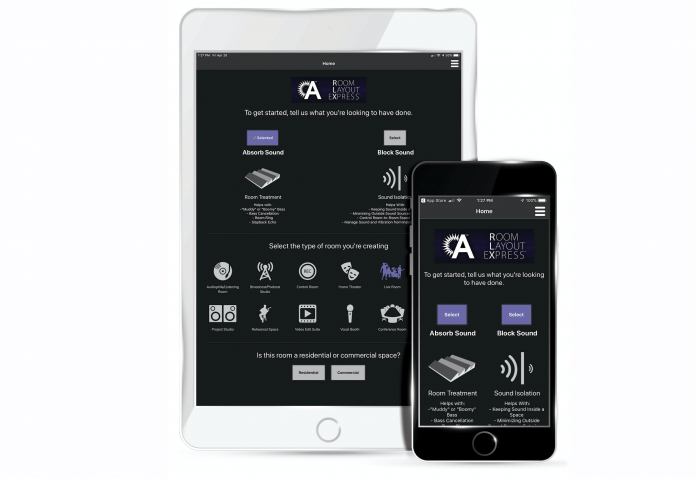 Auralex® Acoustics, Inc. , the world's leading brand of acoustical treatments, is pleased to announce that its RLX: Room Layout eXpress™ acoustical treatment app is available as a standalone app available on the Apple App Store and Android App Store. The RLX app is an intuitive, automated treatment app that is specifically designed to give instantaneous recommendations for various room types and gives users the ability quickly get acoustical treatment and sound isolation suggestions on their mobile devices – taking a lot of the guess work out of determining what are the best and most effective acoustical treatment options for a specific space.
The app is both easy to use and returns immediate results. To begin, select if you need to absorb and treatment a room or if you need to block sound transmission. Then select "Room Type." If a room fits more than one, select the one that best fits your situation. You can also use the "Edit Room" function to view multiple results for the same dimensions previously entered. The recommendations provided are based on both the type of room selected, and the suggested amount of necessary acoustical treatment or sound isolation materials required, based on your specific square footage, with Auralex's comprehensive line of Absorption, Bass Trapping, Diffusion, and Sound Isolation products. You are also able to input various types of equipment and gear used in your room. The app will use this information to provide suggestions on applicable Auralex ISO Series™ Products that can further help your room acoustics and listening environment.

When you are ready to make a purchase, a number of our largest Authorized Auralex Dealers are listed, or you may enter your zip code to receive the contact information of the nearest Authorized Auralex Dealer. If you would like to have a permanent copy of your room results and more information, simply use the form on the app to have them emailed to you.
For more information, please visit https://www.auralex.com/tools/roomanalysis/.
Affiliate