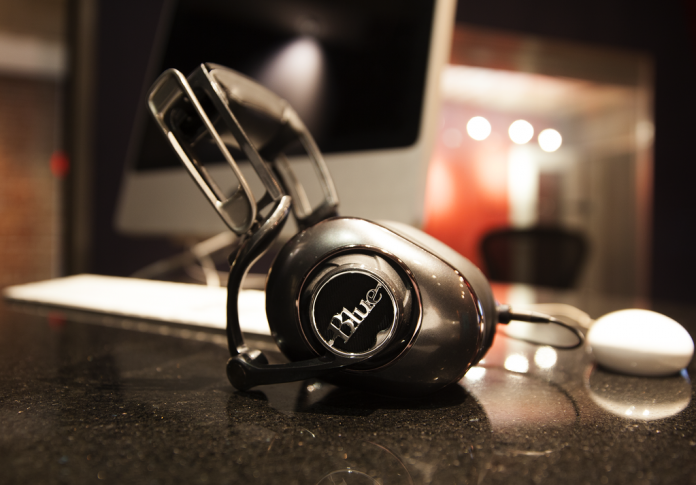 We've all been told mixing on headphones is a big nono but it seems technology is catching up and musicians on the go are needing reference speaker quality headphones that translate mixes. Now it seems that is obtainable with active headphones, namely Blue's new powered Mo-Fi headphones. These headphones feature a battery that is easily recharged and lasts for up to 12-14 hours. This is extremely exciting given I am away from the control room a great deal of the time and now can set up mixes to check once I get home.
(Westlake Village, CA – August 26, 2014) Blue Microphones today announces the release of Mo-Fi (www.mofiheadphones.com), the first headphone that features a built-in audiophile amplifier matched to high-powered, precision drivers for consistent accuracy on every device—from studio gear to laptops, tablets, and phones. Mo-Fi's unprecedented design and build introduces a new level of sound quality, comfort, and personalized fit never before available. Mo-Fi establishes the entirely new category of powered headphones, and delivers studio-quality audio on every device so you can track, mix, and really enjoy music anywhere.
 
"When studio monitors transitioned from passive to active, everyone benefitted—and now we're bringing that innovation to headphones," said John Maier, CEO of Blue. "With a built-in amp and high-powered drivers, Mo-Fi delivers astounding accuracy, unrivaled fidelity, and detailed imaging, no matter what source you're plugged in to. Mo-Fi frees you from the confines of the studio, enabling you to take studio-quality listening everywhere and create mixes that translate across all systems."


Unlike bass-in-your-face headphones, Mo-Fi lets you choose your own acoustic adventure with three amp settings—On, On+, and Off. When switched to On, Mo-Fi activates the amp to deliver powerful, detailed sound. On+ engages the amp's analog low-frequency enhancement circuit to deliver incredibly rich and smooth bass. Off puts Mo-Fi in passive mode, for connecting to high-output studio gear. No DSP tricks with Mo-Fi—these settings are 100% analog. For tracking, mixing or just enjoying music, Mo-Fi provides total control over the listening experience.

Blue developed Mo-Fi's multi-jointed headband and earcups from the ground up, marking a complete departure from traditional headphone design. Instead of using a fixed "spring loaded" headband structure, Blue invented a multi-jointed headband that provides total comfort and adjustability for a variety of head shapes and sizes. The earcups—shaped like ears—stay parallel at all times, creating the best seal for solid bass response, improved isolation, and reduction in sound bleed—perfect for tracking in the studio.

"To design Mo-Fi, we began by studying how and where people make and enjoy music," said Mitch Witten, VP of Product at Blue Microphones. "We set out to completely reimagine the construction, comfort, and fit, without any preconceived notions about what headphones are 'supposed' to look like. The result feels less like a headphone, and more like a high-quality instrument you can wear. The listening experience is so immersive and enveloping that it makes you want to revisit your favorite recordings and see what details you've been missing."

For height adjustment, Mo-Fi's pivoting-arm design allows for unprecedented range of motion and a personalized fit. The earcups simply float into place or fully extend out of the way when worn around the neck. Ditching the one-tension-fits-all approach, Blue incorporated a headband adjustment knob that allows you to dial-in the perfect pressure and tightness. This design also improves sound isolation and reduces ambient noise—perfect for noisy public areas or loud recording sessions.

Mo-Fi's intelligent power handling ensures that the headphones are always ready for action. The rechargeable battery, charged via micro USB, lets you rock out with 12-14 hours of actual play time. Mo-Fi knows when the headphones have been removed and automatically turns off to save power.And even if the battery runs out, Mo-Fi will continue to play in the Off setting, eliminating music blackouts once and for all.

Mo-Fi (MSRP $349.99) is available now at Guitar Center, Musician's Friend, Sweetwater, and Amazon, and is coming soon to retailers worldwide. For more information, visit www.mofiheadphones.com.