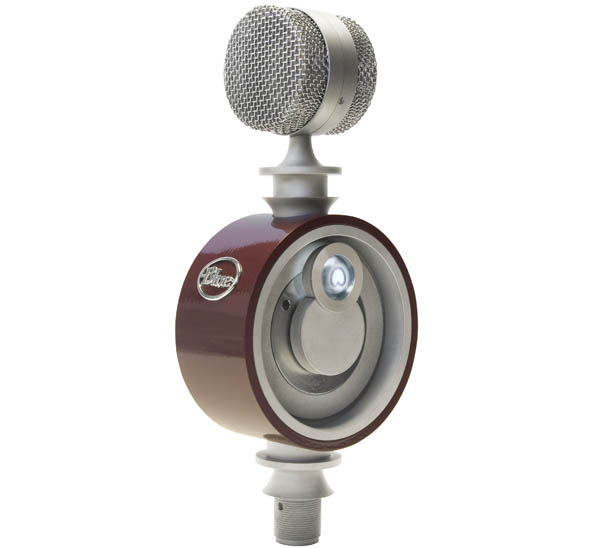 Ok I know, I know. I haven't posted in 2 days and I have three GREAT excuses. First one is yesterday I spent 10 hours in the studio for all of you lovely people reviewing mics for the site. The second one is I am working on building a studio and am working on passing this info on to you for the site. Also, I was out of town and got to open my Christmas presents finally from being out of town so to make up for this, I will be one of the first to release this awesome piece of info. Blue is releasing the Reactor at NAMM this year. I just tested out the spark and I'm blown away by the price and quality and I would bank on this one being just as great.
Blue Microphones, a leading innovator in microphone technology and design, announces Reactor (www.bluemic.com/reactor), a multi-pattern, large diaphragm condenser microphone that pushes the envelope of microphone design in functional versatility, sound and aesthetics. Reactor combines large-format capsule technology from Blue's renowned mic line-up with an innovative approach to professional multi-pattern flexibility in one custom-designed microphone.  Reactor unites an innovative pattern selection method with a swiveling capsule head for precise positioning. Featuring Blue's premium condenser capsule and proprietary pre-amp circuit, Reactor allows for noiseless live switching between the three distinct patterns (cardioid, omni or bi-directional).

"Reactor takes microphone technology and design to the next level, combining Blue's high-quality sound capture with intuitive pattern switching and physical microphone design," said John Maier, CEO of Blue Microphones. "With Reactor, we are excited to offer multiple patterns and high-end audio capture to a wider audience, along with making mulitple mic setups more accessible."
Drawing from the design of Blue's renowned B6 capsule, Reactor's capsule technology delivers a full sonic signature with a detailed top end, texture mids and a full bottom end. Reactor is built upon Blue's premium large diaphragm, condenser capsule design, along with a custom pre-amp platform that provides low noise and distortion and silent switching between the cardioid, bi-directional and omnidirectional patterns. With noiseless, live pattern switching, Reactor's sound can be tuned to specific uses such as full and present vocals, warm guitar acoustics, even capturing the room frequencies of drums. Like all of Blue's studio microphones, Reactor employs fully-discrete, Class-A solid state components for high-quality, professional recording performance.
Featuring an innovative swiveling design, Reactor's capsule head rotates fluidly across a 90 degree range, with resistance to hold the head in a precise position. Facilitating ease-of-use in multiple mic setups such as Mid/Side or X-Y recording, Reactor's swivel head allows for accuracy and fine-tuning of setup geometry and microphone tone. Reactor's recording pattern selection is both intuitive and stylish, featuring LED backlit pattern indicators and a unique magnifying optic that compliments the contemporary design. Reactor comes with a coordinated carrying case for protection and storage, along with a custom-tailored shockmount. A custom pop filter will complete the recording experience.
Reactor, MSRP $499, will be available Spring 2011 at authorized Blue Microphones dealers. For more information, visit www.bluemic.com/reactor.
Affiliate