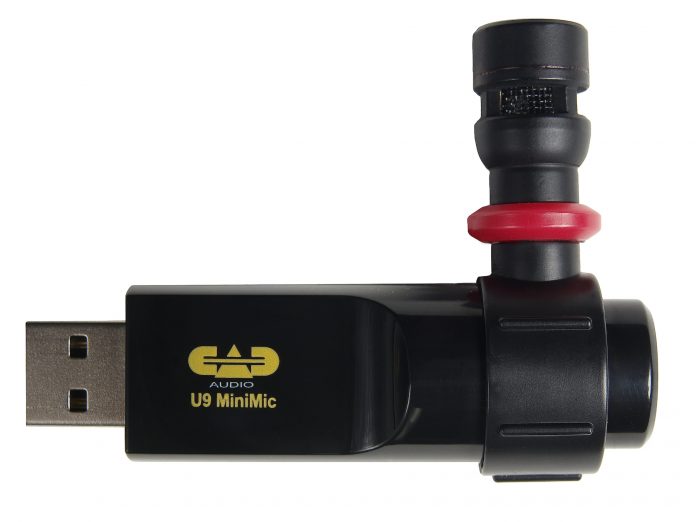 To better serve you and to show I'm not worried about post count, I'm going to combine not one (how could you combine one) SHUT UP! Not one but TWO press releases in one. Plus I don't sell ad space too, making this site even more of a reason to read daily because I'm not tied to the man and can say anything I want and openly throw my opinion around like it means something.
My very first studio mic was a CAD and I used the crap out of that thing until I had a very unfortunate "field recording" accident involving a duck who apparently didn't want to be recorded and a pond. WHY Mr Quackers?!!! This mic actually has me interested because of its size. It looks like a USB stick.
The U9 plugs directly into computers with a headphone out for playback monitoring and Skype. Its omnidirectional condenser capsule swivels 180 degrees for convenient positioning while delivering crisp, articulate audio. The LED indicates when the mic is active.
The only drawback is when I'm recording one of those passionate vocal tracks on my power ballad album, I'm either having to lean over the USB port on my computer during the "intimate parts" or get an extender cable and hold it in my hand like a 70's game show host. Wait, HOW is that a drawback. I used to always build little lego Bob Barker mics and make my brother do the showcase showdown. He always won dog poop.
So not only do we have a very portable mic, we also have two very affordable sets of headphones from CAD as well.
An essential tool for enhanced studio performance and a vital accessory for the professional musician, the MH310 is a closed back, circumaural, precision built monitor headphone equipped with 50mm neodymium drivers offering extended frequency response while delivering exceptional detail and clarity. Exceptionally comfortable, the MH310s are designed with a self-adjusting headband with closed-back leatherette ear cushions that allow for hours of comfortable, fatigue free listening. The MH310s feature an extended frequency response of 10Hz to 30kHz; Sensitivity; 98 +/- 3dB, and Impedance of 32 ohms.
Also offering exceptional clarity while reducing ambient noise, the DH100s are a high output stereo isolation headphone for drummers. They offer an extended bass response that enables the user to hear program material or a click track during a recording session or live performance with superior clarity while attenuating ambient noise by 19dB.
An essential tool for enhanced performance in the studio and on stage; the DH100s are destined to become a vital accessory for the working musician.
Price for the i9 Mic is $39
Price for the MH310s is $69
Price for the DH100s is $49
CADs site doesn't really tell much about this but HERE is the site anyways.