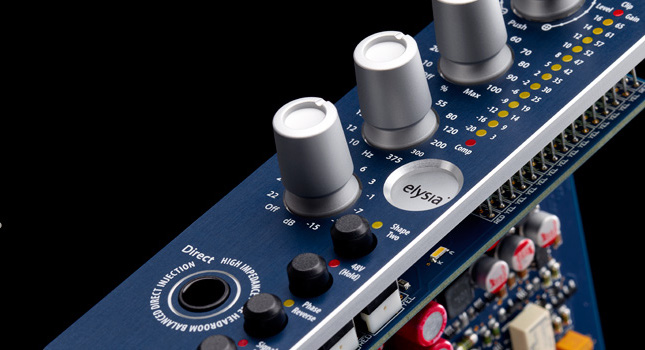 With a lot of great manufacturers making very good, high quality replica's of past hardware, it's great to see a company tackle an original.
Elysia has a great track record of making audio tools that are both practical and creative. Just look at our review of the Alpha Compressor Plugin from Way back (Link Here). The skulpter 500 could just be the new addition preamp(s) we need over here at Everything Recording HQ.
skulpter can render final product results straight off of the pre, which is crazy considering how few knobs it has. I think we're going to have to get one or two of these and test drive them.
The skulpter 500 is the ultimate recording front end. Its audiophile preamp is based on single resistors controlling a fully discrete Class-A amplifier capable of complementing any microphone with a remarkably true and natural sound. If additional mojo is needed, two variable saturation/filter stages and an intelligent onboard compressor make voices and instruments sound like a finished record right from the start.

Whether clean or colored, the sonic bliss does not stop at your mic locker. The skulpter 500 provides a balanced DI input with significant headroom, so just about any signal coming from guitars, basses, synths and effects will benefit greatly from the skulpter 500's pristine amplification and versatile processing qualities.

Way more than just a preamp, the skulpter 500 is a complete recording solution – everything you'll ever need in front of your DAW.
• 100% Discrete Class-A Topology
Pristine audio path and signal processing.

• Audiophile Gain Staging
Natural and incredibly detailed sound.

• Dual Sound Shaper
Mojo machine with filters and harmonics.

• Intelligent Onboard Dynamics
Smart controlled musical compression.
• Variable Low Cut Filter
Flexible low frequency clean up.

• Balanced DI
Instrument input with massive headroom.

• Multifunction Meter
Level, gain, compression and clipping.

• Stepped Controllers
Exact and repeatable settings.
Price: $879.00
For more information, visit https://www.elysia.com/hardware/skulpter-500/introduction/
Affiliate