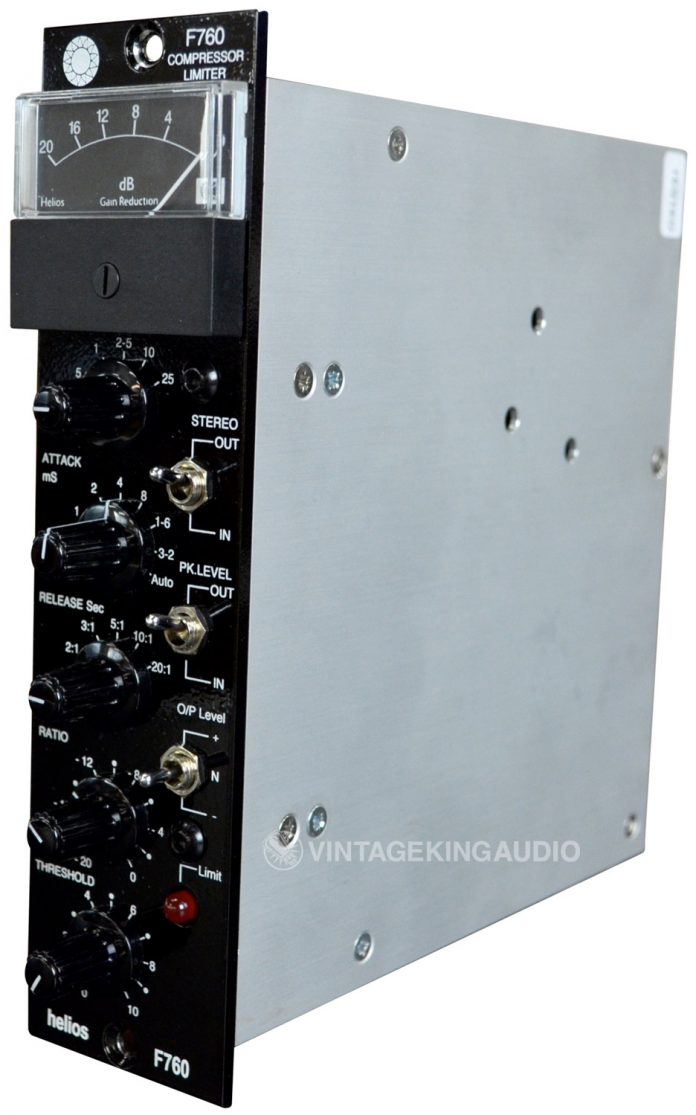 Photo taken from Vintage King's website.
Helios is one of the veterans of analog audio and they have kicked in the door of the 500 series world with a piece of history. This particular model is all things 70's and all things HUGE sound. When people like Joe Baressi use Helios, you know it's the good stuff. This unit was modeled after the Island Studios Basing St. compressor used in a great deal of 70's rock songs. I don't have a lot of info on this but Vintage King seems to have a ton so I will just let them tell you about it.
For especially explosive drums and a real all-around rock vibe no matter the source, grab the Helios F760 reissue. This flexible FET compressor offers a ferocious brand of compression in the standard Helios Type 69 format. This reissue is drawn from a design originally created for Island Studios Basing St., a quintessential rock studio used by the likes of Genesis and Black Sabbath throughout the '70s. The F760 is favored for use on all-things drums, particularly kick, but well suited to any kind of percussive source material, especially when "big" is what you want.

Reissue of a hard-to-find '70s staple
Huge-sounding, ultra-flexible FET compressor
Onboard peak limiter
Ready for stereo operation

Reissue of a hard-to-find '70s staple
As vintage units have become increasingly hard to find and fetch significant sums when they do turn up, the F760 is a welcome reissue for fans of its aggressive sound. This particular compressor was originally designed for the Island Studios Basing St. console. This London Helios-based studio saw the likes of Jethro Tull, Black Sabbath, Genesis, Brian Eno, and The Eagles throughout its early-'70s days. Big rock drums were a part of that studio's signature sound, building demand for FET compressors like the F760 for their energetic squeeze on drums. That's not to say the F760 isn't versatile – because it certainly is. It's a go-to for any percussive-type instruments, from acoustic guitars to thick vocals.
Huge-sounding, ultra-flexible FET compressor
The Helios F760 reissue gives you the big "1970s" sound the original is known for, with flexible controls to tweak to your liking. There are more attack times on this F760 than you see on comparable compressors from the same time period, letting you choose from -.25, .5, 1, 2.5, 10, and 25. As for release times, you have a lot of control over recovery, too, with positions from 25ms to 3.2s and there's also an "Auto" position that, more often than not, seems to be a good place to stay for general purposes.
Onboard peak limiter
In addition to offering a compressor sidechain, the Helios F760 reissue features an overload limiter, switchable from the front panel. It's been preset to operate at a threshold level of +10dBm, so on tighter ratios (5:1, 10:1, 20:1), it won't operate but it's there to provide some overload protection on the 2:1 and 3:1 slopes.
Ready for stereo operation
When it's time for stereo compression, the Helios F760 is ready to go. When two units are linked, just flip the front-panel switch to stereo-in and the gain reduction will be identical on both channels, controlled by the channel causing the greatest gain reduction. When in stereo mode, the ratios and thresholds need not be identical. You could set up a soft 2:1 slope and threshold in one module and a tighter limit (20:1) slope in the other. The two would combine to give 2:1 up to 20:1 and thereafter they would both limit.
These guys are fairly steep on the price but I would bet they are worth every penny. For more info and to buy, hop on over to Vintage King, HERE. The guys are super nice and helpful. I've talked to them a few times on a blue face vintage 1176 I really really want.
Affiliate