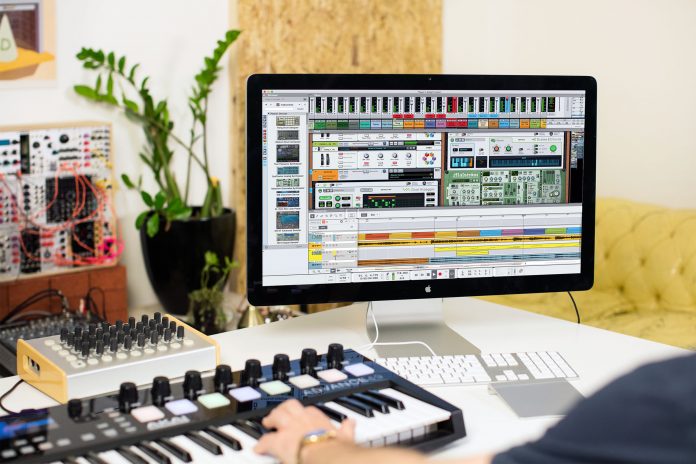 Propellerhead has released 8 previous version of their very popular DAW. Today version 9 comes out with an array of new features. Users who have purchased Reason after May 1 are eligible for a free upgrade.
Stockholm, Sweden, June 21, 2016 – Propellerhead Software today announced that Reason 9 software is now available for purchase. Reason 9 builds on the award-winning Reason platform by introducing a host of new devices, sounds and creative tools that inspire music makers to create more and better music from initial concept to a polished song.
"We've seen unprecedented interest in Reason 9 since the beta launched last month, with over 70,000 viewers tuning in to watch our Facebook live stream events," said Mattias Häggström Gerdt, Propellerhead Product Marketing Manager. "Now we're excited to make this latest version available to everyone. With new Player devices, new sounds, Pitch Edit, numerous workflow enhancements, and the addition of our popular Pulsar dual-channel LFO synth, Reason 9 is the best version yet for taking musical ideas from inspiration to completion."
Reason 9 introduces three Player devices that instantly transform any MIDI input into compelling music. Note Echo creates rhythmic, pitched MIDI delays for melodies, drum rolls and more. Scales & Chords turns simple melodies into beautiful harmonies and chords so you can stay focused on the music making. Transpose notes to a selected scale and automatically generate chords for your song, no music theory required. Dual Arpeggio transforms chords into intricate and inspiring rhythms. From classic up-and-down to polyphonic and polyrhythmic, Dual Arpeggio breathes new life into any instrument in your Reason rack.
Reason's new Pitch Edit mode helps you produce flawless vocals. Fix out-of-tune notes, adjust vibrato, change your timing, create new melodies from your recording, change the dynamics, and more. Audio to MIDI lets you convert your vocals to MIDI notes for endless sound manipulation possibilities.
Reason 9 also comes with 1000 new cutting-edge sounds to ignite your creativity. Whether you make chart-topping anthems or the sound of the underground, Reason's new sound bank will take your music to the next level. The legendary Reason rack is also enhanced with key workflow improvements and darker theme options, perfect for late-night studio sessions.
Reason 9 also now includes the popular Pulsar dual channel LFO – previously available as a Rack Extension ($49) via the Propellerhead shop. Use Pulsar to introduce variation to your sounds, create entirely new ones using its advanced and flexible modulation, or load up any of the masterfully crafted presets for instant inspiration.
Pricing and availability
Reason 9 is available as a direct download from Propellerhead's website or from an authorized dealer.
Reason 9 will be available for purchase worldwide on June 21, 2016, at the following suggested retail pricing:
Reason 9 EUR €405 / USD $449
Reason Essentials 9 EUR €120 / USD $129
Reason 9 Upgrade (from any previous Reason version) EUR €129 / USD $129
For more information, visit https://www.propellerheads.se/reason

Affiliate