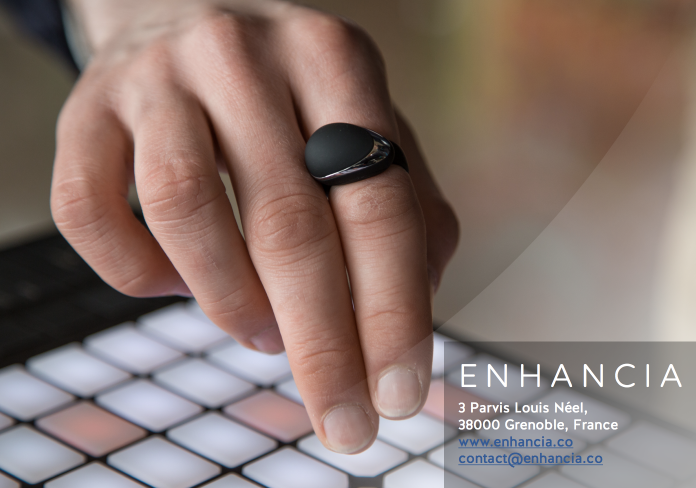 MIDI controllers are a dime a dozen and everyone has the next big thing. Enhancia actually may be in possession of this one. Neova is a wearable MIDI controller that goes on the finger and controls parameters via gestures. Give me 10 of these and link them to Pro Tools Faders! The Kickstarter fully funded in 6 Hours. This thing means business.
Grenoble, France. April 18, 2018:ENHANCIA is glad to announce that the project is  fully funded in 6 hours after the launch on the Kickstarter. ENHANCIA has reached out a set goal of $50,000 and will continue campaign until May 17, 2018

"We're overwhelmed with the support we received! A big thank to all our backers, supporters, family & friends for helping us to make this happen. We've done a big work and we will continue to work hard to deliver the best experience to our customers." – says ENHANCIA's co-founder and CEO Damien Le Boulaire.

Neova is a connected ring that identifies extremely natural hand gestures and faithfully interprets each subtlety into musical expression. This MIDI controller can be freely assigned to any effect from the DAW or hardware synthesizer. It results in a purposeful tool enabling new forms of creativity.

Neova is designed with 9 motion sensors which have highly accurate gesture recognition algorithms. They enable to control musical effects naturally and only when intended to. The gesture library consists of following intuitive movements:


Vibrato, Bend and Tilt specifically designed to enhance the play on the instrument.
Wave and Roll let musicians control the music in the air.


To give musicians instant responsivity, ENHANCIA created its own wireless proprietary protocol which is optimized for ultra low latency. The technology is 8 times more reactive than Bluetooth with unparalleled 2ms of latency.  The overall system is a patented technology.

About ENHANCIA:ENHANCIA is a growing team fueled by a common passion of music, founded in France in 2017. ENHANCIA is about expressing your creativity. The company designs innovative music equipment to enhance the way people can interact with instruments.
 
Kickstarter Campaign:  https://www.kickstarter.com/projects/1618180096/neova-a-unique-connected-ring-for-musicians