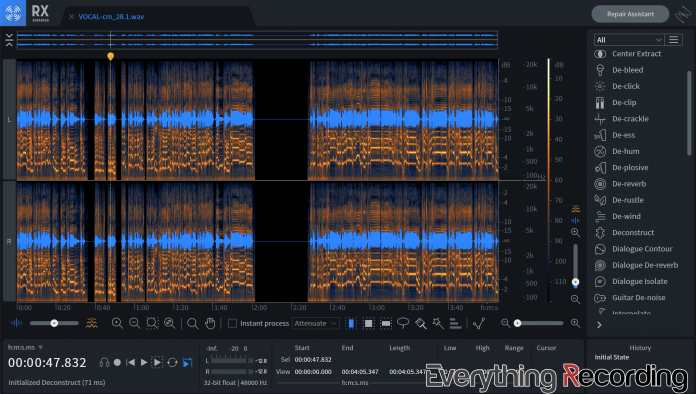 Today, iZotope has released version 8 of its industry-desperately-needed audio correction suite. We were sent over a copy of RX 8 to do a first look at your next set of audio repair tools. Let's get to it!
What is RX?
For those unfamiliar, RX is a set of tools created with one purpose in mind, fixing the unfixable in audio. All too often, perfect takes have been ruined by microphone bleed, hum, clipping, crackling, and your angry screaming upstairs neighbor yelling obscenities during your 100th vocal take of that song that's "finally going to put you on the map." Now, more than ever, tools to fix problematic audio are a must. Podcasting has exploded into a behemoth, and with recent times, the recording spaces have become less than ideal. Version 8 comes with just about any fix for any problem you can throw at it.
Versions
Like every iZotope Suite, versions abound!
Elements
This is your entry-level version. With Elements, you get (Improved) De-hum, De-click, De-clip, Repair Assistant, and Voice De-noise. Additionally, you'll get third-party plugin hosting, along with essential features like normalizing, fade, gain, module chains, and mixing.
Standard
If you need a few more features, Standard has more than a few. On top of all of the goods in Elements, you get a Batch Processor, Guitar De-noise, Music Rebalance, Loudness Control, Composite View, Breath Control, De-bleed, De-crackle, De-reverb, De-plosive, De-ess, Interpolate, Mouth De-click, Spectral De-noise, Spectral Repair, RX Connect, and RX Monitor. On top of the standard editing features, you also get Variable Time, Variable Pitch, Dither, EQ, Resample, and Instant Process.
Advanced
Welcome to the kitchen sink. Advanced, of course, has everything listed above plus a few tools that akin to audio witchcraft. Dialog Contour, Dialog De-reverb, De-rustle, Ambience Match, Center Extract, De-wind, and Deconstruct are included along with Spectral Recovery and Wow and Flutter. Lastly, Advanced adds Azimuth, EQ Match, Leveler, and Surround Support.
What's New
To try to make things a little easier to follow, we will break down what is new for each version (Elements, Standard, and Advanced).
Improved De-hum (All Versions)
The De-hum module got a massive overhaul to fix the fact that you refused to track without that portable AC unit this summer. You're such a diva. The module features up to sixteen harmonic reduction bands to hone in on that sixty-cycle hum. You also have an Adaptive Mode that can further dial in and automate the hum detection. Added high and low-pass filters help clean up audio in a snap, and a click-and-drag interface help for smoother control.
Horizontal Scrolling (All Versions)
Your cries, yelp reviews, and letters to iZotope have been heard! Now you can use your mouse, trackpad, or touchpad for horizontal navigation through the spectral window. This gives you DAW-like control and the ability to zoom in tighter and scroll through audio.
Improved Module Chain (All Versions)
We all have that podcaster who, despite being told, still refuses to use a pop filter and nervously rustles paper. Instead of having to perform each function one at a time, you can create a module chain, including multiple instances of the same module in the chain. RX8's improvement of the Module Chain gives you the ability to process specific frequency areas, adding improved precision to your repairs.
Improved Batch Processor (Standard and Advanced)
Fixing multiple files has never been more straightforward with Batch Processor. Load numerous pieces of audio and apply entire Module Chains to all of them. Once complete, export options are endless. Make as many file formats and versions to as many places as you need. You can even save presets for different batches and import module chains for fast reference.
NEW Guitar De-noise (Standard and Advanced)
No matter how many cans of Finger Ease, there's always that player who can't help but loudly squeak every… single… chord change. In the right hands, fret squeak can give authenticity to a guitar track but when done wrong, it is truly one of the worst sounds in the world. I'm pretty sure iZotope agrees because they're created Guitar De-Noise. The Amp tools can fix the hiss and electrical issues of that vintage Radio Shack amp the guitar player insists was used by Kurt Cobain. Spoiler alert, it's not. 
To further control pick transients, the Pick Tool easily controls the overly dynamic parts. Then there's the dreaded aforementioned fret noise. The Squeak tool can tame the presence of the strings being pushed just a little too firmly during transitions. Each control has a Sensitivity and Reduction fader to fine-tune control. To help even further, Michael Brauer has created an RX 8 Preset Pack for easy fixing of common problems.
Improved Music Rebalance (Standard and Advanced)
This tool was inspired by Ozone's Master Rebalance tool. This module goes beyond simply repair use and into creative territory. Isolate individual instruments (including vocals) from other elements in just about any source material. In version eight, we see the algorithm supercharged for even more precise separation, resulting in better-isolated tracks from fully mastered material. Go beyond merely removing a vocal and create a whole new balance of instruments and vocals from tracks.
Improved Loudness Control (Standard and Advanced)
This module has been completely remodeled from floor to ceiling with single-click workflows, perfect for podcasters. You'll never have to worry about your levels stack up to broadcast standards withe Loudness Control. Presets are already created with loudness standard targets, and feedback is easy to read with built-in numeric and histogram readouts. The GUI can resize as well to fit perfectly into your workflow.
Improved Composite View (Standard and Advanced)
Up from 16 individual tracks, RX 8 now offers editing of up to 32 individual tracks as if they were one. A Composite Tab is now available that applies the same processing to multiple files. This is especially useful when working with sources with several mics. Now, you can pretty much correct spectral issues on entire orchestral recordings from all angles.
NEW Wow and Flutter (Advanced)
We've all worn out that Bananarama Cassette to the point where it sounds like something from the Demonic Electronics Subreddit. Let RX 8's new Wow and Flutter tool take a crack at that troubled audio. This tool has multiple controls for just about any situation fro,m aged tape to warped vinyl.
Improved Dialogue Isolate (Advanced)
Version 8 adds new functionality for more natural-sounding separation of your vocals and the outside world. Improved Ambience Preservation keeps life in your dialog, even when using noise reduction heavy-handedly. Separate crowd noise, weather, traffic, and footsteps from your spoken word, even when the noise ratio is challenging your dialogue. Your outdoor slam poetry sesh during rush hour is saved!
Spectral Recovery
As much as we love technology, bandwidth is king, and it is killing your podcast interviews and recorded Zoom conferences. Let Spectral Recovery take a stab at that cheap laptop microphone and horrible internet connection with tools that restore those hashed out frequencies above 4 kHz. Remove all of that swishy, whistling, and grating compression artifacts and make your guest sound like they were in the room with you, with more presence and natural clarity.
Thoughts
I'm continually impressed with how iZotope constantly produces tools that, just years ago, were thought to be impossible. The Music Rebalance module is one of the most accessible tools to isolate more than just vocals from music. The Guitar De-noise tool forever has a place in my template, and the Spectral Recovery is downright amazing.
What sets RX 8 from the pack is not just the sheer power of the suite; it's the ease of use each tool offers. Even if you have no clue how or even what is wrong with your audio, RX 8 does. The Repair Assistant can go through your material, analyze, and offer several options to compare for better decision making. Never before have we been in a time where audio repair is needed more. Podcasters are being forced to work away from treated rooms due to the pandemic and social distancing and we've been driven to tears as editors with room noise, traffic, and children screaming in the background (no judgment on that last part).
Whether you are a professional or bedroom content creator, RX 8 has more than enough tools to fix whatever migraine-inducing problem you can throw at it. Don't let the world get in the way of your art. Get iZotope RX 8.
Pricing:
RX 8 Elements: $99 introductory ($129 regular)

RX 8 Standard: $299 introductory ($399 regular)

RX 8 Advanced:  $999 introductory ($1199 regular)

RX Post Production Suite 5: $1499 introductory ($1999 regular)
To purchase, please visit our Affiliate Link HERE
Affiliate