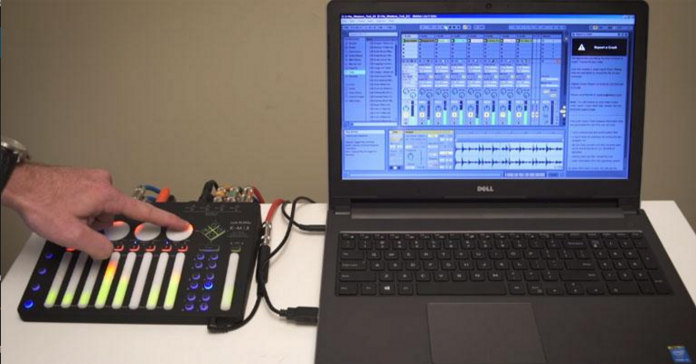 The K-Mix is the perfect audio interface / control surface. Keith McMillen has addressed almost every facet that has been missing in modern control surfaces. Now you can edit K-Mix in Windows.
BERKELEY, CA, USA: innovative hardware and software developer Keith McMillen Instruments is proud to announce availability of K-Mix Editor for Windows 7, 8, and 10 (64-bit only) — widening the appeal of its critically-acclaimed K-MIX 8 In 10 Out Audio Interface Programmable Mixer with Windows compatibility — as of September 7…
"We're happy to officially announce that we have a version of the K-Mix Editor and drivers available for Windows!" With this far-reaching release — the latest in a lengthening line of developments witnessing welcomed compatibility with Windows 7, 8, and 10 (64-bit only) as the killer K-MIX mushrooms onwards and outwards following its integration into iOS, Keith McMillen Instruments Founder & CEO Keith McMillen is justifiably proud of his namesake company's achievements and appreciative of its considerate customers, having blown musical minds and opened open-minded ears during its initial introduction as a mould-breaking Mac OS X-compatible device at The NAMM Show 2016, January 21-24 in Anaheim. "We would like to thank Windows users for their patience as we finished this project," he continues, before adding: "We're excited to be able to offer cross-platform support for Mac OS X, iOS, and, now, Windows to all of our amazing customers — K-MIX for everyone!"
Exciting times, then, for company and customers alike as 'McMillen & Co.' can look forward to welcoming Windows users into the thriving K-MIX community of refined recordists and perceptive performers, thanks to the latest K-Mix Editor and accompanying custom K-Mix USB Audio Driver v1.1.0 (that must be installed first). Finally, more musicians than ever can come to appreciate the technical nuances of the farther-reaching, feature- packed K-MIX — not least its precision opto-tactile control surface, designed from the ground up to command any DAW (Digital Audio Workstation) with an unprecedented level of control, combined with two ultra-accurate, low-noise μPreTM proprietary preamps, providing a quoted THD (Total Harmonic Distortion) + Noise rating of -105.12dBu @ 0dB gain, 20Hz–20kHz (unweighted); -116.49dBu @ 0dB gain, 20Hz–20kHz (A-weighted). An enlightening experience for users of all persuasions — Windows or otherwise!
K-Mix Editor for Windows 7, 8, and 10 (64-bit only) and K-Mix USB Audio Driver v1.1.0 can be downloaded directly from Keith McMillen Instruments itself here: https://www.keithmcmillen.com/downloads/
K-MIX carries an MSRP of $579.00 USD and is available to purchase from any authorised Keith McMillen Instruments dealer or directly from Keith McMillen Instruments itself here: http://www.keithmcmillen.com/shop/
For more in-depth information, please visit the dedicated K-MIX webpage here: http://www.keithmcmillen.com/products/k-mix/
Affiliate