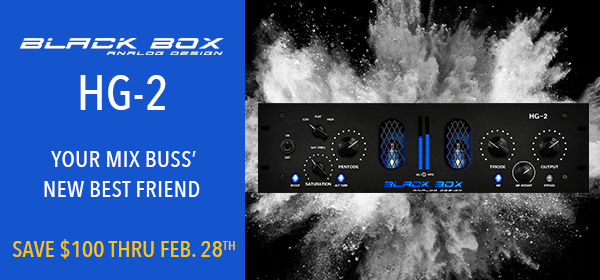 Every DAW needs a great plugin on the mix bus to smooth things out. Acclaimed hardware designer Black Box has teamed up with Plugin Alliance to release the HG-2.
There's a good reason why celebrated mix engineers like Dave Pensado, Bob Horn, and Jack Douglasuse the high-end Black Box Analog Design HG-2 tube processor on their mixes. The boutique stereo processor's multiple, diverse tube circuits not only make tracks sound richer and fuller, they also make them sound louder, bigger and punchier at the same peak level. Much more than a mere distortion box, the HG-2 can impart subtle harmonic coloration and sparkle without compromising fidelity, or add brilliant saturation that totally changes the character of a sound.
Among the HG-2's features:

Faithful emulation of the high-end Black Box Analog Design HG-2 tube processor, with additional digital controls – Input Gain, Density, Calibration, Air and Mix – providing a greatly expanded palette of tube flavors and saturation
Modeled transformers and separate gain controls for virtual 6U8A pentode and triode tubes add warmth, body and tube sweetness to thin mixes and sterile mono and stereo tracks
Parallel Saturation circuit selects one of two modeled 12AX7 tubes – one voiced more aggressively than the other – for adding tube radiance to scorching overdrive distortion on instrument and vocal tracks

Special Introductory Offer
Through Feb 28th, get pure tube power in plugin form for only $149!
For more information, visit the Plugin Alliance Black Box HG-2 Page
Affiliate