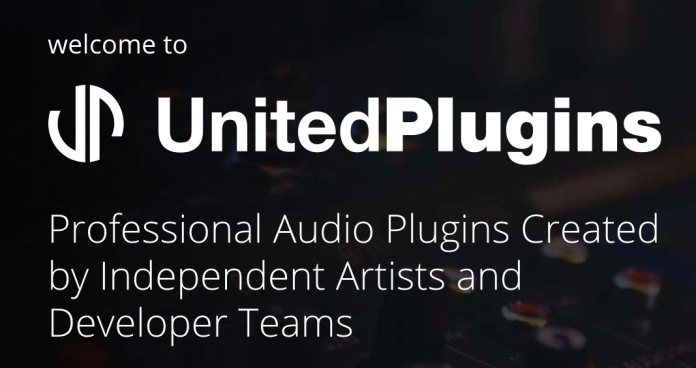 Let's give a warm welcome to United Plugins, a new online group of plugin developers. They have marked this occasion with three new plugins from its 3 founding members. You can't go wrong with a plugin named the "FireCobra"!
PRAGUE, CZECH REPUBLIC: newly-founded federation United Plugins is proud to announce availability of its inaugural respective releases from founding independent developer triad FireSonic, JMG Music, and SounDevice Digital — namely, the AU-, AAX-, VST-, and VST3-compatible FireCobra (intelligent mix enhancer), HyperSpace (algorithmic reverb), and Royal Compressor (vintage vari-mu compressor) audio plug-ins for MacOS and Windows — as of June 3…

United Plugins founding independent developer FireSonic feels compelled to create smart, easy-to-use tools that can be put to good use on any track to make it sound better, because — let's face it — most music productions benefit from a little enhancement here and there! With that thought in mind, FireCobra combines the accuracy of the digital world with the live randomness of analogue. After all, early engineers strived for perfection, trying to record and play back sounds as close to the original source material as possible. Paradoxically, perfection is (almost) possible in today's digital era, yet some previously-problematic side effects of analogue are now appreciated for what they are as they simply sound better — though this is generally accepted to be due to psychoacoustics rather than the analogue devices themselves since it is now possible to achieve so much more than analogue alone ever could. Clearly, then, the superficially simple GUI (Graphical User Interface) fronting FireCobra belies some seriously savvy technology with which it intelligently analyses an audio signal to make it punchier, more powerful, and generally better sounding. Still better, it makes mixes sound better with next to no time wasted on setting it up. Ultimately, it's simply a case of applying it to any DAW (Digital Audio Workstation) track that needs enhancing and tweaking three algorithms accordingly via their associated controls on the flexible photorealistic 3D GUI: INTENSIFY (intelligently analyses the audio INPUT and makes the OUTPUT sound tighter and fuller), SMACK (creates unique and pleasant harmonic distortion inspired by rare analogue devices to make the treated audio sound way more authentic and audible in the mix), and ANALOGIZE (adds analogue warm valve mojo based on classic analogue saturation simulation). Saying that, adjusting the DRY / WET knob, increasing its value to increase enhancement or vice versa, is all that's needed in most cases. As a highly-optimised plug-in designed to make most efficient use of the host computer's CPU (Central Processing Unit) and also exploiting the newest AVX2 and AVX512 architectures, the 64-bit processing FireCobra can comfortably be applied to multiple tracks to best bring out difficult to perceive elements of a mix while attenuating those that tend to drown out others — and at sampling rates of 192 kHz or even higher!

Fellow founding independent developer JMG Music makes use of complex audio processing techniques, but balances them with easy to use controls, as evidenced by HyperSpace, an algorithmic reverb plug-in. Permitting its users to easily create their own algorithms made up of various processors in a fast, intuitive way, the self-explanatory Vintage, Classic, Retro, Modern, Sci-Fi, and Cosmic modes combine various algorithms with endless possibilities for enriching tracks with a myriad of colours — from vintage plates or classic hardware to super-realistic spaces or out-of-this-world ethereal textures. But behind the scenes, those algorithms comprise complex structures with hundreds of processors running in parallel with feedback networks while each processor possesses value settings that make up the character of the resultant reverb sound. Since each value for each processor has an effect on the others there is an almost infinite number of value sets available due to such complex structures. So machine learning was used to qualify over 20 million value sets, selecting only the best combinations for use in this 64- bit, 192 kHz (or higher) high sampling rate plug-in. Putting that into its user-friendly perspective, HyperSpace offers an amazing amount of control to create a reverb that's unique to its user's needs. Needless to say, it does that through an easy-to-use, resizable GUI with a super-clean background that effectively disappears, leaving users to focus on the controls that really matter. Moreover, these are divided into colour-coded zones — pink (controls the sound character of the reverb), blue (contains the main characteristics for creating a virtual space), orange (contains four special effects for creating spaces), and green (contains a group of processors designed to help the reverb sit better within a mix, so sounds are no longer pushed back in the mix, losing focus and clarity) — to ease navigating through HyperSpace. Helpfully, the plug-in's parameters offer extreme value ranges to maximise flexibility while having the most useful values tuned to the centre of the controls so users can quickly find their sweet spot. Separate Wet and Dry controls maximise reverb balance, with a link option offering the typical mix behaviour found in most other plug-ins, while time-based parameters can be synced to the host tempo. The three dice symbols are smart randomisers that dial in useful settings for great-sounding reverbs in just one click, from subtly changing the character of an existing sound or unleashing chaos to surprise and inspire, while the wide range of onboard presets programmed by professional sound designers and producers truly showcase the sonic beauty of HyperSpace, however users choose to use them — whether for convenience or as an inspirational starting point without slowing down their creative workflow.

Rounding out newly-founded federation United Plugins' founding independent developer triad (when placed in alphabetical order), SounDevice Digital is named after Czech musician, composer, and record producer Boris Carloff's Prague-sited SounDevice Studio, which is where its ideas are conceived — creating convenient tools that are missed or needed while working there. That said, Royal Compressor is inspired by modelling three examples of a British vintage vari-mu compressor classic that dates back to The Beatles' Sixties heyday, helping to shape hundreds of renowned recordings. Realising that the three devices in question sound somewhat different to each other by virtue of originally being built by hand steered SounDevice Digital towards the idea of merging them into a single, peerless plug-in. Put it this way: warm and pleasing-sounding compression attributes applicable to any kind of audio source material are readily on tap, thanks to the simulation of those vari-mu circuits central to Royal Compressor. Its clear-cut GUI features few controls, clearly influenced by yesteryear's analogue era when manual mixing was the order of the day, yet those controls can dramatically alter any audio that they are applied to. They collectively bring about a welcomed vintage vibe to the compressed result, which is, of course, what Royal Compressor is all about. A MODEL knob allows users to instantly switch between the three different models of circuitry (A, B, and C), each with a different value for fixed attack. AUTOGAIN keeps the output signal at the same level, regardless of how high the INPUT CONTROL is set, so serious saturation always abounds. And, unlike those original vintage devices from which it draws its inspiration, Royal Compressor features an adjustable SATURATION control (based on a random saturation algorithm which creates the effect that valve hardware has when brought into play). Performance-wise, while Royal Compressor operates on a high internal sample rate, truly twenty-first-century simulation technology maximises its exceptional sound while minimising CPU load. Letting state-of-the-art simulation speak further for itself, Royal Compressor comes complete with a so-called 'second-hand' edition. Even semi-broken machines still serve some studios well, with functionality perhaps limited to only one feature, yet they can still bring something special to the production process. Which is exactly what this freebie from SounDevice Digital does!
FireSonic's FireCobra is available to purchase for a time-limited introductory promo price of €77.00 EUR throughout June 2019 — rising thereafter to €129.00 EUR — as an audio plug-in (compatible with 32-and 64-bit VST hosts, 32- and 64-bit VST3 hosts, 32- and 64-bit AU hosts, and 32- and 64-bit AAX hosts) directly from United Plugins here:
https://unitedplugins.com/FireCobra
 (Note that 15-day, fully-functional trial versions for MacOS and Windows can be downloaded for free.)
JMG Music's HyperSpace is available to purchase for a time-limited introductory promo price of €77.00 EUR throughout June 2019 — rising thereafter to €129.00 EUR — as an audio plug-in (compatible with 32-and 64-bit VST hosts, 32- and 64-bit VST3 hosts, 32- and 64-bit AU hosts, and 32- and 64-bit AAX hosts) directly from United Plugins here:
https://unitedplugins.com/Hyperspace
 (Note that 15-day, fully-functional trial versions for MacOS and Windows can be downloaded for free.)
SounDevice Digital's Royal Compressor is available to purchase for a time-limited introductory promo price of €77.00 EUR throughout June 2019 — rising thereafter to €129.00 EUR — as an audio plug-in (compatible with 32-and 64-bit VST hosts, 32- and 64-bit VST3 hosts, 32- and 64-bit AU hosts, and 32- and 64-bit AAX hosts) directly from United Plugins here:
https://unitedplugins.com/RoyalCompressor
(Note that 15-day, fully-functional trial versions for MacOS and Windows can be downloaded for free.)
Affiliate