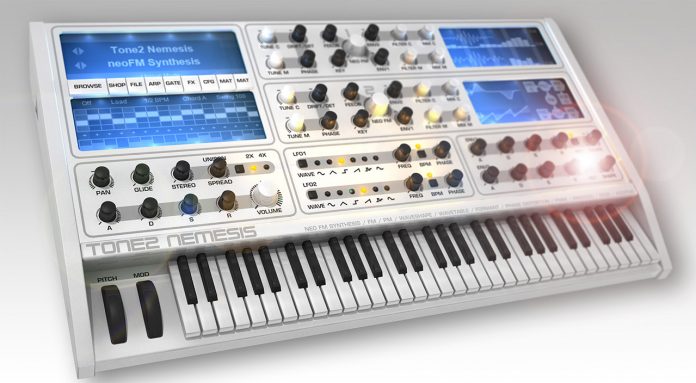 Tone2 have added more presets with the Soundtrack Soundset for Nemesis (review HERE). This pack features experimental sounds to set the mood for your tracks. Comes with 100 different presets.
Also check out Tone2's FREE wrapper NanoHost, which works to host VST plugins so they can work as standalone, without the need for a DAW.
Tone2 Audio has released the 'Soundtrack' soundset for their Neo-FM synthesizer Nemesis.
Exploring the experimental and atmospheric side of Nemesis, the Soundtrack set is filled with 100 sound impressions that will help you set the mood perfectly.

Patch breakdown:
15 Arpeggiator
8 Atmospheric
12 Drone
4 Effects
7 Keys
16 lead
15 Pad
11 Percussive
9 Rhythm

Highlights
100 presets created by a professional artist (Jens Dibowski)
This set uses the new features and effects introduced with Nemesis 1.6
Most of the sounds rely heavily on Nemesis's neoFM capabilities
Comfortable installation
Seamless integration into the user interface
All sounds are properly programmed – they are no samples. This gives you the complete dynamic range, a lot more expression, the highest possible sound quality and saves harddisc space
The volume of all sounds has been carefully normalized

Genres

This set is suitable for Soundtrack, Film Score, Ambient, Chillout, Electro, Cinematic, Deep House, Berlin School, Atmospheric, Space, New Age and many other genres.
Price: $39 / €29
Soundset link:
https://www.tone2.com/soundtrack.html
Nemesis product page:
https://www.tone2.com/nemesis.html
Affiliate