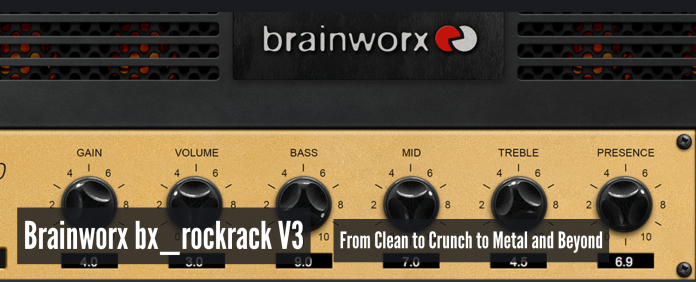 For too long, producers, engineers and guitarists have waded through a sea of amp simulator and guitar pedal plugins that mimic the sound of hundreds of amps, microphones and effects without authentically recreating that gear's organic sound and hardware behavior. However, with its four new guitar-processing plugins, 

Brainworx

 continues its world-renowned tradition of advanced component-level modeling, which faithfully recreates both the exquisite tone and the behavior of the guitar amps and effects they analyze. These plugins offer a rare in-DAW experience for both real-time guitar tracking and guitar processing. They also fulfill a dire need for high-end guitar amp and stomp box emulations in the AAX DSP format for Pro Tools HDX users.

Marking the culmination of four years of exacting guitar amp model development, the redesigned bx_rockrack V3 delivers an extremely versatile collection of 1:1 emulations of eight high-end guitar amplifiers, each one painstakingly captured by pro audio engineers who make capturing tone their livelihood.

Whether shooting for piercing metal barbarism, crisp and clean jazz riffs or something in between, these four plugins not only sound like the real thing, but also feel like it when you play them. You get all the tone, but none of the noise of the hardware, while also enjoying full recall, automation and stereo buss processing.

• 

Brainworx bx_rockrack V3

 ($199 MSRP) – eight 1:1 emulations of coveted, high-end guitar amplifiers from Marshall®, Mesa®, and ENGL packed into one sleek and sophisticated plugin. The bx_rockrack V3 includes 40 pristine impulse responses that combine cabinets with EQ settings and other gear, such as the onboard noise gate, vintage delay and shaping filter effects. This completely overhauled flagship guitar amp sim improves workflow, reduces CPU usage and increases sound quality, and its endless tone varieties are all 100% recallable and reliable. The price has also dropped $50 from the cost of bx_rockrack PRO.

• 

Brainworx bx_rockrack V3 Player

 (free full license) – This addition to Plugin Alliance's PA FREE Bundle lets users experience the jaw-dropping sounds of all eight amp models from the bx_rockrack V3 through 26 non-editable presets ranging from clean tones from Brainworx's Marshall JCM-800® emulation to ferocious metal strains from overdriven ENGL preamps. Users have unlimited access to bx_rockrack V3 Player's presets and can upgrade to the full version at any time.

•

Brainworx bx_metal2

 ($49 MSRP) – a faithful emulation of the industry-standard Boss MT-2™ stomp box, the bx_metal2 presents the quickest route from a clean guitar tone to a totally authentic metal sound. It can crank out super-long sustain and heavy mids and lows like a stack of overdriven amps. With three ±15 dB EQ bands, bx_metal2 can produce both searing leads and face-melting, low-boosted heavy metal chords.

•

Brainworx bx_blackdist2 

($49 MSRP) – an exacting emulation of the ProCo Sound RAT 2™ pedal, which has shaped the sound of thousands of iconic records from the likes of Metallica, Foo Fighters and many others. The bx_blackdist2 produces myriad distortions, from warm overdrive to tube-like crunchiness and fierce screams, all from just three simple parameters.

"The original bx_rockrack was our first amp emulation,"

 said Brainworx founder and CEO Dirk Ulrich. 

"It was a real labor of love to go back and apply to V3 so much of what we've learned about developing guitar amp plugins and capturing recording chains over the last four years." "OMG! What a massive improvement the bx_rockrack V3 is from the already amazing original,"

 Dave Reitzas, producer/mixer/engineer (credits: Barbra Streisand, Madonna & The Weeknd). 

"Not only do the new models sound great, but the possibilities are endless on what you can do with sounds. The GUI looks slicker and the ability to audition amps and recording chains is much faster and intuitive. The only limit now is your imagination!"

bx_rockrack PRO users can upgrade to bx_rockrack V3 for $29 and enjoy the new Brainworx bx_metal 666 amp, 25 new recording chains and the improved workflow, sound and CPU load of the new plugin. Plugin Alliance is also offering a promotional upgrade of $79 for users who download and activate the bx_rockrack V3 Player, now through October 31st.
All four plugins are now available in AAX DSP & Native, AU, VST2 and VST3 formats for Mac OS 10.8 through 10.11 and Windows 7 through 10. The bx_rockrack V3, bx_metal2 and bx_blackdist2 are also included in the 100% BX Bundle V2.7and All Bundle V4.3 at discounted bundle prices. All Plugin Alliance products are available as fully-functional 14-day demos with a registered account.
Legal Disclaimers: The bx_rockrack V3 Marshall and Mesa amps were developed by Brainworx Music & Media GMBH based on its own modeling techniques. Neither Marshall Amplification nor Mesa/Boogie Ltd. have endorsed or sponsored the bx_rockrack V3 in any manner, nor have they licensed any intellectual property for use in this product.
Boss MT-2 is a registered trademark of Roland Inc. Brainworx developed the bx_metal2 based on its own modeling techniques. Roland has neither endorsed nor sponsored the bx_metal2 in any manner, nor licensed any intellectual property for use in this product.
RAT 2 is a registered trademark of ProCo Sound. Brainworx developed the bx_blackdist2 based on its own modeling techniques. ProCo has neither endorsed nor sponsored the bx_blackdist2 in any manner, nor licensed any intellectual property for use in this produ
Affiliate