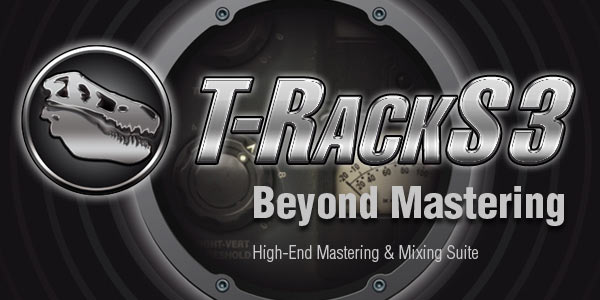 NOTE: Before I type out this review I need to warn you this is my first review and I'm new to this. I am going to try my best to be as short and insightful (as well as sexy) as I possibly can. If any of you are like me, you see a great deal of text and shut down. I assure you I took all of this into account no matter how long this review ends up being. I've gone as far as to clearly divide the sections so you can get to what you want to see at a glance as well. I want to be as informative as I can without being boring. Crap… even that was longer than I wanted. Here goes nothing.
Intro
IK Multimedia has really stepped up the bar in the past few years and I took advantage of one of their incredible promotions they had going on last year, The Group Mix Promotion initially was that if you buy one T-RackS single plugin $99.00, you get another one free. Then for every thousand people who participated and bought a single plugin (Up to 6000 people) you would get 4 more plugin singles of your choice for free. Well needless to say they hit the 6000 mark and they even threw in the CSR Hall Reverb Plugin as well. Let this be a lesson to you to ALWAYS check the "Subscribe to Promotions" box when you buy products you like. I ended up getting $600.00 worth of plugins for $99.00. Are you catching my drift yet?? GO TO THE SITE AND SUBSCRIBE!! Good grief how much easier can I make this??!! FINE I'll spell it OUT… Maybe if you click here and go to the top right corner in the small box entitled JOIN MAILING LIST, IK Multimedia will run another promotion OR they might already have a promotion going on.
Why are you staring at me like that?
Group Buy Promotion
So 6000 people participated and I got to pick 5 plugins and got the CSR (Classic Studio Reverb) plugin as well. After debating for an hour over which plugins to get, (all of them were incredibly enticing) I went with these:
Classic Equalizer
Vintage Program EQ 1A
Linear Phase EQ
Classic Multiband Limiter
Vintage Compressor Model 670
Classic Studio Reverb
Overview:
The T-RackS series has been around for a while and has gathered quite a bit of acclaim. I've personally used the T-RackS EQ since I started using Pro Tools in 2003. They offered a lite version of it for free with the M-Box I bought back in the day. I used that EQ for EVERYTHING and still do to this day. The included presets served as a teacher for me to learn proper EQ techniques and I used them as a template to build my own presets. And the new T-RackS is no different in that aspect, only they have enhanced the software by leaps and bounds and have included some dynamics processors and EQs based on some of the most sought after pieces of gear in the recording industry. And the kicker is they've done an astonishing job, in my opinion rivaling that of the almost quadruple the price Waves plugins of the same type. Even the visual interface of these plugins is appealing in itself, making you want to use these plugins simply so you can look fancy while mixing in front of clients to the point that I now mix with a top hat and monocle. All of the controls are very outright and easy to distinguish for the newer users as well, making this a go-to for beginners as well as veterans alike.
Installation
The products can either be downloaded instantly which is the way to go because you get the product right then and there and can save the install files to a hard drive, sparing the plastic and cardboard for all you environmentally conscious people, as well as not having to worry about losing your software in the fray. Even if you lose the digital copy, your registration on the site provides you with a section to view licenses and download the software. Also, it saves you on shipping and most of all waiting, but I have respect for the people who keep it old-school and want the hard copy as well as those who have the wherewithal to wait 3 to 5 days. Kudos on your patience now stop showing off. This is my blog and I'm not going to be made to feel inferior!!!
Registration
Registration on the product wasn't too bad. Once again I used the digital option so my info was online for me to see. With the first copy I got in 2003 I had to register as a user on IK Multimedia and go through all of that to install but from what I remember it wasn't much of an ordeal. I think that particular part was the majority of the process and even that wasn't much. I authorized in Pro Tools so each experience could be different, but I'm sure it involves the similar "enter the serial number of your product then either authorize online or offline bit." You get 5 authorizations which should be more than enough as long as you're not reformatting your computer a lot (which I am subject to do quite a bit.) Of course, you can avoid all of this by purchasing what they call an "iKey" a USB dongle that has your licenses on it thus sparing yourself the time it takes to read that whole paragraph.
I have to say I was using a Mac on this one so install varies based on OS (Windows or Mac OS Only.) The install was very simple and quick. Hey look I finally said something without using a whole paragraph, but my grammar teacher Mrs. Taylor would yell at me and throw a dry erase marker at me if I didn't make this a FULL 3 sentence paragraph so I put this anecdote in. Thank you, Mrs T… look at what your hard work and beatings have fruited. A comprehensive and very well-spoken website that looks great in a pair of bootcut jeans and a stylish t-shirt (don't forget the tophat and monocle as well!) Ok enough play… back to why we're here.
The Singles
T-RackS Classic Equalizer:
T-RackS Classic Equalizer is basically a high quality six-band parametric EQ, that they made to especially shine in a mastering environment but can also be used on individual tracks as either a mono or stereo plugin.

It features:
4th order High-pass filter, from 16 Hz to 5.3 kHz
Low shelving type filter, from 30 Hz to 200 Hz
Low-mid peaking type filter, from 33 Hz to 5.4 kHz, variable Q
High-mid peaking type filter, from 200 Hz to 17.5 kHz, variable Q
High shelving type filter, from 750 Hz to 8.5 kHz
4th order Low-pass filter, from 200 Hz to 18 kHz
Now I'm not really one to get into the tech specs of a product because ultimately the sound speaks for itself, regardless of how it functions, but the frequencies (shown above) that this EQ covers is ideal. It allows you, like most EQs to enable only the bands you want as well as notch each individual frequency. The frequency response is great as well allowing you to go from simple shelving of the highs to all out bandpass filter for those telephone sounding effects with great ease. You can even use the built-in effects preset to quickly get the range of filters from "Old Television" to "Telephone" and even one that simulates hearing the sound through walls as if you were in an apartment. You know… if you just bought a house and miss the sound of the college kids who live in the adjacent apartment blasting Ke$ha at 2AM. Oh how I miss sleep deprivation.
T-RackS Vintage Tube Program EQ 1A:
Modeled after the "Best EQ Ever Made," the T-RackS Vintage Tube Program EQ masterfully emulates the Pultec EQP 1-A. Using two actual units, IK's team of sorcerers (misspelling, but it stays because its fun to say) used the company's DSM™ and new SCC™ technology to emulate this crown jewel in an industry who lately has had a tawdry affair on analog technology with the slightly less attractive but "easier" digital technology (present companies excluded. IK doesn't count because they're trying to make everyone get along for the kid's sake. Ok this analogy has sort of derailed. Oh well, I've typed it and it stays.)
This EQ is a personal favorite on acoustic instruments. (If you're not paying attention, the purple words link to things I find funny.) The only way I can describe this EQ is its like a great pair of polarized sunglasses. When you have them on, everything just stands out a little more. This EQ isn't brash or right in your face. It simply adds an incredible warmth and body but not so much that it takes away from its place in the mix. Something that I use this for that might be a bit unconventional is I use this plugin before another EQ just to warm up another EQ. Most plugins lack the character and "personality" but I guarantee this one will bring out the best in just about any track you throw it on.
T-RackS Linear Phase EQ
Ever had that perfect tone on a vocal track but just wanted to tweak the highs without compromising the integrity of the Mic / Pre combination you had? Now you can. This digital EQ was designed to be an extremely high precision with 6 bands to play with. The kicker of this is that because we're recording in the digital realm, they've designed this EQ to be as transparent as possible. When the linear phase is enabled, no time or phase shifts are applied to the track, allowing you to EQ without any coloration. It's one of the purest forms of mixing a track you can possibly do because it leaves the track in its natural state. It's simply amazing. I've never been able to apply an EQ that will boost a frequency without altering the tonal characteristics of the audio. In mastering, this is perfect because if you just want that extra little oomph or crisper highs, this will do it without the fuss of screwing up your already spectacular (hopefully) mix.
I use this on just about everything I can, however, I do have a complaint. This thing uses a good deal of processing power. Don't get me wrong it's an astonishingly great piece of software. Incredibly transparent, it somehow reaches into the mic you're recording with and boosts what it already has without changing the tonal characteristics. Now you can use it in a lower bandwidth setting and it still functions very very close but using it in linear phase mode has a slightly more noticeable difference. On my version, the linear phase was disabled and you had to enable it in the preferences at the bottom left of the plugin window. Once you allow linear phase mode you have to take the plugin off of the track and restart it to calibrate for the time shift. To be on the safe side I went ahead and restarted Pro Tools as well. Totally worth it.
OK, This is part 1 of a 3 part review I'll be featuring on the T-RackS Singles I own. Part 2 will feature the compressors and the classic studio reverb and Part 3 will cover The Mixing & Mastering with T-RackS Official Guide.
Affiliate