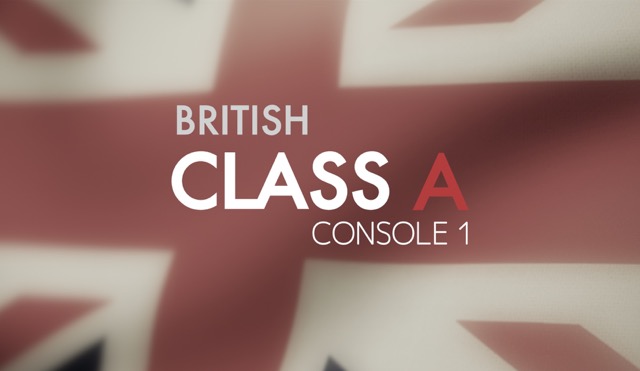 Console 1 is a great idea, merging plugin console emulation with custom hardware. This gives the user a common surface to reference controls. Now the sound of a very famous British Class A Console is at your fingertips.
LINKÖPING, SWEDEN: high-end plug-in specialist Softube is proud to announce availability of British Class A For Console 1 as of May 31…
British Class A For Console 1: The Rolls-Royce of Rock 'n' Roll Mixing
Softube collects the most coveted and distinctive-sounding units of the pro audio world in a single channel strip, tightly integrated with the Console 1 hardware.
Five Highly Coveted Tools In One Sleek Strip
British Class A For Console 1 is a world-class plug-in incorporating a highly-prized classic EQ, compressor, limiter, gate, and input stage, bringing top-quality British sound within reach of the everyday studio.
Body And Character For Your Tracks
Treat your sound to the fat transformer crunch of the input stage, get great tone with the honey-sweet equalizer, control dynamics with the beautifully musical compressor, smash them into oblivion with the limiter, and keep things tight and tidy with the smooth gate.
Capturing An Authentic British Sound
With meticulously modeled transformers and discrete Class A circuitry, doubled mid-band EQ, and killer presets, Softube have raised the bar in authentically capturing the muscular, fat warm sound of classic British mixing.
Direct Control Via Console 1
Nothing else brings the tight integration of hardware and software that you get with Console 1, allowing hands-on control and super-fast workflow. In fact, it's so easy you can mix with your eyes closed.
In short:
Channel emulation for Console 1 with EQ, compressor, limiter, gate, high/low cut filters, and input stage drive.
Based on vintage British hardware units.
Doubled mid-band equalizer.
Additional compressor attack/release times, based on the most famous modification available.
Perfectly compatible with Console 1.

British Class A For Console 1 is available now at an introductory list price of $199 until June 30. After this date, the plug-in will be priced at $249. It is available on Softube's own web store and via authorized Softube dealers around the world. Find out more at: http://www.softube.com/index.php?id=britishclassa