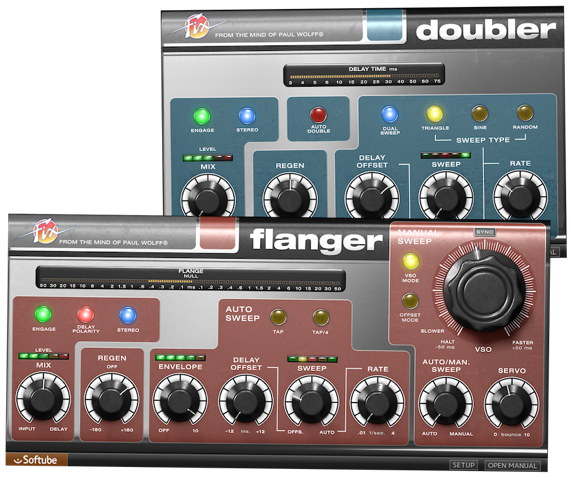 Two things modern music depends on heavily is doubling on vocals and flanging for those EDM transistions. Softube has made some incredible renditions of classic plugins and now they are adding another two originals to the lineup with Fix Flanger and Fix Doubler.
LINKÖPING, SWEDEN: from the mind of legendary audio equipment designer Paul Wolff comes the new Fix Flanger and Doubler. This package is made in collaboration with Swedish high-end plug-in developer Softube. Fix Flanger and Doubler takes the legacy and sound of classic flanging and vocal doubling of the 1960s, but with all the benefits of the digital world. Fix Flanger and Doubler will be available for purchase as of November 9, 2015.
In 1979, Paul Wolff formalized a vision which was turned into exclusive limited-edition hardware, later loved among musicians and sound engineers. In 2015, Fix Flanger and Doubler is the reincarnation of this vision — a plug-in package that handles hands-on flanging with unique stereo widening methods, as well as vocal doubling with lush chorus and rich textures.
Classic flanging reimagined:
Fix Flanger is versatility personified — capable of both classic guitar pedal-style flanging with an automatically swept flange, as well as direct interaction in the manual mode. A VSO mode features unprecedented hands-on control with emulated servo motor bounce. Added features such as tap tempo sweep, unique stereo widening methods, and selectable delay polarity makes Fix Flanger the Swiss Army knife of flangers!
Doubling made simple:
Fix Doubler delivers texture and extraordinary richness to vocals and polyphonic instruments. The streamlined interface, combined with Paul Wolff's unique 'Auto Double' algorithm, makes it easier than ever to add lush chorus and rich layers to your vocal track.
In short
Fix Flanger delivers the sound of classic auto-sweep flanging, with extreme control and flexibility.
Unprecedented hands-on VSO flange control, with servo motor bounce emulation.
Fix Doubler provides lush chorus and rich textures to your vocals. 'Auto Double' uses a unique method of accurate flange effect cancellation to make a natural-sounding doubler effect.
Price from authorized dealers: $149.00 USD/€114.00 EUR, excluding sales tax/VAT. Introductory price: $110.00 USD/€85.00 EUR until November 27, 2015. Free 20-day demo available — no USB iLok required.
The Fix Flanger and Doubler plug-in package will be available from November 9, 2015, priced at $149.00 USD/€114.00 EUR (excluding sales tax/VAT) from Softube's authorized dealers, as well as from Softube's own Web Store (where the price is circa 10% higher) here:
http://www.softube.com/buy.php (An attractive introductory promotional price of $110.00 USD/€85.00 EUR runs until November 27, 2015.) Please visit the Fix Flanger and Doubler product page for more information and a demonstration video; a free 20-day demo license can also be downloaded from here: http://www.softube.com/index.php?id=fixfd
Affiliate