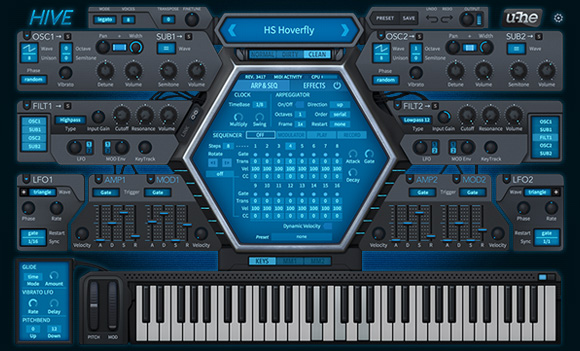 Hive is U-he's easy-to-use powerful synth brainchild. Hive allows you to get to it and get on with the music making. I just wish we had it in AAX.
Hive 1.0 is finished and ready to share with the world—the release date is June 2nd!
Hive was made to be fast and simple. The streamlined single screen UI lets you dive into sound creation immediately. A fluid workflow invites you to tweak away until your sound is just right (or wrong in just the right way). Hive was engineered to be light on CPU, and won't slow you down while you work. But being "fast and simple" doesn't mean we've sacrificed sound quality or creative control – Hive is packed with features, controls and enough flexibility to deliver stunning sounds.
Whatever your style – from dance to ambient, progressive rock to R&B – Hive is the right tool for the job: a lightweight synth that delivers a heavyweight sound!
The introductory price of $99 (+VAT in EU) will end on release day (12:00PM midday Berlin time) and the new price will be $149 (+VAT in EU). We used to extend the introductory price for a couple of weeks after release, but with the recent addition of a reseller program we needed to change how the introductory offer works.
However, we want to ensure that u-he customers have ample opportunity to buy Hive at the $99 price. So right now you can purchase and download the Hive 'release candidate'. This version is the same as Hive 1.0 that will be publicly available on June 2nd. All presets, features and bug fixes included. The only differencebetween the two versions is the price!
Affiliate