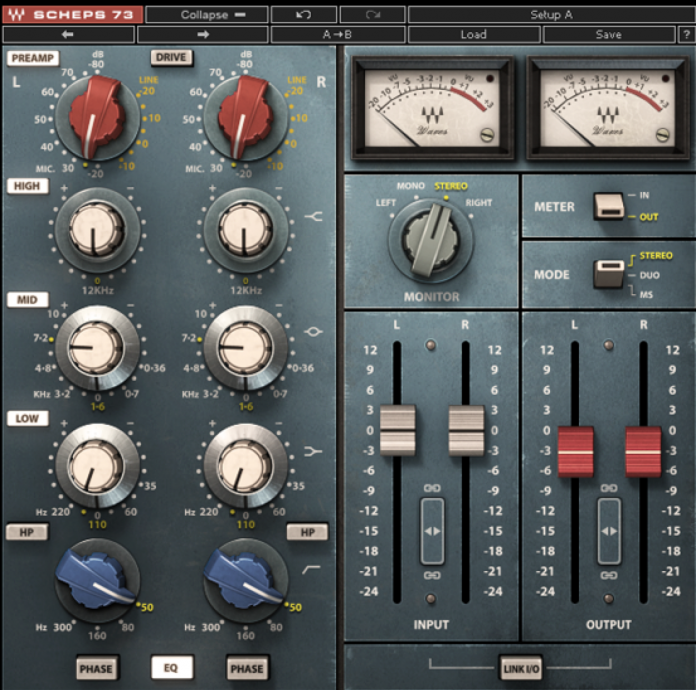 There's always room in the world for more Neve emulations. Nomad Factory has done a great job, Slate is coming out with a version in their new Virtual Mix Rack and now Waves pairs up with none other that the great Andrew Scheps to create a plugin that represents a piece of gear Scheps really knows a lot about… The Neve 1073.
The Waves Scheps 73 is a colorful 3-band EQ modeled on the classic 1073 console's EQ and mic preamp module and developed in association with world-renowned mixing engineer Andrew Scheps (Adele, Red Hot Chili Peppers, Black Sabbath, Lana Del Ray, Metallica, Jay-Z.)
Empowered by Waves cutting-edge technologies, the Scheps 73 EQ features interrelated bands that adhere to the 1073's original specs and precisely emulate its behavior: a fixed 12kHz high-frequency band, switchable low and midrange bands with cut and boost controls, and an 18dB/octave high-pass filter. Additionally, for the first time ever, a little-known 10kHz midrange band discovered in the original 1073 schematics but operable only on the rare 1078 channel strip has been modeled and incorporated into the plugin. And to top it all off, the Waves MS matrix has been added to let you apply different equalization to mid and side stereo content.
Using innovative procedures to model the acclaimed Marinair transformer, Waves has meticulously captured all the sonic characteristics of the 1073, including its harmonic distortion. These overtones were tweaked to perfection by Andrew Scheps himself, resulting in beautiful and authentic saturations.
Whether used for recording, mixing or mastering, Scheps 73 lets you enjoy all the warm tones of a fabled piece of studio hardware, in-the-box!
Waves is releasing the Scheps 73 for the very reasonable price of $99.00 but quickly will go up to a still reasonable $149.00. And now they accept BitCoin!
For more information and to buy, click HERE.
Affiliate