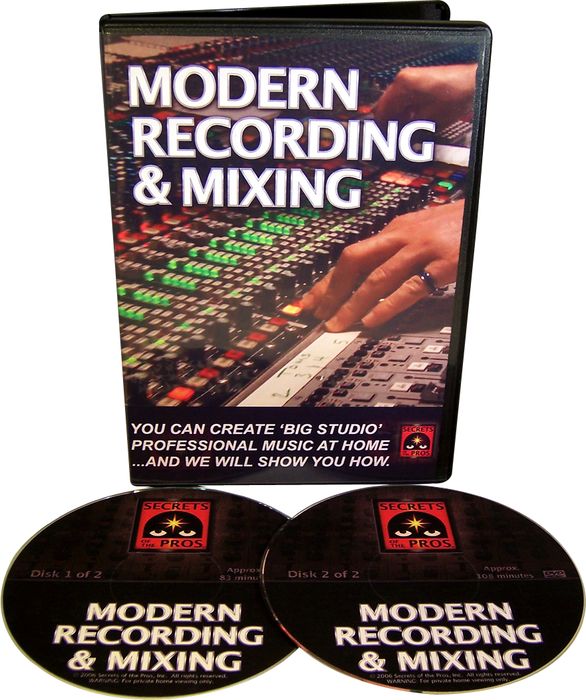 I try to feature gift ideas that I either own or am interested in and this one falls under the owning category. I bought almost every video this company puts out.
This one is perfect for the person who is just becoming interested in recording and like the last idea, its only $40. Its an overview of how things should be done to achieve a great recording. It even gets into how to properly set up your control room and treat the room so your mixes sound the best they possibly can. He breaks things down into very simple, easy to understand terms which is actually very hard to do especially in acoustics and room design. I would strongly recommend buying this for anyone who is interested in recording as it lays down the ground rules and what to expect.
You don't need a lot of money to create professional recordings, but you do need the expertise. Secrets of the Pros Modern Recording & Mixing will speed you through years of trial and error so you can focus on creating music instead of spending all your time trying to figure out the best way to make the gear work.
With over three hours of information, Modern Recording & Mixing will take you through standard methods of audio engineering that have been refined over decades by the best of the best.

If you were to closely observe the best producers and engineers in the audio world as they record, edit, and mix, you would see many of them using similar techniques. This is because almost every one of them learned their skills from a lineage of other top-notch talent in the audio production industry. Modern Recording & Mixing will show you these techniques.
You will also hear a world-class studio designer show you easy and inexpensive ways to correctly set up your studio. This process is critical if you want to record and mix pro sounding tracks and have your mixes accurately translate from your studio to the outside world.
Secrets of the Pros Modern Recording & Mixing Topics:
Mixing – Techniques to vastly improve your mixes
The Big Secret – Do your mixes sound different when you take them out of your studio? Cutting edge and inexpensive ways to set up your studio properly
Preamps – What they are and why they are extremely important
Typical signal routing scenarios
Loops – How to work them into your music
Pro techniques – for recording vocals, drums, bass guitar, electric & acoustic guitar, Keyboards, synths, & MIDI
Much more!
For more information on Secrets of the Pros, click HERE
To purchase, Click HERE
Affiliate