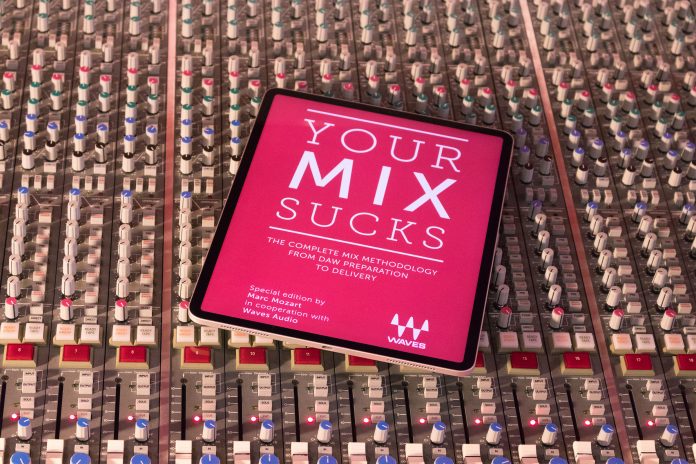 The name alone says it all! Most of our mixes do in fact suck but we're just not sure why. Now you can with the special Waves Edition of Your Mix Sucks. This version is catered to Waves plugins while going over all of the steps needed to improve your mix. I for one, will be buying this one.
Waves Audio, the world's leading developer of professional audio signal processing technologies and leading maker of audio plugins for mixing, music production, mastering, sound design, broadcast, post-production and live sound, is offering the Marc Mozart book, YOUR MIX SUCKS (Waves Edition), integrating Waves plugins throughout 14 chapters of guidance, inspiration and methodology on mixing music.

This e-book presents a complete methodology of mixing, from preparation to delivery, covering the technical, artistic and personal sides of the mixing process. Written by Marc Mozart, award-winning mix engineer, music producer and director of the digital music and social media agency Mozart & Friends. He has worked with a diverse range of artists such as Lil Wayne, DMX, Busta Rhymes, Queensryche, Bob Marley, Sly Stone and many more. Growing up in a musical family, Marc has been recording and mixing since childhood, when he was cutting reel-to-reel tape with a razor-blade. His first major breakthrough was in Frankfurt during the rise of German techno and Eurodance music in the early '90s. He then spent time in New York, where he teamed up with various producers from P. Diddy's Bad Boy camp, as well as Izzy Zivkovic, who later on managed Kanye West.

Since the 2000s, together with the Mozart & Friends' team of music producers and songwriters, he has produced, written and remixed more than 70 charting bestsellers around the world, including number-one singles and albums receiving multiple gold/platinum awards. In his home country of Germany, he's also sold millions of records as a writer, producer and mixer for gold and platinum-selling pop acts Bro'Sis, Monrose, No Angels, Jimi Blue, Cinema Bizarre, and more. Nowadays, Marc works in a high-end hybrid recording studio in Frankfurt, based around the famous SSL 4000 G-Series mixing console.
The Waves edition of YOUR MIX SUCKS brings the classic e-book to the next level, integrating Waves plugins throughout 14 chapters of guidance, inspiration and methodology on mixing music. Marc Mozart takes us on a journey from the basics of monitoring and setting up your mix room, through to mastering and track delivery. The book focuses on the "magic first listen" and how to shape your track's foundations, including vocals, the low end, parallel processing, FX and automation. It also gives valuable advice on the personal and business sides of mixing, including networking, client feedback and much more.

The Waves edition integrates Waves plugin examples and suggested settings every step of the way, so you can easily try the techniques for yourself.
Book features:

Valuable mixing techniques and principles broken down into easy-to-follow separate steps
Designed for users of ALL DAWs: Logic Pro X, Pro Tools, Cubase, Ableton, Studio One, Reaper, FL Studio, GarageBand, etc.
Use as workbook while you're mixing: Guides you chronologically through the entire mixing process
eBook/PDF format optimized for reading on computer screens as well as on tablets and smartphones
Life-long FREE updates: all buyers are eligible for regular updates
FREE mix feedback for all buyers of the book

Since its initial release, YOUR MIX SUCKS has become an international bestseller that has helped tens of thousands of people around the world improve their mixing in 10 easy-to-follow chapters.
YOUR MIX SUCKS sells for: MSRP $49, intro sale price $29.
Affiliate