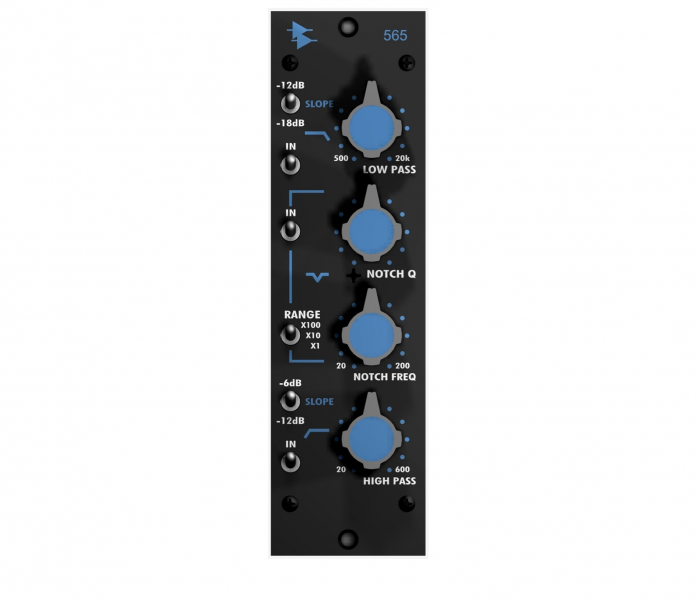 This new piece of gear abides by the principle, you're only as good as your source material and having the frequencies taken care of before you hit the DAW can make for a lot less heartache. This is where the API565 Filter comes in. This 500 Series filter combines a high and low pass filter with variable slopes as well as a razor precise notch filter with selectable frequency and notch q. I now want 8 of these for drums. This will in turn save you DSP on your DAW by allowing you to filter bad frequencies at the source.
The API 565 500 Series Filter Module is your secret weapon. Creative filtering can spell the difference between adequate and awesome. From an incisive notch filter to adjustable high and lowpass filters, the API 565 Filter can make your recordings shine. Offering both classic and modern filtering technology, the 565 is the perfect solution to all your filtering problems. And like all API products, it's a precision device that belongs in every professional's toolkit. Have you invested in the 500 Series format? Check out what the amazing API 565 Filter Module can do for you.
API 565 500 Series Filter Module Features at a Glance:

Filter with surgical precision
Quality gear from API

Filter with surgical precision
If you deconstruct the greatest sounds on some of your all-time favorite recordings, you'd be surprised how often filtration is the key. More often than not, cutting a specific frequency is more effective than boosting in other areas of the spectrum. A popular kick drum trick back in in the soulful '70s, for instance, was a minus 12dB cut at 400Hz on an API 550 EQ. Now API gives you a tool designed specifically for filtration with surgical precision – and, of course, it's got that classic API analog mojo. With highpass, lowpass, and two midrange notches, the API 565 is your new secret weapon. Put one or more in your 500 Series rack.
Price: $595.00 (I really feel they missed a great marketing opportunity by pricing it at $565 but then again $600 isn't bad for quality API gear)
For more info and to buy, visit http://www.sweetwater.com/store/detail/API565/
Affiliate