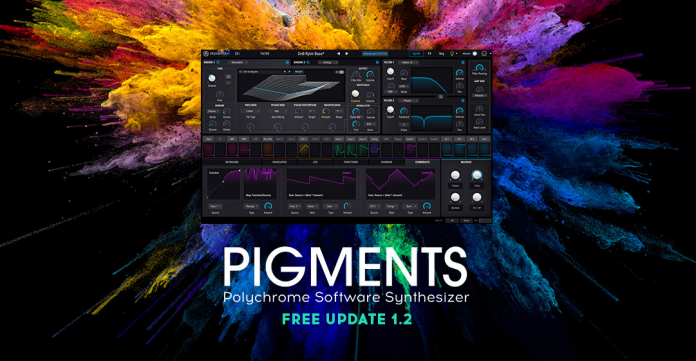 Arturia's hybrid wavetable/virtual analog software synth Pigments has been updated to version 1.2, and is currently on special offer. Version 1.2 is the first major free update to Pigments since the instrument's initial release in December 2018, refining its sequencer, adding new features, new presets, and a major improvement for owners of Native Instruments controllers: NKS compatibility.
Introducing Sound Store
Find exciting new preset sound banks from within Pigments. New themed banks will be added regularly, giving users a whole new range of sounds to explore.

SUPER mode
A new unison detune voice mode lets you beef up your oscillator up with the style of the famous "JP" supersaw.

Sequencer revamp
A new visual layout, with the added ability to set different clock divisions for each lane in the sequencer or arpeggiator.

NKS Compatible
Great news for owners of Maschine or Komplete Kontrol. Pigments is now fully compliant with Native Instruments NKS control format, instantly smart-mapping key parameters.

Extra Combinator
We've added a third combinator, giving you more sound-shaping potential. We've also introduced a new "Map" type that lets you remap any incoming modulation source.

Updated envelope
We've reduced the minimum value for the attack times, letting you achieve even sharper envelope modulation for super-nasty sounds.

Microtuning
Want to be a bit more free with your tuning? Now you can select alternative keyboard scales, as well as import your own .scl and .tun files.

50 new presets
We've added dozens more factory preset sounds that make use of the new capabilities of the Pigments audio engine updates in version 1.2.

The little things
On top of all the big new features, we've made lots of small enhancements too. New Aftertouch curves, Mod source hovering displays, integrated Filter tutorials, and bug fixes to give you the best experience ever.
Owners of Pigments can upgrade to the new version for free. The update to version 1.2 also coincides with the start of a special offer for Pigments, letting new users and Arturia customers get a great deal on this exciting, new, and freshly updated instrument, as well as a powerful bundle with V Collection 7.
Until 4 July 2019, anyone can enjoy Pigments for free.
Users wishing to buy Pigments during this promotional month will be able to purchase it for only $149 / 149€.
Exclusive deals will be available for existing Arturia customers and V Collection owners.
For more information, visit Arturia
Affiliate