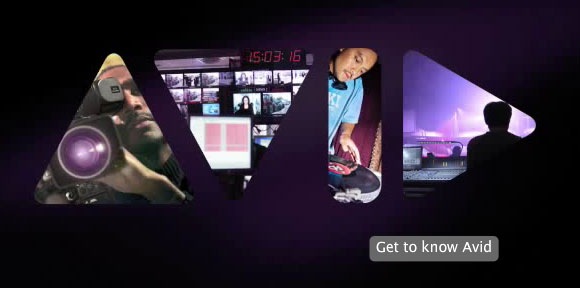 From the company that made mixing on the couch in your underwear possible (editor's note: THANK YOU) comes the latest products to make music production easier and more affordable for almost any user and application required
For the first time users we have the SE family
These particular interfaces are perfect for users that are new to the world of audio. Each system caters to the needs of the user and offers the Pro Tools SE software which is very easy to learn and is an adaptation of the insanely popular Pro Tools HD software. This is a HUGE plus because it allows you to gradually learn the same software that most major professional studios use. Here we have the Avid Keystudio, Avid Recording Studio, and Avid Vocal Studio.

Avid KeyStudio: Made for artists who primarily compose with keyboards. Avid KeyStudio makes it easy for keyboard players to turn their inspiration into a professional-quality recording with a 49-note, velocity-sensitive M-Audio KeyStudio keyboard and Pro Tools SE music creation software.
Avid Recording Studio: Made for the all around songwriter and allows users to capture guitars, instruments and vocals in better than CD quality at 24-bit/48 kHz with Pro Tools SE music creation software and an M-Audio Fast Track® audio interface. This one hits all bases and is a very well rounded alternative.
Avid Vocal Studio: This one hits a good demographic. It's a USB mic that is perfect for tracking vocal tracks as well as miking instruments. Also it can be used for podcasting and voiceovers. This bundle is a great all around bundle if you're primarily going to be overdubbing or podcasting on the go. (Probably in my opinion the best entry level vocal production and podcasting bundle out there) Uses Pro Tools SE music creation software and the M-Audio Producer USB microphone.
And for the people that say, "Ok Bryan I like the Avid Recording studio but want to be able to record TWO channels in my underwear but I don't necessarily like the Pro Tools software." Well, first, keep your pants on while we're talking and second, Avid has this for you.
BAM! The M-Audio Mobile Pre (Ok Ive left the room you can do whatever you want pants-wise.
This is the second generation of the mobile pre and can be used to record guitars, keyboards, vocals and if you mic it that tuba you claimed got you so many ladies in highschool. Im looking your way dad! As the others listed above this one comes with Pro Tools SE but if that's not your thing, this interface can work with Pro Tools M-Powered™, GarageBand, Apple Logic, Ableton Live and more.
Pro Tools SE bundles begin at $99.99 USD for Avid Vocal Studio, $119.99 USD for Avid Recording Studio and $129.99 USD for Avid KeyStudio and should be available in the US. MobilePre is currently available worldwide for $179 USD.
For the person looking for a more flexible interface with even more options look no further. The Mbox Family.
Designed for musicians and audio engineers looking to turn their Mac or PC into a portable professional recording, mixing and production studio, the third generation of the Pro Tools Mbox family—Pro Tools Mbox Pro, Pro Tools Mbox and Pro Tools Mbox Mini—offers customers premium sound and open workflows with support for the industry's most popular DAWs.
This box is your end-all-be-all for home recording. Each offer new features for the artist who wants a little more out of their interface. The pre-amps are great quality for on board pres, giving you the option of less equipment to lug on the go. One of the more remarkable features on this interface is the soft-clip limiters built in. This will give you more volume without that awful hissing distortion you get from other interfaces. Also the Mbox features a multifunction button that allows users to control some aspects of Pro Tools without using the mouse or keyboard.  Depending on your needs each of these three interfaces will go above and beyond what you would expect in such a small package and also offer Pro Tools LE a step up from the Pro Tools SE software. This software is more expandable and is the next step from Pro Tools HD. Just like the M-audio Mobile Pre, you can also use this Mbox with other recording software.
Pro Tools Mbox family pricing begins at $399 USD for the Pro Tools Mbox Mini, $679 USD for Pro Tools Mbox and $899 USD for the Pro Tools Mbox Pro. Pro Tools Mbox and Pro Tools Mbox Mini are available worldwide this month. Pro Tools Mbox Pro will be available worldwide in Q4.
For the people who think the first two options aren't enough (Because it sure isn't enough for me anymore because IM A MAN. A man who invented the wheel and built the Eiffel Tower out of iron… and brawn – Ron Burgundy) Theres the new Pro HD Native System.


Personally Im EXTREMELY excited about this system as you can see by the HUGE picture I posted. This system is perfect for those who feel they've outgrown the LE system but cant afford the full on HD system. The difference between this system and the LE systems is that HD Native has PCIe cards that have to be installed in a computer or if you just HAVE to have a laptop via a Magma Chassis. The HD Native system does allow the power and flexibility of Pro Tools HD, but unlike the Pro Tools HD1 HD2 or HD3 who have processing built onto the PCIe cards, the HD Native relies solely on your computer's processor to run the program. Also the TDM Plugins cannot run on the HD Native System. Now don't get me wrong, having to rely on your computer's processing speed is not necessarily a bad thing unless you do not have a very powerful machine, but if you have the starting price of $3500.00, you probably don't have a shabby computer system.
So there you have it. Avid has made products that take care of almost every demographic. DISCLAIMER: And just for the record no one is paying me to say any of what I'm about to say. This is just my preference and what I personally use if I want to buy something but if you are interested in purchasing any of these products, I HIGHLY recommend Sweetwater (Click the name for the link). These guys know exactly how to get you in what you need and on top of that most of their products you buy from them come with a 2 year warranty and FREE lifetime tech support. So go buy something from them.
And Lastly…. For the Ladies:



WAIT… WHAT DO YOU MEAN GET THE PASTY BLONDE ONE OUT OF THE PICTURE?!!!! THATS M… nevermind… *hangs head and offers blog to Nick.