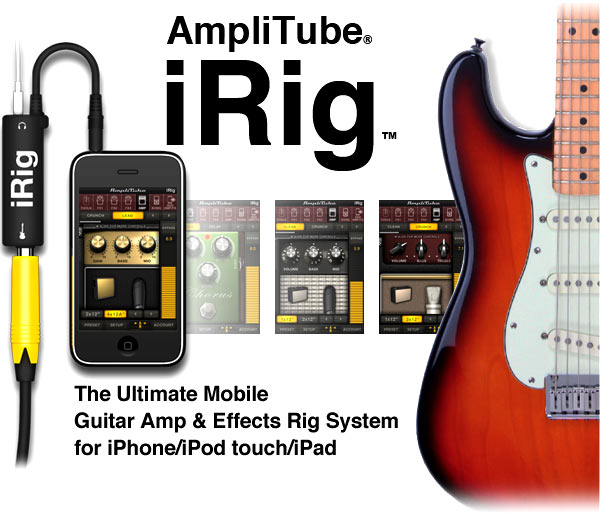 Since I'm a brand spankin' new sexy blog I can get away at first with featuring things that have been out for a little while but are nonetheless awesome for recording. This particular post is more for mobile recording. My job has me away from my personal studio 3/4ths of the year so I have to find products that are small and easy to use to lay down ideas. This one incorporates two of my favorite things to buy. Apple Products (I hate that I'm that way) and guitars.
BEHOLD! Amplitube iRig
IK Multimedia is proud to announce AmpliTube iRig: the ultimate mobile guitar amp and effects system for iPhone/iPod Touch/iPad.
AmpliTube iRig is a combination of an easy-to-use instrument interface adapter (iRig) and guitar and bass tone mobile software (AmpliTube for iPhone).
Simply plug the iRig interface into your iPhone/iPod Touch or iPad, plug your instrument into the appropriate input jack, plug in your headphones, amp or powered speakers, download AmpliTube free for iPhone and start rocking.
You'll have at your fingertips the sound and control of 3 simultaneously reconfigurable stompbox effects + amplifier + cabinet + microphone just like a traditional guitar or bass stage rig!
Add amps and effects as you need them – you can expand your rig with up to 10 stomps, 5 amps, 5 cabinets and 2 microphones in the AmpliTube iRig app custom shop.
AmpliTube iRig – plug interface adapter
Works on iPhone/iPod Touch/iPad
1/4? female mono input jack connector
1/8? female stereo output mini-jack connector
Connect electric guitar and bass
Also works with line level signals from synthesizers, keyboards and mixers
Output can be connected to headphones, amplifiers, powered speakers and mixers
AmpliTube for iPhone – mobile guitar amp and effects software
Real time guitar and bass mobile multiFX app
Full rig made of 3 simultaneously reconfigurable stompboxes + amp + cabinet + mic
10 Stomps, 5 Amps, 5 Cabinets, 2 Mics available
Import and play along with songs or backing tracks with real time effects
36 presets can be saved/recalled on the fly
Includes tuner/metronome
Free, LE and Full versions available
Free and LE versions expandable with a-la-carte downloadable gear
Same low-latency as Mac/PC system
So basically I just plug the guitar into the adapter and run a stereo mini 1/8th inch cable into my Mbox and in a matter of minutes I'm making a smoooooth jazzzz youtube cover of a Teenage Dream by Katy Perry (You know who you are.) The software can be downloaded for free but in order to get it into the iPhone of iPad, you need the adapter kit. The kit comes with the software and is $39.99 (Available here) Smoooothe jazz cover of Teenage Dream Available here. Coming to an Elevator or Dr's office near you Broseph Mc Beardy cheeses up the hits! THANKS AMPLITUBE!!
Also I have to give credit to my buddy Peter over at Iheartguitar for finding this for me. Check his site out if you're into anything relating to guitars.