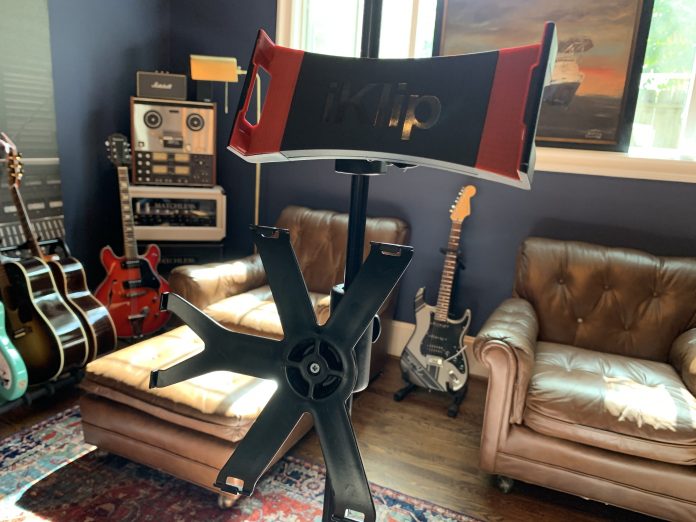 iKlip 3 Rundown:
Pros
- Future Proof
- Can fit from 7" to 12.9" tablets
- Lightweight and durable
Cons
- Installing and removing horizontal feels a little worrisome and you have to hold the tablet and pull the clamp apart at the same time.
Summary
Almost ten years later, IK has taken its crown as THE company for anything tablet-based for music creation. iKlip is a stellar example of a company evolving with a fast-growing market.
In Everything Recording's humble beginnings, we reviewed the very first iKlip (review HERE). Overall, it was a great start, but there was one that made it a bit cumbersome and another that I didn't think about at the time. Almost ten years later (and a new iPad), we're going to run the new iKlip 3 through its paces to see if IK has addressed some of iKlip's small hassles. Let's dig in.
Behold, The Beginning
It was early 2011, and the iPad 1 was beginning to become a formidable tool for musicians and producers. IK Multimedia had released the iRig (old and slightly embarrassing review HERE), and Neyrinck entered the mixing game in full force with V Control (review HERE). Nonetheless, the iPad needed something to hold it up. Thus, the iKlip came out, pushing IK Multimedia to the front of the pack in the "i-space." 
The iKlip came in a molded plastic three-sided mount that nestled the iPad 1. The design was very sturdy but came with limitations. One shortcoming was that the iKlip 1 could only work with the first-gen iPad. This issue was in no way IK's fault, but it was still a little disappointing. Don't get me wrong, it did not keep using it with my iPad Mini, but I did have to gingerly position it in three-quarters of the mount. The only other point of contention we've had was how the iKlip rotated – you had to completely unscrew the mount from the base to spin the mount.
Almost Ten Years Later
It's 2020, and we're a staggering twenty-seven iPad versions in (not to mention the myriad of other brands of tablets out there). They come in every shape and size, and obviously, it would be crazy to make a custom molded version of each, so IK Multimedia adapted. iKlip 3 kept some of the handy parts of the first version but made a few adjustments. 
First, they designed version 3 "future proof." The mount expands out from the center to accommodate tablets up to 12.9 inches. Second, they left the areas available where buttons and ports usually reside. Third, they fixed the one problem I had with the original – positioning. The pivot no longer has to be unscrewed with a screwdriver to rotate. iKlip 3 has a spring-loaded pull socket for fast changes. 
Additionally, instead of a single tilt mechanism, the updated iKlip incorporates a ball joint with a massive range of movement. The new design gives you multiple mounting options: horizontally, vertically, to the left or right of the stand, and even on top of the mic stand with the iKlip Deluxe mount.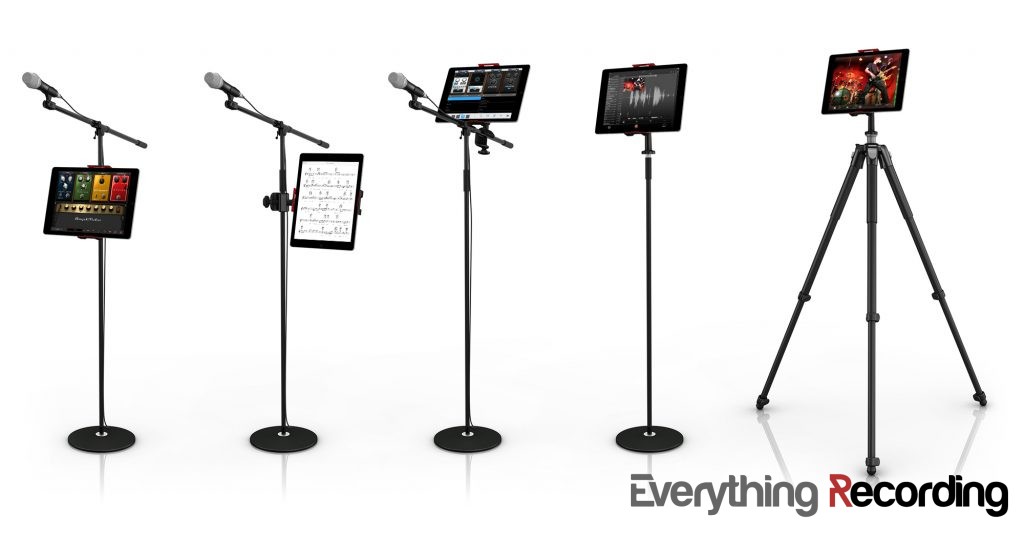 Lastly, they ditched the slide clasp for a thermoplastic screw and bracket. This mounting system can handle poles up to 1.2 inches in diameter.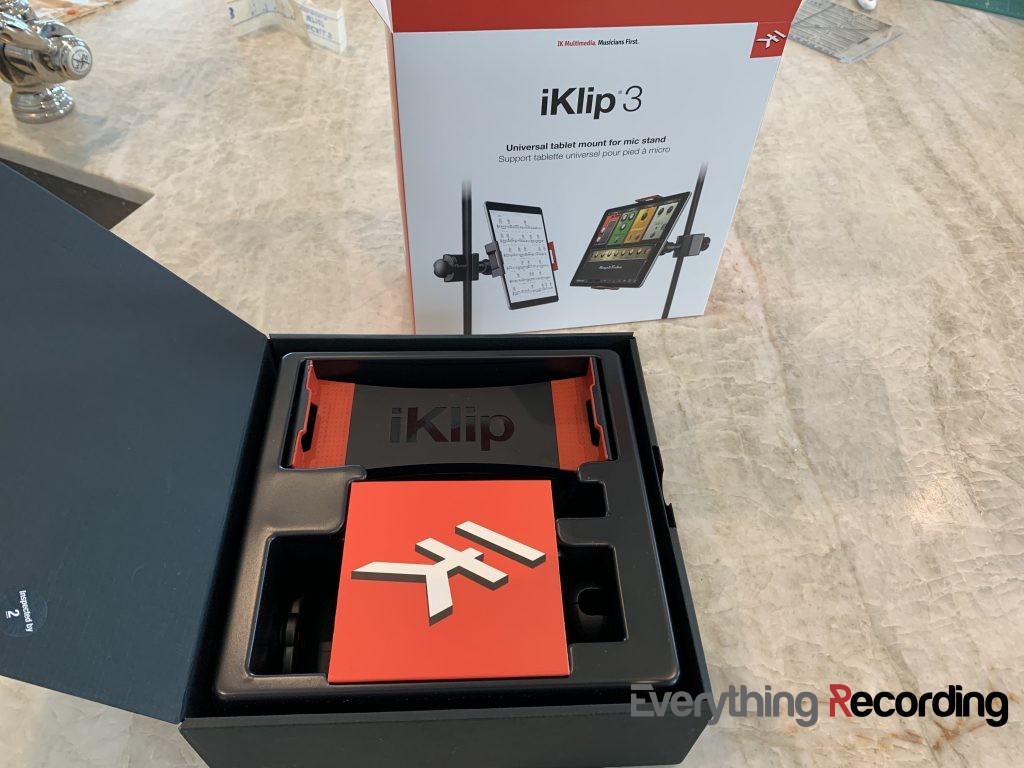 The Cat's out of the Bag
The iKlip 3 comes in attractive packaging with minimal assembly. All you need to do is: 
Fit the ball joint into the mounting bracket 

Tighten the clasp around the ball 

It's off to the races.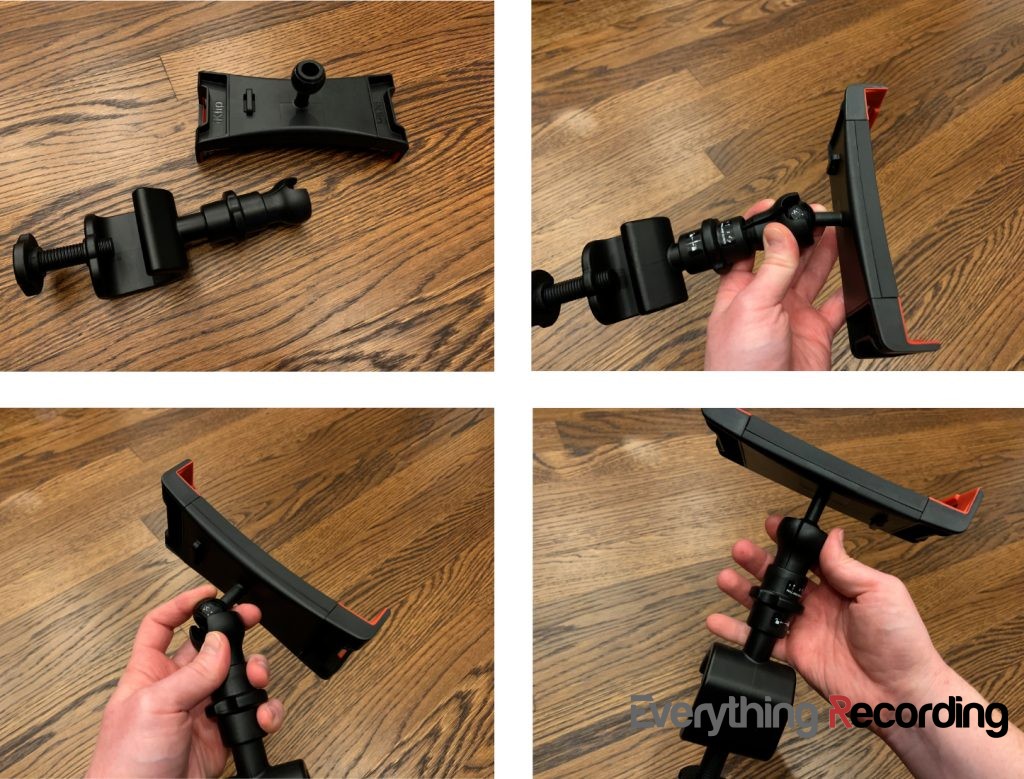 Kicking the Tires
Luckily when iKlip 3 arrived, I had purchased a new iPad Mini 5, the wife got a new iPad Air, and I had several sessions with a few clients. I wanted to go out of my way to test out the durability, so multiple tablet changes, rotations, and positions needed to be abundant. To make this happen, I decided to incorporate iKlip 3 into all aspects of making the track.
Practice Time
Because I do a little session work on the side, I was in dire need of some practice time. I got right to work setting up my practice kit and found a perfect use for iKlip. The bracket mounted right to the horizontal section of the rack, allowing me to untether from the studio rig and just play the master tracks through the iPad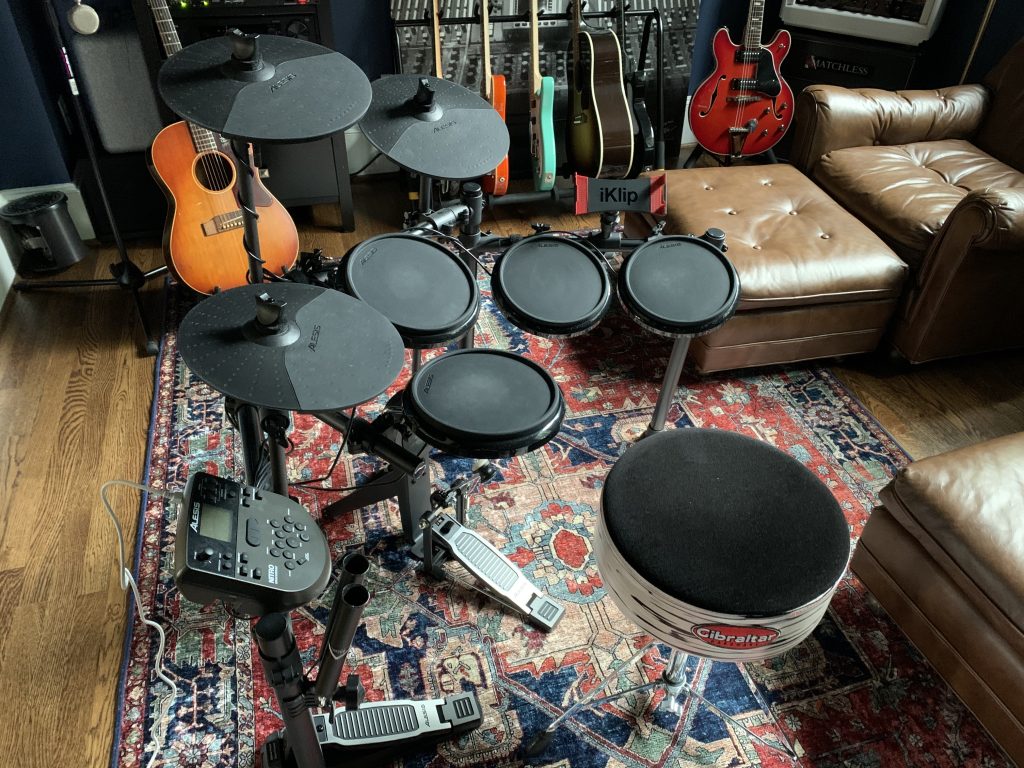 Tracking Session
I had to lay down some acoustic guitars for an artist I'm working with and was stuck at home alone, so I needed to control the session and track myself. Additionally, my studio is in a state of untreated flux, and I needed to record in a less "echo-ey" environment. To help with this issue, I took my small interface upstairs into a room with some curtains to help tame the room a little.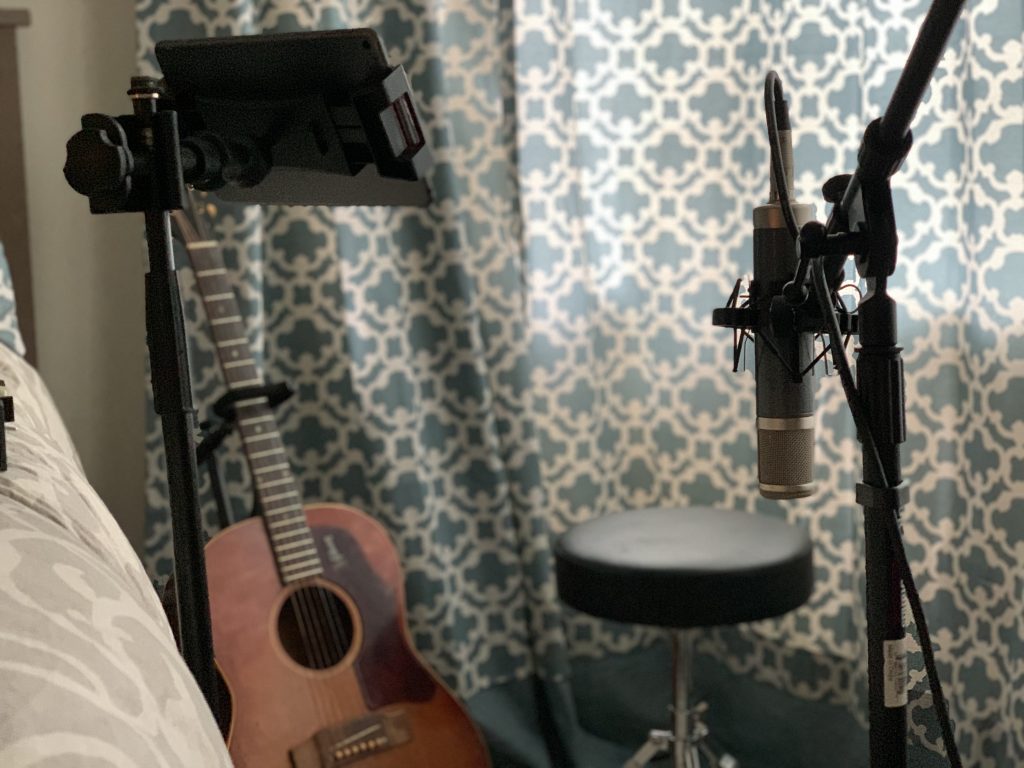 Using the Avid Eucon app, I could run my session, and the iKlip was right there, allowing me to position the tablet exactly where I needed it.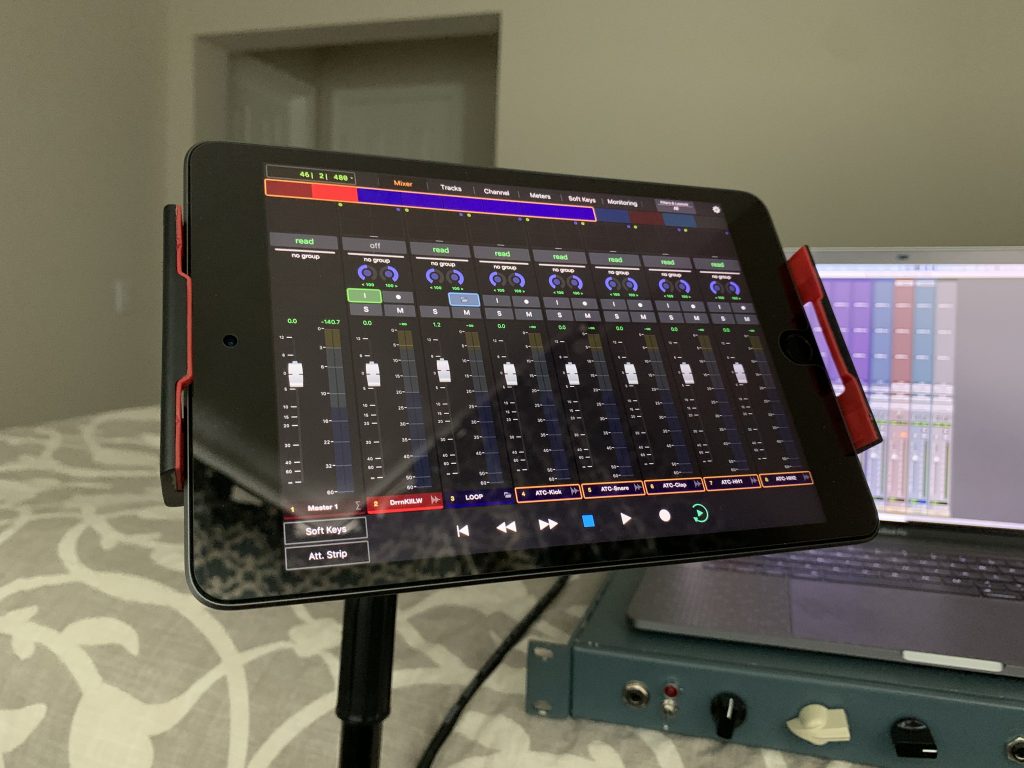 Vocal Tracking
The next day, the artist came over to track vocals. Although it took considerably longer to set up all of the mics for comparison, within minutes, I had the tablet rotated and ready for her lyrics to be prominently displayed. Just for the sake of review, every time I repositioned or rotated the iKlip 3, I intentionally performed each action ten times to test durability. Although I was initially concerned a little about how the ball joint mated to the mic stand mount, the unit hasn't shown any signs of giving up the ghost.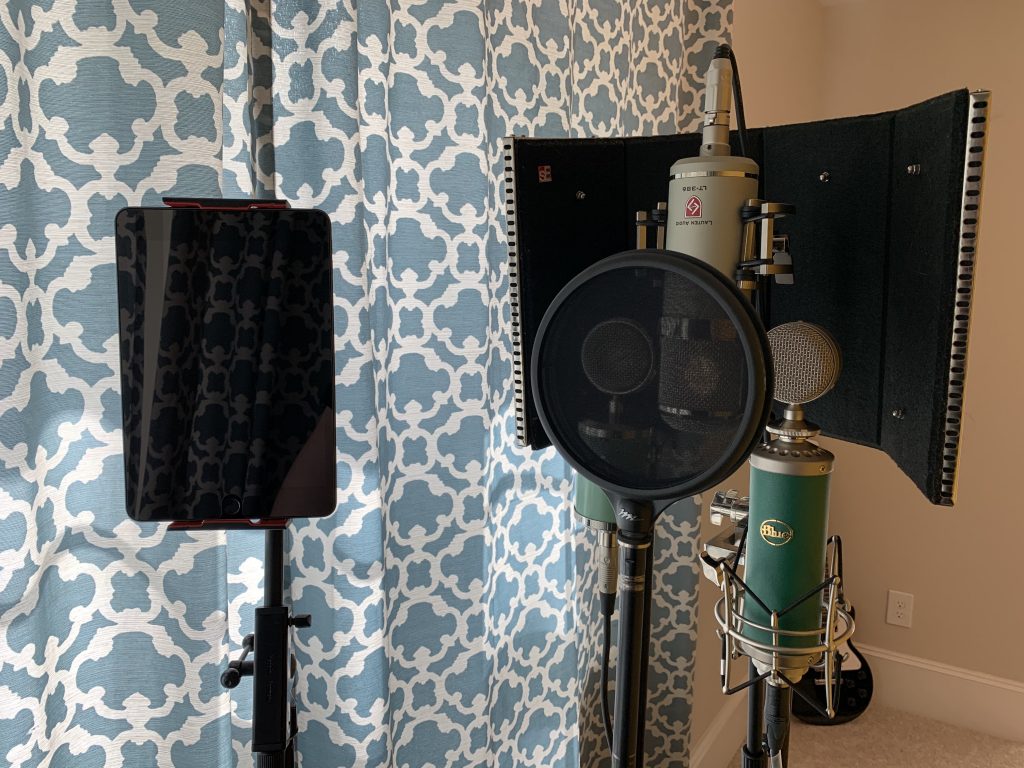 The iKlip held up like a champ during the session, at no point did it lose position or start to sag. More impressively was what happened during teardown. I swung around, forgetting the stand was behind me, knocked it over pretty hard into the window sill, then to the ground. Luckily nothing was hurt, but more impressively, the iKlip didn't lose its position from before. 
Mixing
With a laundry list of mix revision notes, I return to my desk to get to work. This time, utilizing a boom stand, I try to find a position with the boom arm that keeps the iKlip from being able to sit right where I want it. The pivot in iKlip 3 doesn't just rotate in 90-degree increments. I virtually couldn't find a position with the boom arm that iKlip couldn't use.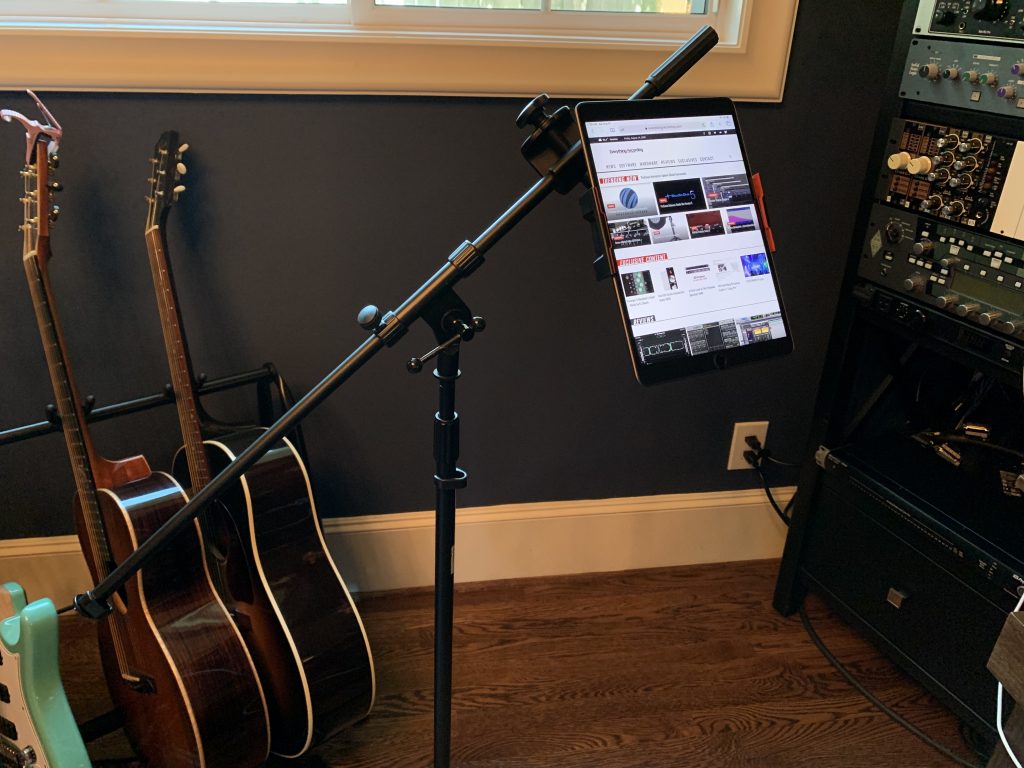 Then, I got really creative and tried to see if I could mount to something smaller than a mic stand. iKlip didn't even flinch but my lamp did. I had to improvise and counterweight with a tape measure.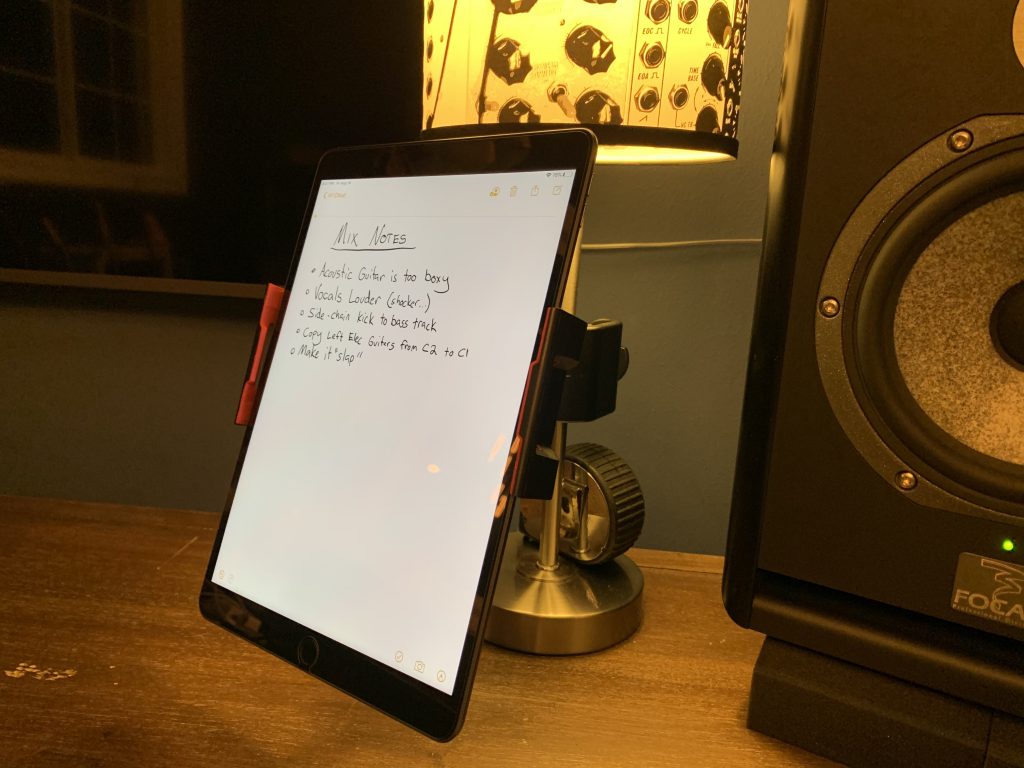 Thoughts
So, how far have we come? Well, the iPad can create full albums from start to finish. Plugins are available in AUv3, and virtual instruments from many big manufacturers abound. As far as IK Multimedia, they still lead the pack in options for Android and iOS tablets. Just about any piece of hardware you need for recording mobile, IK Multimedia has it. 
As far as quality goes, iKlip is top-notch. Although lightweight, this mount can take some abuse. I have not gone easy with iKlip. I even let my niece play around with it and held its own. I've over expanded the clasp that keeps the iPad, flexed the plastic, and even thrown it around a little. Still, every time I mount the tablet and position, it stays in place. As far as value-for-money, iKlip is a steal at $49.00 ($69.00 for the Deluxe with threaded mic stand mount). It even can mount with existing tablet cases installed.  
Improvements
IK Multimedia have addressed every issue I had with the first model. They've made a mount that can be used with multiple tablets and most likely any to come. I only have one small issue with the new version – actually mounting the iPad. It takes two hands to pull the clasp apart to install the tablet, and sometimes I worry I'm going to drop the tablet if the mount is horizontal. The fix is pretty simple though – rotate the iKlip vertical to mount then spin it back once installed. Other than that, iKlip is a home run.
Conclusion
IK Multimedia keeps cranking out the hits and improving on each subsequent model. I may have to buy another because the wife has found it very useful for her remote teaching. iKlip 3 goes beyond just music application and will find its way pretty much anywhere you use a tablet. Do yourself a favor and pick up one of these. No more hunching over a desk to control your DAW. Put the control right where you need it with iKlip.
For more information and to go grab an iKlip 3, visit our affiliate link HERE.
Affiliate